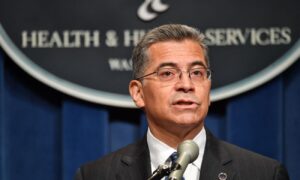 Some beneficiaries of Medicare could start paying less for 27 prescription drugs from next month as their prices have exceeded the rate of inflation.
"Today, the Department of Health and Human Services [HHS], through the Centers for Medicare & Medicaid Services (CMS), announced 27 prescription drugs for which Part B beneficiary coinsurances may be lower from April 1—June 30, 2023," said a March 15 CMS press release. "Some people with Medicare who take these drugs may save between $2 and $390 per average dose starting April 1, depending on their individual coverage."
The move is part of the Inflation Reduction Act (IRA) of 2022 containing provisions to lower the cost of health insurance, which includes bringing down Medicare prescription drug costs.
According to the act, pharma companies need to pay a rebate to the Medicare program when prices of their drugs rise at a faster rate than inflation.
"With the inflation rebate program, we are fighting to ensure seniors can afford the treatments they need, taxpayers aren't subsidizing drug company excess prices, and the Medicare program is strong for millions of beneficiaries now and in the future," said HHS Secretary Xavier Becerra.
Drug Pricing and Inflation
According to 46brooklyn Research, a drug pricing nonprofit, pharma companies raised the prices of 1,400 drugs in 2022, the biggest increase since 2015. The median drug price increase was 4.9 percent, with the average price increase at 6.4 percent. Both increases were lower than the 2022 inflation rate.
Antonio Ciaccia, president of health care research firm 3 Axis Advisors, believes that the IRA's provisions regarding drug pricing and inflation could create a complicated pricing situation for manufacturers.
"Drugmakers have to take a harder look at calibrating those launch prices out of the gate … so they don't box themselves in to the point where in the future, they can't price increase their way back into profitability," he said.
According to a February 2022 analysis by the Kaiser Family Foundation (KFF), 50 percent of Medicare Part D-covered drugs and 48 percent of Part B-covered drugs saw prices rise more than inflation between July 2019 and July 2020.
In addition, 23 out of the top 25 Part D drugs and 16 out of the top 25 Part B drugs saw prices rise above inflation between 2019 and 2020.
"While drug price inflation based on changes in spending per dosage unit may appear relatively modest in dollar terms for many of the top spending drugs, administration or use of most of these drugs requires multiple dosage units. This means that a relatively small price change per dosage unit can translate to a large change in overall spending per claim," KFF said.
IRA Drug Price Negotiation
In addition to rebates, the IRA also carries a provision on drug price negotiation. Last month, three congressional Republican leaders wrote a letter to Becerra and CMS Administrator Chiquita Brooks-LaSure, raising concerns about the $3 billion set aside for this program.
"We write to request information and regular updates on how the Biden Administration plans to allocate, apply, and monitor this staggering sum moving forward. By sidestepping regular order and bypassing the standard appropriations process, proponents of the IRA set aside billions in taxpayer dollars with no reporting requirements or tools to prevent waste, fraud, and abuse," the letter said.
In a September 2022 letter to Becerra and Brooks-LaSure, 25 GOP senators cited an analysis by the Congressional Budget Office, according to which government drug price controls under the IRA could raise launch prices for new medications and decrease the number of new drug approvals.
Some drug manufacturers may also opt to terminate their participation in Medicare and Medicaid owing to the "compulsory" price-setting program. This would jeopardize access to a range of cures and therapies, the letter stated.