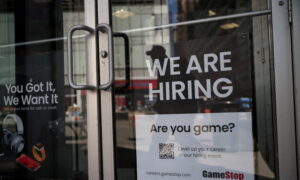 Almost 4,000 American jobs were lost last month following the use of artificial intelligence (AI), according to a recent report, as businesses increasingly consider deploying AI in their regular operations.
U.S.-based employers announced 80,089 job cuts in May, out of which 3,900 reductions were blamed on artificial intelligence, according to a May 2023 layoffs report (pdf) by outplacement firm Challenger, Gray & Christmas Inc. AI accounted for 4.86 percent of overall job cuts last month. This is the first time that AI was mentioned as a reason for layoffs by the HR firm. The report comes at a time when companies are increasingly exploring the potential of using AI at various levels of their organization.
A Spring 2023 survey by Challenger showed that 11.76 percent of companies were "looking into" using AIs like ChatGPT in their human resources operations.
When asked how they planned to use the AI, implementing the tech as a tool to make employees more productive took the first spot. Replacing some of the employee functions and streamlining operations came in at the second spot. Using AI to boost employee and customer experiences was ranked third and fourth.
Some major companies have already begun considering replacing workers with AI. In a recent interview with Bloomberg, IBM chief executive Arvind Krishna said that hiring in back-office functions like human resources would be slowed down or suspended.
These non-customer-facing roles accounted for around 26,000 employees at IBM. "I could easily see 30 percent of that getting replaced by AI and automation over a five-year period," he said. This could result in around 7,800 jobs at IBM getting axed.
Job Losses
An April 5 report by Goldman Sachs economists calculated that advances in AI technology may end up triggering shifts in workflows that could "expose the equivalent of 300 million full-time jobs to automation."
After analyzing various types of tasks from over 900 different occupations, the economists estimated that roughly two-thirds of occupations in the United States are exposed to "some degree" of AI automation. In addition, anywhere from a quarter to as much as half the workload in the exposed occupations could be taken over by AI, they forecast.
"Despite significant uncertainty around the potential for generative AI, its ability to generate content that is indistinguishable from human-created output and to break down communication barriers between humans and machines reflects a major advance with potentially large macroeconomic effect," the economists wrote.
A survey of 1,000 U.S. business leaders in February by Resumebuilder.com found that 49 percent of companies already used ChatGPT while 30 percent plan on doing so. In addition, 48 percent said they were using ChatGPT to replace workers, while 93 percent expected their use of the AI chatbot to expand.
Occupations Impacted
According to an April 4 report by Challenger, Gray & Christmas, at least 4.8 million American jobs could be replaced by ChatGPT. The number is a prediction given by ChatGPT after Challenger questioned the AI chatbot on the topic of AI eliminating human jobs.
ChatGPT estimated that it could replace customer service representatives, a job that employs 2.9 million people in the United States; data entry clerks, which employ 1.4 million; and copywriters, which employ 347,000 individuals. Technical writers, as well as translators and interpreters, are other jobs among the five jobs the AI said it could replace.
The chatbot also claimed that it could create jobs in fields like computer science, data science, machine learning, robotics and automation, math and statistics, and business.
A March 27 research paper (pdf) estimated that AI could impact high-paying jobs the most. Compared to low-paid jobs, high-paid jobs had double the share of tasks affected due to AI.
Jobs requiring a bachelor's degree or higher were also more impacted by AI than jobs only needing an associate's degree or less.
Speaking during a Fox program on May 18, TV host Mike Rowe highlighted the issue, pointing out that AI is "coming" for white-collar jobs.
"People used to say that the robots are going to destroy skilled labor. Well, not really. I haven't seen any plumbing robots. I haven't seen any electrician robots. And I don't think we're going to see any artificial intelligence in the skilled trades to that degree. You can't stop it. All you can do is decide to freak out completely or not," he said.
Rowe also pointed out that people can get pushed into skilled employment like welding even though there is a stigma surrounding these jobs.
"My foundation has trained nearly 1700 people in the skilled trades. Many of them are welders, [and] many of those welders are making over six figures. No one believes it. No one talks about it because the stigmas are so clear that, 'Oh, my kid winds up being a welder. It's because he or she couldn't cut it over here.' That's such nonsense."