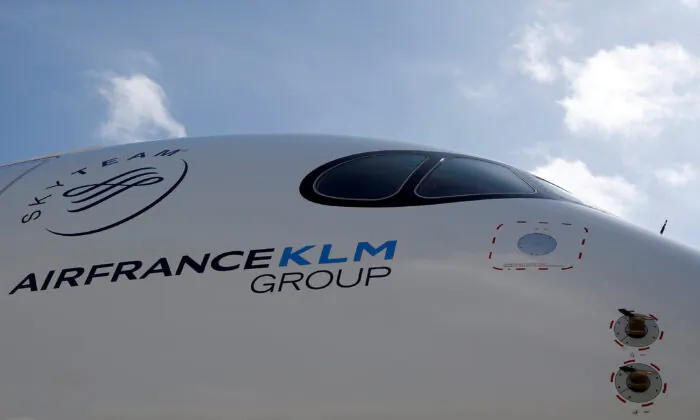 Logo of Air France KLM Group is pictured on the first Air France airliner's Airbus A350 during a ceremony at the aircraft builder's headquarters of Airbus in Colomiers near Toulouse, France, on Sept. 27, 2019. (Regis Duvignau/Reuters)
TOKYO—An Air France KLM SA passenger plane flying from Osaka in western Japan to French capital Paris turned back on Sunday after weather radar and speed meters malfunctioned while flying over the Pacific Ocean, Kyodo news agency reported.
None of the 324 passengers and crew were injured, but the aircraft's leading edge was damaged and the cause was being investigated, Kyodo said, citing the transport ministry's office at Kansai International Airport.
Air France flight 291 took off from Kansai airport around 11:15 a.m. (0215 GMT). The Airbus SE A350 turned back about 35 minutes later and landed safely at the same airport at around 2:25 p.m.
The Kansai airport office of the Ministry of Land, Infrastructure, Transport, and Tourism did not answer telephone calls from Reuters seeking comment.