Aircraft Rentals Skyrocket, While Supplies of Available Planes Remain Tight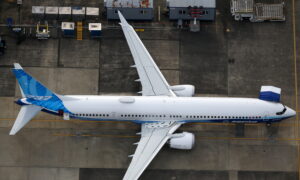 The prices to lease aircraft since the pandemic have skyrocketed, as supplies of spare planes remain tight, reported CNBC.
Some in-demand aircraft lease rates are now surpassing the levels in 2019.
For example, according to aviation advisory firm IBA Group, the rent on a new Boeing 737 Max increased by more than 20 percent, to $316,000 per month, between April 2020 and July of this year.
The price of the rival Airbus A320neo hit $324,000 a month, rising more than 14 percent from the same period a year ago, while its larger cousin, the A321neo, was being rented for $375,000.
The steep rise in costs coincide with the airline industry's latest struggle with high inflation, resulting in expenses that are normally passed down to passengers.
Aircraft -easing companies, meanwhile, are reaping the benefits of aircraft shortages, as the shortage of available planes is driving up rental prices. as demand for air travel returns to near pre-pandemic levels.
Air passenger traffic jumped to 76 percent in June from the same time in 2021, but is still down about 29 percent, compared with pre-pandemic numbers, according to the International Air Transport Association.
The acceleration in air travel has risen so dramatically that it would take a major boost in interest rates or fuel costs to curtail demand, according to experts.
Cirium, an aviation consulting firm, said that more than 51 percent of the world's nearly 23,000 active single- and double-aisle jetliners are owned or managed by leasing firms, reported CNBC.
Major aircraft leasing firms, such Air Lease, Avolon, and AerCap, are making better earnings this year due to higher demand.
Although most airlines own their own aircraft, other carriers rent planes from aircraft-leasing firms, or combine both practices.
There are various reasons for leasing planes, such as weak credit ratings, which many struggling carriers face, or the need to cut back on expenses by renting, rather than purchasing new planes, which can cost more than $100 million each.
Due to the spike in fuel prices this year, airlines are demanding newer and more energy-efficient planes over older models, while a rise in interest rates combined with higher-than-average fuel costs are leading to additional increases in leasing fees.
"You have the rising interest rates and higher cost of capital," said Mike Yeomans, IBA Group's director of valuations and consulting, to CNBC.
"That will push lease rates higher through the rest of the year."
Lease Extensions on the Rise
The big aircraft manufacturers have been suffering two and a half years from a lack of demand and production during the pandemic, as air travel plummeted.
Although a resurgence in orders and air travel has led to more contracts for Boeing and Airbus, supply chain problems and labor constraints have prevented these manufactures from increasing production.
This is partially due to titanium shortages caused by the sanctions on Russia, as the metal is crucial for jet engine makers, such as General Electric and Raytheon Technologies' Pratt & Whitney.
Boeing told CNBC in July that it could not ramp up production of its best-selling 737 Max because of supply chain constraints and that it could only produce an average of 31 of the planes per month, while the company focuses on stabilizing its production rate before increasing output.
Boeing's CEO, Dave Calhoun, said to CNBC, that he expects the supply chain issues and labor shortages to persist for the next 18 months.
Leasing firm executives told CNBC that many of their customers are extending their leases, as new planes are becoming hard to find.
Steven Udvar-Hazy, the executive chairman of Air Lease, said to CNBC that the firm's lease extension rate, which usually runs about 65–75 percent, is nearing a 90 percent for the first time.