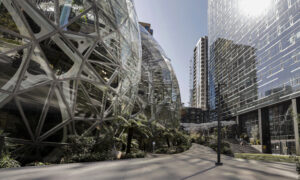 Amazon employees walked out at the company's Seattle headquarters, to highlight their concerns over recent layoffs, a return to office policy, and the company's environmental impact.
More than 2,000 Amazon employees worldwide walked off the job after 1 p.m., Pacific Time, on May 31, of which 1,000 of them gathered next to the Spheres, the landmark entrance to the online tech giant's Seattle headquarters, according to employee groups behind the protest.
Other employees said they planned to participate in the protest virtually.
The company told CNBC that it estimated that only 300 employees participated in the Seattle walkout, out of its 65,000 corporate and tech employees in the Puget Sound region and the roughly 350,000 workers worldwide.
Amazon Employees Upset at Returning to the Office
Amazon Employees for Climate Justice (AECJ), an organization founded by employees that partially organized the walk out, has repeatedly pressured the company's management over its climate stance.
"As AECJ, we're walking out to tell leadership that climate action cannot be sidelined. When will Amazon have all electric vehicles? When will it stop building pipelines for data centers? When will there be a real plan to reduce emissions instead of increase them every year?" the employee group, posted on Twitter on May 23.
The climate change advocacy group said that employees would walk out to highlight a lack of trust in "senior leadership's decision-making."
Amazon also recently carried out the largest layoffs in its 29-year history, slashing 27,000 positions across its cloud computing, advertising, retail, and other departments, since last fall.
On May 1, Amazon CEO Andy Jassy ordered corporate office employees to return to their desks at least three days a week, cutting back on the remote work arrangements that employees had gotten used to since the pandemic.
Jassy said in February, that the company had made the decision after reviewing work habits during the pandemic, noting that employees tended to be more productive working together in person.
Workers on the walkout held signs with slogans like "Amazon strive harder" and "Earth's best employer? Stop the PR and listen to us," reported CNBC.
Meanwhile, employees created an internal Slack channel in reaction to the return to work order, called Remote Advocacy to express their concerns, which joined forces with AECJ.
The Remote Advocacy demanded that Amazon put climate change as a top priority and that management accept the "new reality of remote and flexible work," in order to remain an "innovative company that attracts and retains world-class talent."
"This is about Amazon going in the wrong direction, and losing trust," they said, while declaring their participation in the walkout to be "legally protected activity."
"We respect our employees' rights to express their opinions," Amazon said in a statement last week, reported The Associated Press.
The organizers sent Amazon employees a note to urge their participation in the walkout, so that the company would "return autonomy to its teams, who know their employees and customers best, to make the best decision on remote, in-person, or hybrid work, and to its employees to choose a team which enables them to work the way they work best," Fox Business reported.
AECJ posted on Medium, that when Amazon listens to its employees, it "moves in the right direction" and that the walkout is meant to "get that back on track."
"Today looks like it might be the start of a new chapter in Amazon's history, when tech workers coming out of the pandemic stood up and said we still want a say in this company and the direction of this company," said Eliza Pan, a cofounder of AECJ and a former program manager at Amazon.
"We still want a say in the important decisions that affect all of our lives, and tech workers are going to stand up for ourselves, for each other, for our families, the communities where Amazon operates, and for life on planet Earth," she said.
Employee Group Accuses Amazon of Not Fulfilling Climate Pledge
Amazon pledged in its annual statement to investors, that it aimed to deploy 100,000 electric delivery vehicles by 2030 and reach net zero carbon by 2040.
However, the organizers said it was not enough and they demanded that Amazon reach net zero emissions by 2030.
Employees also accused Amazon of not meeting its climate commitments and pointed to its latest sustainability report, which showed that its carbon emissions jumped 40 percent in 2021 from 2019, the same year it released its climate pledge goals.
They referred to a 2022 study published by Reveal from The Center for Investigative Reporting, which found that Amazon undercounted its carbon footprint, by only recording product emissions from the use of its store brand goods.
The company was accused of excluding items that it bought from third-party manufacturers, which it then sold directly to consumers.
Amazon has vehemently disputed the report and said the allegations regarding its Scope 3 data were inaccurate.
Company spokesperson Brad Glasser said that Amazon abides by the Greenhouse Gas Protocol Corporate Accounting and Reporting Standard in determining its Scope 3 emissions and those generated from the company's supply chain.
He said that the tech firm would continue to "push hard" to reach net carbon zero by 2040 and that it remained on track to reach 100 percent renewable energy goals by 2025.
"While we all would like to get there tomorrow, for companies like ours who consume a lot of power, and have very substantial transportation, packaging, and physical building assets, it'll take time to accomplish," Glasser said.