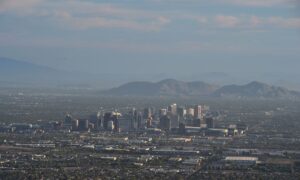 The cities of Tampa, Philadelphia, and Phoenix are seeing the highest inflation rates in the United States, while Washington, Anchorage, and Honolulu have the lowest price rises.
Personal finance website WalletHub compared 22 major metropolitan statistical areas (MSA) in two metrics related to the Consumer Price Index (CPI), the main measure of inflation. MSA refers to a core area containing a substantial population nucleus together with adjacent communities that have a high degree of social and economic integration with the core. The Mar. 14th study found that Tampa-St. Petersburg-Clearwater, Florida, ranked as the top MSA where inflation is rising the most, netting a score of 93.48.
This was followed by Philadelphia-Camden-Wilmington, Pennsylvania-New Jersey-Delaware-Maryland, with a score of 78.26, and Phoenix-Mesa-Scottsdale, Arizona, also with a score of 78.26.
Washington, D.C.-Arlington-Alexandria, Virginia-Maryland-West Virginia, was identified as the MSA where inflation was rising the least, with a score of just 1.09. This was followed by Anchorage, Alaska, with 8.70, and urban Honolulu, with 22.83.
Philadelphia, Detroit, and Houston ranked at the top with the highest CPI change when the latest numbers were compared to data from two months earlier. Tampa, Phoenix, and Seattle ranked at the top when the latest monthly CPI was compared to CPI a year back.
Elevated Inflation
The WalletHub report comes as inflation continues to remain high, putting pressure on household budgets. Annual inflation came in at 6.0 percent in February, according to data from the Bureau of Labor Statistics (BLS).
Though inflation dropped from 6.4 percent in January and the 9.1 percent peak hit in June, this is the seventeenth consecutive month that inflation has remained at or above 6.0 percent.
Food inflation was at 9.5 percent and has remained above 6.0 percent since November 2021. Energy inflation, which peaked at 41.6 percent in June 2022, was at 5.2 percent in February.
Jon A. Hooks, professor of economics and finance at Albion College, blamed the current inflation on "excessive overspending" by the U.S. government that went beyond the initial COVID-19 crisis, certain pandemic and job supply constraints, and a loose monetary policy in 2021.
"At some point, the federal government is going to have to stop its uncontrolled spending. The Federal Reserve is doing its part by slowing money growth," he said, according to WalletHub.
"The supply-chain issues will require getting COVID under control in China, for one. But we have job market-related problems in the United States as well. We have a shortage of dock workers, truck drivers, and other workers critical to the supply chain."
Federal Reserve, Inflation, Rate Hikes
A slowdown in inflation rate over these past months is expected to affect the Federal Reserve's decision on whether to hike its benchmark interest rates.
In April 2022, the benchmark interest rate was at 0.5 percent. In less than 12 months, the central bank pushed it up to a range of 4.50–4.75 percent by its February meeting. The next meeting of the Fed is set to take place on Mar. 21–22.
There are speculations that the Fed could raise rates by 25 basis points. In February, Fed Chair Jerome Powell said that there is still "a long way to go" in the central bank's fight against inflation. The Fed is looking at bringing down inflation rate to its target of 2 percent.
However, a series of bank failures over the past weekend, including Silicon Valley Bank (SVB) and Signature Bank, has bolstered investor expectations that the Fed might even stop raising rates.
The Federal Deposit Insurance Corporation (FDIC) has waived its $250,000 deposit insurance coverage limit, promising SVB depositors that they will get their money back. In a tweet on Mar. 13, economist Peter Schiff warned that such a move will only make inflation worse.
"It absolutely is a bailout. Not only are depositors bailed out but so too are other banks that may have also failed as a result of the very events you claim the government action prevented. Middle and lower-class Americans will get the bill in the form of higher inflation," he said.