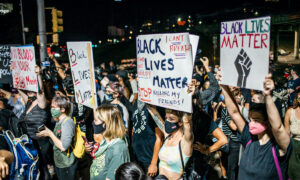 Billions of dollars have been poured into the Black Lives Matter (BLM) organization and its related causes by corporations during the past few years according to a new funding database, with recently collapsed banks like Silicon Valley Bank (SVB) and Signature Bank among the list of funders.
The BLM funding database is tracked by the Claremont Institute's Center for the American Way of Life and contains pledges and contributions received from 2020 to the present. In total, $82.89 billion dollars have been raised by the BLM movement—more than the combined GDP of 46 African nations. This includes over $123 million that directly went to BLM's parent organizations. The biggest donor was JP Morgan Chase, which contributed $30 billion. This was followed by Bank of America with a contribution of $18.25 billion and Goldman Sachs with $10.11 billion.
SVB, which collapsed last week, donated $70.65 million to the organization. Signature Bank, which was shut down by regulators on March 12, contributed $850,000.
Exelon gave $3.1 billion, Fifth Third Bancorp gave $2.8 billion, Starbucks gave $1.6 billion, and Citigroup gave $1.1 billion. PNC Financial Services, Facebook, and New York Life Insurance funded over a billion dollars each.
Other major donors who made triple-digit contributions include BlackRock which donated $810 million, CVS Health with $600 million, PayPal with $535 million, Mastercard with $500 million, Pepsi with $400 million, and Google with $370 million.
IBM donated $252 million, NFL $250 million, Microsoft $244 million, Netflix $205 million, Amazon $269 million, among others.
BLM Activism Funding, Corporate Wealth Transfer
In a March 14 Newsweek opinion piece, the Claremont Institute Center for the American Way of Life pointed out that the BLM protests which ransacked 200 American cities in 2020 had resulted in as much as $2 billion in property damages.
Meanwhile, local BLM chapters are spending millions on initiatives aimed at defunding police departments, imparting school children with marxist doctrines like queer theory and critical race theory, and teaching kids to "hate themselves, their peers, and their country."
Banks are issuing subprime loans to end alleged "systemic racism" while corporations provide money that helps bail out "violent rioters and criminals."
As examples, the institute points to the $30 billion "Racial Equity Commitment" program by JP Morgan Chase that intends to "close the racial wealth gap" as well as Microsoft's $250,000 contribution to a bail fund for BLM rioters—the Minnesota Freedom Fund.
"This redistribution of corporate wealth—wealth that rightly belongs to shareholders, including pensioners and retirees, and that should have been paid out as dividends or put toward stock buybacks—is historic, and may be viewed as a form of reparations made to self-declared enemies of the American nation and way of life. And that wealth transfer is inconceivable without BLM," the institute said.
Questionable Spending
BLM members have been blamed for using the organization's funds on personal expenses. In September last year, Shalomyah Bowers, head of BLM Global Network Foundation, was accused of stealing over $10 million in donations for "on-the-ground work."
In April 2022, it was reported that BLM co-founder Patrisse Cullors bought a $5.8 million property in October 2020, with the purchase made using donations received by the organization.
A week after the purchase, the ownership of the property was transferred to an LLC in Delaware. The identity of the new owner was not disclosed to the public.
Tax forms from May 2022 revealed that BLM had paid close to $2.17 million in service fees to Bowers Consulting firm between July 2020 and June 2021.
BLM paid $840,000 to Cullors Protection LLC, a security firm owned by Cullors's brother Paul Cullors. The organization also sent almost $970,000 to Trap Heals, a cultural architecture firm founded by Damon Turner who fathered Cullors's child.