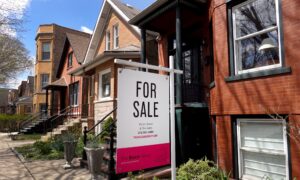 Home sellers are giving more concessions and price cuts to prospective buyers amid high mortgage rates and home prices, according to real estate brokerage Redfin.
During the three months ending Feb. 28, sellers gave concessions to 45.5 percent of home sales recorded by agents at Redfin, according to a March 15 press release. This is the highest three-month share in the company's records dating back to June 2020 and beats the 31.1 percent share from a year earlier. Home seller concessions can include anything from funding repairs or offering to pay closing costs.
Meanwhile, a "record" 25.2 percent of home sales included both a concession and a discount on the list price. Another "record," 20.6 percent of sales included both these benefits at a time when the home was on the market.
According to the brokerage, concessions are becoming common as elevated mortgage rates and home prices have resulted in many buyers putting off their purchases. This has forced sellers to make concessions to attract buyers.
The average mortgage rate on a 30-year fixed-rate mortgage stood at 6.6 percent for the week ending March 16, up from 4.16 percent a year back, data from Freddie Mac show.
According to the Federal Reserve Bank of Atlanta's Home Ownership Affordability Monitor, the average U.S. household would have had to spend 42.9 percent of its income to afford a home with a median price of $347,333 in December 2022, which is the highest proportion since August 2006.
Concessions were found to be most common in Las Vegas where 77.6 percent of home sales saw sellers include such benefits. San Diego came in second, followed by Sacramento, Phoenix, and Denver. New York had the least concessions, with only 16.7 percent of home sales seeing these benefits.
Demanding Buyers
Elena Fleck, a Redfin real estate agent in Palm Beach, Florida, points out that buyers are today "more demanding and selective," willing to wait to find a perfect home, which wasn't the case during the pandemic housing boom.
"During the peak of COVID, it took two to three days to sell anything regardless of the condition, location, or square footage. Now, a home that's not perfect may stay on the market for three to four months if the seller doesn't throw in something to sweeten the deal," she said.
"Any home with a roof that's over eight years old is just sitting—buyers don't want to put any additional funds into repairs. I had a few sellers offer credits for new roofs to close the deal. We're also seeing more buyers ask for credits toward their closing costs."
Mortgage Rates and Federal Reserve
Meanwhile, demand for mortgages picked up for the week ending March 10 from the prior week due to a fall in mortgage rates amid an ongoing banking crisis, according to a March 16 report by Redfin.
The recent collapse of Silicon Valley Bank and Signature Bank has shaken up the banking sector—a development that could lower mortgage rates further.
Buyers "pounced" when mortgage rates fell, showing that there are plenty of people waiting for the "right time" to buy, said Redfin Economics Research Lead Chen Zhao.
The future direction of mortgage rates will depend on how the Federal Reserve will react to the banking crisis as well as "stubbornly high inflation."
"The Fed's goal at its meeting next week is to achieve a balancing act: Fight inflation while keeping the banking system intact. Even though the European Central Bank hiked interest rates more than expected this morning, it's unlikely the Fed will follow suit," Zhao said.
"Instead, we expect them to either raise rates modestly or press pause for the time being, the latter of which would send mortgage rates down and bring back many sidelined buyers and sellers."
According to data from CME FedWatch Tool, the odds of the Fed approving a 50-point hike at its March meeting next week has fallen from 40.2 percent on March 10 to 0.0 percent on March 17, 11:53 a.m. EDT.
The odds of a 25-point hike rose from 59.8 to 71.6 percent while the odds of no rate hikes jumped from 0.0 percent to 28.4 percent.