Are COVID Vaccines Just the Tip of the Iceberg?—Kim Witczak on the 'Spider Web' of Corruption in the Drug Safety System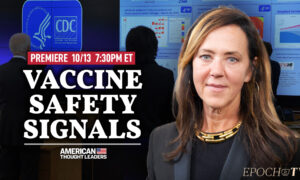 This episode will premiere on Thursday, Oct. 13, at 7:30 p.m. ET. 
"My brother-in-law went home and googled 'Zoloft' and 'suicide,' and we were shocked. There were hearings in 1991, when it was just Prozac on the market, with the exact same issue."
After being happily married for almost 10 years, Kim Witczak's husband shockingly committed suicide, shortly after he was prescribed an anti-depressant off-label for insomnia.
"I intuitively, at the deepest part of me, knew there was no way that Woody … would take his own life," says Witczak.
For almost 20 years now, Witczak has been an advocate for pharmaceutical drug safety and reform, most recently taking on the fight for transparency and accountability surrounding COVID-19 vaccines.
"There are more injuries and deaths that have been reported with this vaccine alone than any of the other ones. Right there, that should be a signal," says Witczak.
Subscribe to the American Thought Leaders newsletter so you never miss an episode.
BUY Jan 6 DVD: https://www.epochtv.shop/product-page/dvd-the-real-story-of-january-6, Promo Code "Jan" for 20% off.
* Click the "Save" button below the video to access it later on "My List."
Follow EpochTV on social media:
Twitter: https://twitter.com/EpochTVus
Rumble: https://rumble.com/c/EpochTV
Truth Social: https://truthsocial.com/@EpochTV
Gettr: https://gettr.com/user/epochtv
Facebook: https://www.facebook.com/EpochTVus
Gab: https://gab.com/EpochTV
Telegram: https://t.me/EpochTV