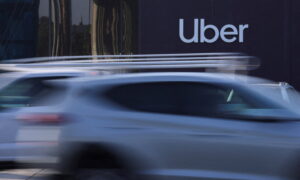 Getting home when public transport grinds to a halt will be cheaper after New South Wales (NSW) and Uber struck an Australian-first deal on surcharges.
The rideshare operator has agreed to limit surge pricing when disruptions happen until alternative public transport options are in place and passenger demand reduces.
Transport Minister Jo Haylen announced the deal after some passengers were hit with excessive surge charges in March when the Sydney Trains network came to a standstill, stranding thousands of commuters during the afternoon peak.
"That's not fair on them, and that's why we've acted," she said on Thursday.
"We approached Uber because we know that the system wasn't working."
The deal comes at no cost to taxpayers, formalises an informal communications channel between the parties and ensures human intervention could protect passengers from exorbitant charges.
Surge pricing was still permitted – to incentivise drivers to operate in the affected areas – but fares would rise no higher than two times the regular rate, Ms Haylen said.
Asked what was in it for Uber, Haylen said: "reputational protection".
The new procedure came into action last week during a major fire in a building next to Central Station, with Uber monitoring and limiting surge pricing.
Rideshare regulator Anthony Wing will investigate if further deals can be struck with other providers, such as DiDi.
Uber now has 24/7 monitoring of public transport activity and processes in place to limit surges when major or safety incidents occur with a clear point of contact in the Transport Management Centre.
It will issue immediate notifications and in-app messages to drivers when things go wrong on the public transport network.
It's unclear if Uber will strike similar deals with other states.
Uber general manager Dom Taylor said the ride-share company had become an integral part of the NSW transport network over the past decade.
"We feel a deep responsibility to being a collaborative and constructive part of the solution when major disruptions occur," he said.
"Formalising this relationship with Transport NSW marks an important milestone that will work to the benefit of NSW residents."