Australia to Ban Russian Oil, Gas Imports
Australia will soon prohibit the import of oil, natural gas, coal, refined petroleum products, and other energy products from Russia, the country's Department of Foreign Affairs and Trade (DFAT) announced on March 11.
The sanctioned products are specified in a document titled "Autonomous Sanctions (Import Sanctioned Goods—Russia) Designation 2022," registered on the Federal Register of Legislation on March 11.
The sanctions will take effect 45 days later, on April 25, to allow for Australia to receive shipments of crude oil already ordered and paid for from Russia. Two main local oil refiners Viva Energy and Ampol will be taking the deliveries.
"This period will allow Australian businesses with existing contracts for the import of relevant goods to comply with the prohibition," DFAT stated.
The United States and United Kingdom have also recently announced bans on Russian oil imports.
Viva Energy and Ampol separately announced on March 8 they each purchased two Russian-origin cargoes prior to the escalation of conflict between Ukraine and Russia on Feb. 24.
Viva Energy said it expects the cargoes to arrive in Australia over the next two months. It said the cargoes were purchased from international oil companies rather than Russian entities.
"Viva Energy has explored options to dispose of these cargoes, but there are no credible purchasers in the current market and without these supplies the Company faces gaps in its refining program and potential fuel shortages," the company said.
Ampol said it has not purchased Russian crude oil or products since the Russia–Ukraine war commenced. It expects the already-purchased Russian cargoes to arrive before the end of April.
The companies declined to say whether the cargoes were being shared, or if there were four in total, reported Guardian Australia.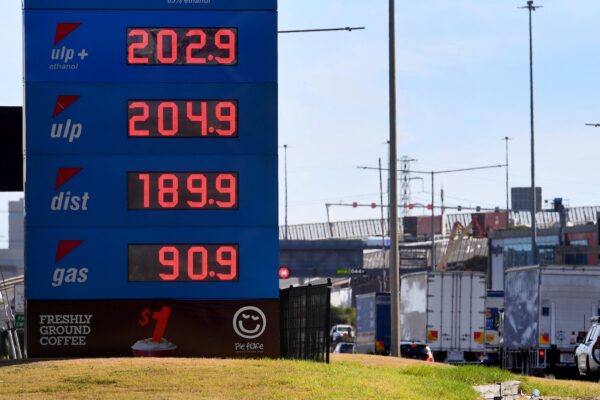 Petrol prices have reached AU$2.00 a litre in some parts of the country. Australian Treasurer Josh Frydenberg told the Australian Broadcasting Corporation on March 10 that fuel prices will remain high due to the Russia–Ukraine conflict, but declined to say if he would cut fuel excise—a flat sales tax levied by the Australian Government on petrol and diesel bought at the bowser—to help drivers. The current rate is 44.2 cents in excise for every litre of fuel purchased.
In 2021, Australia imported 147 megalitres (925,231 barrels) of crude from Russia, or about 1.2 percent of total oil imports.
Australian Minister for Energy Angus Taylor said in an interview with Sky News on March 9 that given that Viva and Ampol are not buying any more oil, it would "effectively mean" Australia won't be using Russian oil.
"We don't need it, frankly. We supply the crude oil we need from offshore from 30 different countries. Russia is a tiny portion of it and so cutting that out, which is what effectively has happened, won't have a big impact," he said, noting that "practically speaking, only 1.5 percent of the crude oil we purchase in Australia is coming from Russia."
The latest ban is part of other measures Australia has taken against Russia since its invasion of Ukraine. Australia has announced at least three rounds of sanctions—on Feb. 23 (local time), Feb. 28, and March 8.