Australian office workers are still returning to their workplaces three years after the COVID-19 pandemic broke out. However, the pace of return is low as many employees prefer to work from home.
The Tourism and Transport Forum (TTF), a peak industry group, has released a new report shedding light on the movements of adults in the central business districts (CBD) of five major Australian capital cities: Sydney, Melbourne, Adelaide, Brisbane and Perth.
According to the study's findings, while the five cities saw a rise in the number of employees returning to offices in the past 12 months, there were still fewer CBD workers in April than before the pandemic.
Specifically, Sydney had the lowest percentage of CBD workers at 64 percent (up 12 percent compared to last year), followed by Melbourne at 65 percent (up nine percent), and Brisbane at 74 percent (up 15 percent).
The slow recovery of Sydney and Melbourne came as the two cities were among the most impacted by lockdowns and COVID-19 restriction policies imposed by state governments.
In comparison, around 82 percent of CBD workers in Adelaide had returned to their offices (up 14 percent), while the figure for Perth was 87 percent (up 16 percent).
TTF CEO Margy Osmond said remote working was likely to continue at some levels.
"This may be our new normal," she said.
"If that's the case, we need continued investment in industries beyond traditional office spaces to ensure a vibrant and thriving urban landscape, so CBD businesses don't suffer."
Visitors Boost CBDs' Economic Recovery
TTF also found that total visitation (including office workers and visitors) to the Sydney, Melbourne, Adelaide, Brisbane and Perth CBDs was still below pre-pandemic levels.
However, a surge in non-workers returning for nightlife and weekend events boosted the flow of people coming to CBDs, driving economic recovery.
Specifically, all cities except Brisbane witnessed an increase in the percentage of visitors coming to the CBD on the weekend compared to before the pandemic.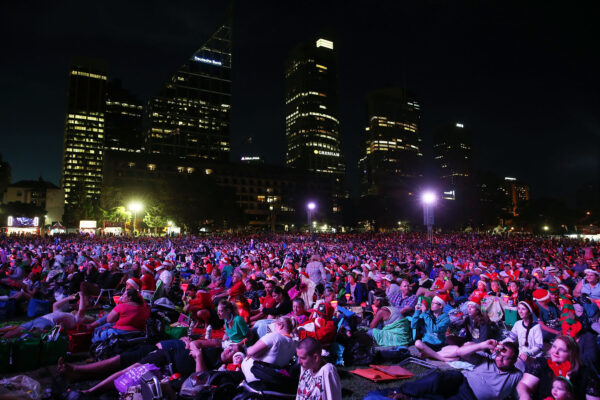 In addition, the most significant growth was recorded in the time frame between 9 p.m. and 6 a.m. in those cities.
"Visitors, not workers, are driving this recovery. Their enthusiasm to explore and experience each city's offerings is what's propelling their revival," Osmond said.
The CEO also called on state governments to invest in events and relevant industries to facilitate the capital cities' recovery.
"This data shows how important it is to keep investing in our arts, entertainment and hospitality industries, as well as supporting major events. These sectors play a pivotal role in revitalising our cities and contributing to their overall recovery," Osmond.
Companies Now Are More Likely to Offer Work-From-Home Arrangements
The report comes as a study by Purpose Bureau, an ESG (environmental, social, and governance) data analytics provider, indicated that as of March 2023, Australian businesses were 2.5 times more likely to allow new employees to work from home temporarily or permanently compared to two years ago.
Notably, new companies with less than two years of establishment were four times more likely to offer work-from-home (WFH) arrangements to their workers.
Among the jurisdictions, New South Wales had the highest number of WFH job advertisements at 781 per 10,000 job ads, while South Australia recorded the lowest number at 349 per 10,000 job ads.
The Administrative and Support Services industry also topped the list of sectors allowing workers to work from home, with 25 percent of the job ads offering WFH arrangements, up from 20 percent previously.
Meanwhile, blue-collar industries such as Mining, Construction and Agriculture were among those with the lowest number of WFH job offerings.
Nick Kamper, CEO of Purpose Bureau, said the figures illustrated a new normal at Australian workplaces.
"White-collar industries have had a stickier rate of WFH offerings since the height of COVID," he said.
"The new norm is that at least one in four white collar jobs in Australia will start with WFH flexibility."