Australians Should Vote for Freedom at the Next Election: Economist
Preserving individual freedoms should be a major consideration for Australians set to go to the polls in May at the next federal election, according to an economist.
Gigi Foster, professor at the University of New South Wales (UNSW), said the four main political parties in Australia—Liberal, National, Labor, and Greens—had not acknowledged the problems of deploying harsh restrictions over the past two years to contain COVID-19, resulting in the curtailing of many rights.
"We will be feeling the immense damage created by the policy mistakes of this period for a generation," she told The Epoch Times. "For the major parties to have gone along with the madness initially is bad enough. For them still today not to acknowledge their mistakes, and instead to try to distract attention away to other policy areas, suggests that they are hoping to evade justice for their betrayals."
The move by Australian governments to rely on strict lockdowns and restrictions to contain the spread of COVID-19—as well as cushion the financial cost to families and businesses—has seen national debt balloon to around AU$829 billion (US$621 billion) for the 2020-21 financial year.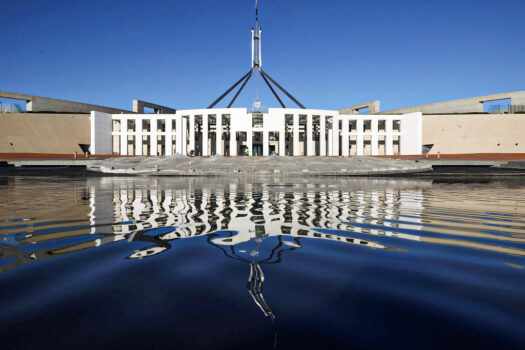 By June 2022, that is expected to reach AU$963 billion (45.1 percent of Australia's GDP)—without factoring in state government debts.
Federal programs such as JobKeeper and JobSeeker—government payments to workers, businesses, and welfare recipients—have been some of the largest contributors to the national debt.
Associate Prof. Mark Humphrey-Jenner of UNSW said that during "exceptional times" higher debt could be justified but said paying it back would be a big challenge.
"There is only so high [taxes] can go before companies and individuals simply leave," he said in a statement.
The preference for suppression strategies to control the virus, has also been attributed to the close relationship developed nations have with China.
"At its formation, the (Australian) National Cabinet ignored what was then the world's best practice in handling the pandemic as demonstrated by Taiwan, where schools and businesses remained open as usual," Emeritus Professor of Law David Flint wrote in The Epoch Times. "Instead, the National Cabinet shockingly adopted the Beijing communist model—the lockdown—while rejecting the more democratic model of dealing with health crises."
In fact, police in the state of Victoria have now launched an initiative to "strengthen relationships" with local communities after playing a major role in enforcing tough restrictions during the pandemic, which saw instances of excessive force used on civilians.
The capital city Melbourne has endured the most days under lockdown than any other city in the world.
Foster said a reset was needed where individual freedom was a priority.
"Freedom of the man on the street to choose where to spend his resources, including via investment and in consumption, is a critical ingredient of a healthy economy," she said.
"Our primary mechanism of helping people in the long run is not to write them cheques for higher and higher amounts, but rather to help each member of society find ways to make valuable contributions to markets and other productive community initiatives," she added.
Foster admitted that the pandemic exposed a culture of compliance in Australian society.
"For many people: they go to bed at night thinking they've had a good day if they have worn their masks all day, gotten their COVID shots as dictated, and chastised a few teenagers for not adequately socially distancing," she said.
Suppression strategies have received bipartisan backing from major political parties in the country, with minor parties scrutinising the validity of the approach.
One Nation Senator Pauline Hanson has submitted a petition signed by 41,000 Australians for a Royal Commission, or public investigation, into the nation's handling of COVID-19.
According to the petition, vast amounts of taxpayer funds were spent over the course of the governments' pandemic management, but still resulted in lost jobs, and business closures, and saw "unelected bureaucrats" wield extensive influence.
At the same time, individual MPs and senators from One Nation, the Liberal Party, Nationals, and United Australia Party, have launched their own "cross-party inquiry" to gather data on the governments' response to the pandemic.