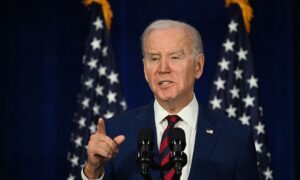 President Joe Biden spoke on March 15 about new prescription drug cost savings under his administration, part of a wider effort by the commander in chief to sell the country on his achievements in office.
"It makes a difference in people's lives, what we're doing," said at the University of Nevada, Las Vegas.
"I've been a significant consumer of healthcare–my family has," Biden told a crowd of nurses in the audience.
The president's visit is part of a West Coast junket that also saw him attending a Democratic National Committee fundraiser, as reported by the Las Vegas Sun.
In recent weeks, Biden has spoken in support of his party's domestic policy record in the last Congress.
He also released his Fiscal Year 2024 budget on March 9, setting the stage for Republicans, who want something smaller. Biden's proposal bears a $6.8 trillion price tag, up from $6.2 trillion in anticipated spending this fiscal year.
Biden discussed prescription drug changes enabled by legislation in the last Congress, including a move to make some vaccines free for seniors on Medicare Part D, along with a price cap on insulin for seniors on Medicare.
The 2022 reconciliation bill, also known as the Inflation Reduction Act (IRA), has driven many of the price changes Biden touted on March 15.
Domestic policy czar Susan Rice and other Biden officials promoted the administration and Congress's drug-related work in a March 14 call with reporters.
"The [IRA] law makes many recommended vaccines free for Medicare beneficiaries," Rice noted during that call.
"It used to cost them up to $200 a shot," Biden said on March 15.
He noted that the bill permits Medicare to negotiate with drug companies which, he argued, would drive the prices down.
Biden's speech comes after two of the Big Three insulin producers, Novo Nordisk and Eli Lilly, slashed the price for insulin.
'MAGA Republicans' in Crosshairs
Continuing a familiar theme in his speeches, Biden directed his ire toward "MAGA Republicans."
"This is not your father's Republican Party," he said. MAGA Republicans "are different."
Biden cited Republican efforts to repeal the Affordable Care Act, or Obamacare, as evidence of this.
He specifically criticized Marjorie Taylor Greene (R-Ga.), describing her as a woman from "the mountains of Georgia."
He pointed out that she heckled him during his State of the Union Address, when he stated that "some Republicans want Medicare and Social Security to sunset"—an apparent reference to Sen. Rick Scott's (R-Fla.) proposal to sunset all federal programs every five years, setting them up for review, which he later dropped.
Biden vowed that his efforts were far from finished–a rallying cry for Democrats as they seek to implement laws from last session now that Congress is divided once more.
"There's a lot more coming," he said.
Biden praised nurses, doctors, and others working in the healthcare system.
During the COVID-19 pandemic, "Healthcare workers put their lives on the line," he said.