Biden Says War Has Been 'Strategic Failure' for Russia
U.S. President Joe Biden on Saturday said the war in Ukraine has been a "strategic failure" for Russia and that Russian President Vladimir Putin "can and must end this war."
Biden also said Putin "cannot remain in power," a remark that a White House official later clarified was not intended as a call for regime change.
Biden was in Poland on the second day of his trip to the country—also the fourth and final day of his trip to Europe. In a major address delivered from Warsaw, the U.S. president warned Russia against encroaching on NATO territory.
"Don't even think about moving on one single inch of NATO territory," Biden said. "We have a sacred obligation under Article 5 to defend each and every inch of NATO territory with the full force of our collective power."
According to the United Nations, of the more than 3.7 million people who have fled Ukraine since Russia invaded on Feb. 24, the vast majority—more than 2.2 million people—have entered Poland.
About 750 to 1,000 people were in attendance on Saturday at the Royal Castle in Warsaw, including Polish President Andrzej Duda, members of parliament, local officials, students from local universities, and U.S. Embassy staff. Biden spoke for nearly 30 minutes.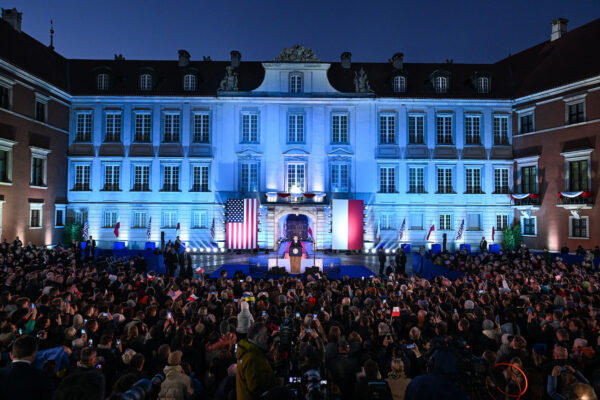 Biden told the crowd  that U.S. forces are in Europe not to engage in conflict with Russia, but to defend NATO allies.
"The Kremlin wants to portray NATO enlargement as an imperial project aimed at destabilizing Russia. Nothing is further from the truth. NATO is a defensive alliance. It has never sought the demise of Russia," Biden said.
Within days of Russia's invasion, western nations "moved jointly with sanctions to damage Russia's economy," Biden said, adding that as a result of the collective sanctions, the Russian ruble "is immediately reduced to rubble." Eastern countries like Japan and Taiwan have also announced sanctions on Russia.
"The [Russian] economy is on track to be cut in half in the coming years. Russia's economy was ranked the 11th biggest economy in the world before this [invasion]. It will soon not even rank among the top 20 in the world," the U.S. president said to applause.
Biden also told the crowd: "This battle will not be won in days or months either. We need to steel ourselves for the long fight ahead."
Biden said Europe "must end its dependence on Russian fossil fuels" and assured that the United States will help. "That's why just yesterday, in Brussels, I announced a plan with the President of the European Commission to get Europe through the immediate energy crisis," Biden said.
Biden also issued some remarks directed at the Russian people, saying: "You, the Russian people, are not our enemy." The U.S. president said he refuses to believe that the Russian people will tolerate the current situation endured by innocent Ukrainians. He blamed the sanctions on Putin's aggression, which has cut the Russian people "off from the rest of the world" and taken Russia "back to the 19th century."
Putin has described Russia's military actions in Ukraine as a "special military operation" to demilitarize and "denazify" the country.
Biden, near the end of his speech, said that Putin "cannot remain in power."
A White House official later clarified: "The President's point was that Putin cannot be allowed to exercise power over his neighbors or the region. He was not discussing Putin's power in Russia, or regime change."
Kremlin spokesman Dmitry Peskov denounced Biden's remarks, saying  "it's not up to the president of the U.S. and not up to the Americans to decide who will remain in power in Russia."
Earlier on his trip, Biden had meetings with the G7, European Council, and NATO allies. On Friday, Biden met with U.S. troops in the Polish town of Rzeszów, and was later briefed on the refugee situation on the ground.
Earlier on Saturday, Biden dropped in on a meeting with Ukraine's foreign and defense ministers, and made additional, unspecified security pledges on developing defence cooperation, according to Ukraine's foreign minister, Dmytro Kuleba.
Meanwhile, the western Ukrainian city of Lviv was hit with missiles, which saw at least five people injured. The city is around 50 miles from the border with Poland. Lviv Mayor Andriy Sadovyy said that a fuel storage facility had been hit and that no residential buildings had been damaged in the strikes that seemingly targeted infrastructure.
Reuters contributed to this report.