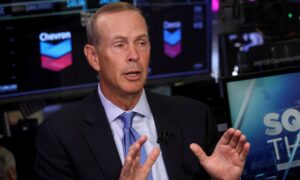 HOUSTON—Chevron Corp. on Friday posted a record $36.5 billion profit for 2022 that was more than double year-earlier earnings, but the bottom line fell shy of Wall Street estimates, undercut by asset writedowns and rising costs.
The second largest U.S. oil producer's adjusted net profit for 2022 exceeded its previous record set in 2011 by about $10 billion. Still, higher expenses and weaker oil and fuel profits left fourth-quarter earnings 6.6 percent below Wall Street's forecast, according to Refinitiv data.
Chevron shares were down 3.9 percent.
Its results kick off what promises to be nosebleed level earnings for global energy suppliers. High prices from strong demand and shortages since Russia's invasion of Ukraine position Western energy firms to show a combined $200 billion profit for the year, according to analysts.
This season's earnings have already put energy stocks at the top of industry returns as more companies lift their payouts to shareholders. The record shareholder payouts could stir fresh calls for windfall taxes.
"We made progress winning back investors to energy and 2022. We still have a long way to go," finance chief Pierre Breber told Reuters in an interview.
The industry has potential to significantly increase its participation in the S&P index, even with modest production growth.
The White House on Wednesday protested Chevron's decision to triple its spending on share repurchases, now at $75 billion over five years at current guidance. The Biden administration wants companies to lower prices for consumers.
Shareholder Payouts
Shareholder rewards will continue to be the top priority for cash, Chevron officials said.
"We can do it all," Breber said. After providing for shareholder dividends, Chevron will allocate cash to production and repaying debt, with share buybacks a fourth priority.
"I'm going to keep doing what we have been doing, year in and year out," he said.
Despite the furor over the buyback target, Chevron's spending on its own shares will be "unchanged at $5 billion to $15 billion per year", Breber said.
"The $75 billion can be thought of as five years at the current buyback rates," he said.
Chevron last year paid out $26 billion via dividends and buybacks to shareholders and invested $15.7 billion in operations.
This year, it will increase project expenditure to $17 billion, with two-thirds of outlays in the United States, where oil and gas output was up 4 percent over 2021.
It left global oil and gas production guidance for this year at flat to up 3 percent.
4th-Quarter Miss
In the final quarter, Chevron posted adjusted earnings of $7.9 billion, or $4.09 per share, below analysts' estimate of a $4.38 per share profit.
"The miss was primarily driven by higher corporate costs, with both the upstream and downstream coming in a touch below market expectations," said Biraj Borkhataria, European research director at RBC Capital.
Oil and gas production was down for the year, led by a 7 percent decline in international output due to the end of concessions in Thailand and Indonesia.
But Chevron has been shifting its focus for new investments and targeting production in the United States. U.S. production hit a record last year, led by a 16 percent increase in Permian, the country's main shale basin.
Its refining business picked up and almost tripled results from the previous year as international fuel production delivered stronger margins. Refined product sales were up 7 percent, led by higher renewable fuel sales and jet fuel demand.