FDIC Transfers All Deposits From Failed Silicon Valley Bank to Newly Created 'Bridge Bank,' Names CEO
[ad_1]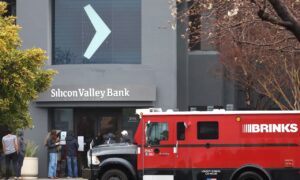 The U.S. Federal Deposit Insurance Corporation (FDIC) has transferred all deposits of Silicon Valley Bank (SVB), both insured and uninsured, to a newly created "bridge bank" with a newly named CEO.
A massive run on deposits was triggered over SVB's bond portfolio and its failure to raise capital, causing money to empty out, leading to the bank's failure.
Two other banks have failed and were taken over by regulators in the past week, including Silvergate Capital and Signature Bank of New York, which were both heavily invested in cryptocurrency.
The collapse of the California-based lender was the second-biggest bank failure in American history, after the collapse of Washington Mutual during the financial crisis of 2008–09.
SVB and its 13 branches were closed by the California Department of Financial Protection and Innovation on Mar. 10, with the FDIC appointed as receiver.
The financial regulator announced on Mar. 13 that a full-service FDIC-operated bridge bank would be formed to protect the depositors' assets and that all clients will have access to their money today.
A bridge bank is a chartered national bank that operates under a board appointed by the FDIC and assumes the deposits and certain other liabilities and purchases certain assets of a failed bank.
The newly chartered entity is designed to "bridge" the gap between the failure of a bank and the time in which the financial regulator can stabilize the institution and implement an orderly resolution.
FDIC Appoints New CEO and a Bridge Bank Entity
The regulator removed the bank's senior management and appointed former Fannie Mae CEO Tim Mayopoulos to run the newly created entity, called Silicon Valley Bank N.A.
The transfer of all deposits was completed under the systemic risk exception approved on Mar. 12, said the FDIC.
All customers of SVB would automatically become customers of the bridge bank, which will conduct "normal banking hours and activities, including online banking," the FDIC said in a statement.
"All depositors of the institution will be made whole," it said, and promised that no bank losses would fall on U.S. taxpayers.
"These actions will protect depositors and preserve the value of the assets and operations of Silicon Valley Bank, which may improve recoveries for creditors and the DIF," the regulator added, referring to the Deposit Insurance Fund.
Although shareholders and certain unsecured debt holders will not be protected, any losses to the Deposit Insurance Fund to support uninsured depositors will be recovered via a special assessment, as required by law.
White House Tries to Stem Crisis After Three Bank Failures Last Week
The collapse of SVB led to volatility on Wall Street and triggered concerns that the after-effects would spread throughout global markets.
The Biden administration and federal regulators said they would move to shore up confidence in the banking sector.
Oppenheimer told investors this week that the collapse was likely to drive deposits to the larger "safety" banks, reported Reuters.
Many local banks with a similar customer profile to SVB have seen their bond holdings lose value, as the Federal Reserve sharply raises interest rates to fight inflation.
Fears spread that other banks would fail when First Republic Bank reported a nearly 69 percent slump in its stock price after the Fed's rate hikes.
The community bank claimed it had access to more than $70 billion in unused liquidity after a pledge of financial support from the Fed and a lifeline from JPMorgan Chase over the weekend, reported Marketwatch.
"First Republic's capital and liquidity positions are very strong, and its capital remains well above the regulatory threshold for well-capitalized banks," said First Republic founder and executive chairman Jim Herbert and CEO Mike Roffler in a joint statement.
Other banks facing losses include PacWest Bancorp, which saw a 40 percent loss, and Western Alliance Bancorp, which tumbled 33 percent.
In Europe, Credit Suisse stock hit a record low, falling as much as 15 percent after investors were rattled by the multiple bank failures in America.
Federal Reserve Reveals New Emergency Loan Program
Treasury Secretary Janet Yellen ruled out a federal bailout for SVB's investors, telling CBS's "Face the Nation" in an interview that "we're not going to do that again," in reference the bailout during the financial crisis of 2008–09.
Meanwhile, the Fed unveiled its new emergency loan program on Mar. 12 to boost the banking system's capacity in the wake of SVB's collapse. The new program would allow banks and other lenders to be able able to pledge Treasurys and mortgage-backed securities for cash.
Banks will be able to pledge collateral at par or at face value rather than marking the assets to their current market value.
President Joe Biden addressed the crisis at the White House on Monday to reassure Americans that they can have confidence in the U.S. banking system following the SVB collapse and end any concerns about the fallout
"Americans can have confidence that the banking system is safe," Biden said.
"Your deposits will be there when you need them. Small businesses across the country that deposit accounts at these banks can breathe easier knowing they'll be able to pay their workers and pay their bills, and their hard-working employees can breathe easier as well."
However, SVB investors will not be protected by the government and management will be fired, said the president.
"They [investors] knowingly took a risk, and when the risk didn't pay off, investors lose their money. That's how capitalism works," he said.
Biden also called for a "full accounting" of what led to the collapse of SVB and Signature Bank, while promising to hold those responsible accountable.
He said he intends to ask Congress and financial regulators to strengthen the rules for banks to stave off any future failures.
Reuters contributed to this report.
[ad_2]

Source link