Germany Opposes Ban on Russian Energy Imports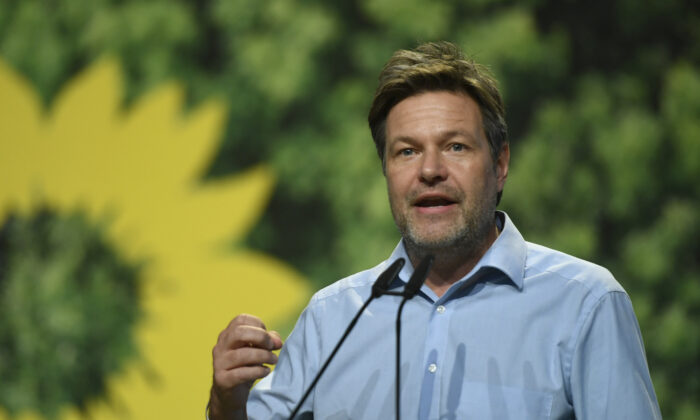 German Green party co-leader Robert Habeck delivers a speech at a two-day party congress of the German Green party in Bielefeld, western Germany, on Nov. 16, 2019. (Ina Fassbender/AFP via Getty Images)
BERLIN—Germany's economy minister has spoken out against an embargo on Russian energy imports, saying it could endanger social cohesion in the country.
Germany gets about half of its coal and gas from Russia, and a third of its oil.
Economy Minister Robert Habeck, who is also Germany's vice chancellor, said Thursday that his country needs to "free itself from imports of Russian energy" but acknowledged that doing so will take time.
Habeck told reporters in Berlin that the government is working on a series of measures to quickly increase energy independence, including securing new suppliers and ramping up the use of renewables.
He played down the suggestion that Germany should extend the lifetime of its three remaining nuclear power plants, which are scheduled to be shut down this year. But he left open the possibility that this might be considered, "if it helps."
Habeck said the government would also work on energy efficiency measures to reduce demand and encouraged Germans to do their bit, too.
"If you want to hurt Putin a bit, then save energy," he said.