Inflation and Economic Woes Lead 54 Percent of Gen Z Americans to Live With Their Parents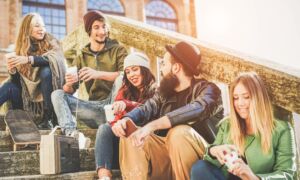 Generation Z, the youngest generation of American adults, are struggling in an era of high inflation and expensive housing, with more than half of them living with their parents in an uncertain economic environment.
At least 54 percent of adults aged 18–25 are opting to live with their parents out of economic necessity, according to a new study of over 300 participants conducted by The Harris Poll and commissioned by DailyPay.
The Gen Zers now in adulthood and who are seeking to become independent from their families are starting to have trouble remaining financially afloat, as the cost of everyday items goes up.
Out of all of the respondents polled, 80 percent of Gen Z say that they expect the U.S. economy to remain the same or decline through next year.
This youngest American age cohort started to enter the workforce in the midst of a pandemic and increasing political instability at home and abroad.
They also happen to be the most technologically savvy generation when it comes to social media.
About 41 percent said they were concerned that rising inflation would make it more difficult for them to pay their bills over the next year, and 38 percent expect that necessities like food and fuel would become more expensive to buy.
The study also found that rising costs have greatly affected the ability of many of these young people to save.
"Potentially most concerning is that Gen Z does not feel they are able to save for the future," said Walden.
An alarmingly signicant number, 78 percent out of of those surveyed, admit that they have saved less compared to last year, or have the same amount of savings as they did last year, while some have not been able to save at all.
Young Adults Remain Optimistic About the Future