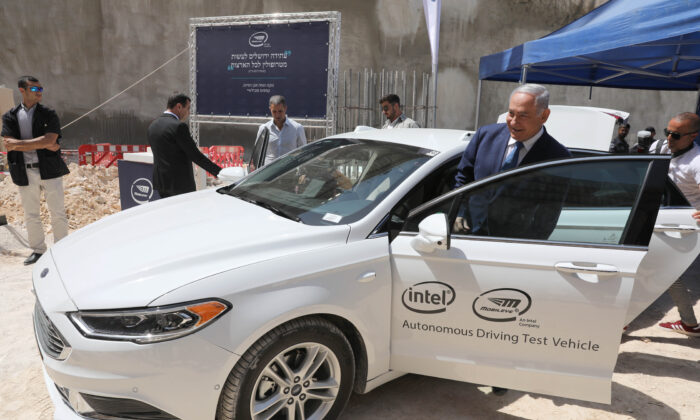 Israeli Prime Minister Benjamin Netanyahu boards an autonomous vehicle during a cornerstone ceremony for the Mobileye campus in Har Hahotzvim, northwest of Jerusalem on Aug. 27, 2019. (Abir Sultan/AFP via Getty Images)
Intel Corp.'s self-driving car unit, Mobileye, has confidentially filed paperwork for a U.S. IPO, Reuters reports.
The IPO could value the Israeli unit at over $50 billion.
Intel acquired Mobileye for $15.3 billion in 2017 to fire up rivalry with Nvidia Corp. and Qualcomm Inc. in developing driverless systems for automakers.
Intel CEO Pat Gelsinger has been under pressure from activist investors to consider spinning off its chip manufacturing operations.
By Anusuya Lahiri
© 2021 The Epoch Times. The Epoch Times does not provide investment advice. All rights reserved.