Lawsuit Against Buffalo Wings Results in Surprise Admission on Key Ingredient
[ad_1]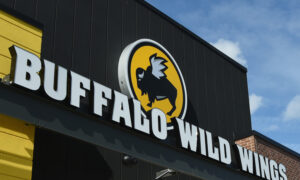 The Buffalo Wild Wings (BWW) sports chain was sued by a customer in Illinois, resulting in an admission about a key ingredient.
A class-action lawsuit was filed by a Chicago resident, who accused the restaurant chain of using false and deceptive advertising for its boneless wings, which he alleged were only chicken nuggets, according to court documents obtained by WGN-TV.
The plaintiff, Aimen Halim, filed the complaint on March 10,  in the U.S. District Court for the Northern District of Illinois, against BWW and its parent company Inspire Brands, which he called "responsible for the composition, preparation, advertising, marketing and sale of 'Buffalo Wild Wings' product."
He is suing for relief for violations of the Illinois Consumer Fraud and Deceptive Business Practices Act (ICFA), Breach of Express Warranty, Common Law Fraud, and Quasi Contract/Unjust Enrichment/Restitution.
Halim said he seeks to represent a state and nationwide class action lawsuit on behalf of himself and other consumers and is seeking damages, injunctive relief, restitution, declaratory relief, and all other remedies the Court deems appropriate.
"This class action seeks to challenge the false and deceptive marketing and advertising of Buffalo Wild Wings' Boneless Wings," according to a filing by the plaintiffs.
"Specifically, the name and description of the Products (i.e., as "Boneless Wings") leads reasonable consumers to believe the Products are actually chicken wings."
Halim accused the restaurant of misleading customers that they made the deboned spicy chicken wings entirely of chicken wing meat, when the dish was actually prepared more like chicken nuggets.
Meanwhile, the restaurant admitted in a tweet, "it's true. Our boneless wings are all white meat chicken. Our hamburgers contain no ham. Our buffalo wings are 0% buffalo."
Plaintiff Seeks Damages
Halim said he purchased the boneless wings in January from a BWW location in Mount Prospect, Illinois, when he claimed he made the discovery about the popular menu item.
His filing said that had he or other consumers known about the actual consistency of the hot wing recipe, they would have either paid significantly less for the food or not ordered it at all.
"As a result, Mr. Halim suffered a financial injury as a result of Defendants' false and deceptive conduct," said his lawsuit.
The plaintiff compared Buffalo Wild Wings to other fast food chains like Papa John's and Domino's in his complaint, accusing both of also selling similar boneless wings products, without disclosing that they were made from white breast meat.
Papa Johns, calls its boneless wings "Chicken Poppers," while Domino's, calls them "boneless chicken."
Another part of Halim's complaint details the background behind how the practice of selling boneless wings became more commonplace, due to high costs of chicken wings and the decrease in chicken breast prices, by citing a New York Times article from 2009.
The popularity of using chicken breast substitutes over traditional chicken wings has risen since the publication of the New York Times article, as both items' prices have fluctuated over the last several years.
Mike Bell, the Logistics and Purchasing Manager for Buffalo Wild Wings, said in the court filing, that "basically a whole bunch of [poultry processors] are throwing their hands in the air and saying, 'I don't know what's going on. We've never seen it this way.'"
A March USDA National Retail Report reported that the price of a pound of boneless, skinless chicken breasts fell almost a full dollar a pound compared to rising bone-in wing prices in 2020.
However, since the beginning of 2022, the price of regular boneless, skinless chicken breasts, have fallen from $3.99 to $3.53 a pound, while whole wings have dropped from $4.29 to $2.30 a pound.
The Epoch Times reached out to Buffalo Wild Wings for comment.


[ad_2]

Source link