Loan Forgiveness: Socialist Inflation and Deficit
Commentary
Student loan forgiveness will cost taxpayers at least $519 billion and drive up inflation and tuition costs.
On Aug. 24, President Joe Biden issued an executive order forgiving up to $20,000 of student loan debt per borrower. This includes students who received federal student aid, Pell Grants, and $10,000 in debt cancellation to non-Pell Grant recipients. As many as 43 million borrowers will receive some relief, while about 20 million could have their entire student loan balance wiped out.
The executive order extended a COVID-era federal student loan payment pause until January 2023. The payment pause has been in effect since March 2020, with interest rates reduced to 0 percent. Typically, forgiven loans are taxable as income. However, under the American Rescue Plan, forgiven loans will not be taxable at the federal level. Some conservative states are considering imposing state income taxes, though.
Along with the loan forgiveness is a new income-driven repayment plan, which would require borrowers to pay only 5 percent of discretionary income toward their loans. The definition of discretionary income has also been changed so that almost no borrower earning less than 225 percent of the federal poverty level (about $30,578 for 2022) or roughly $68,000 would be required to pay anything.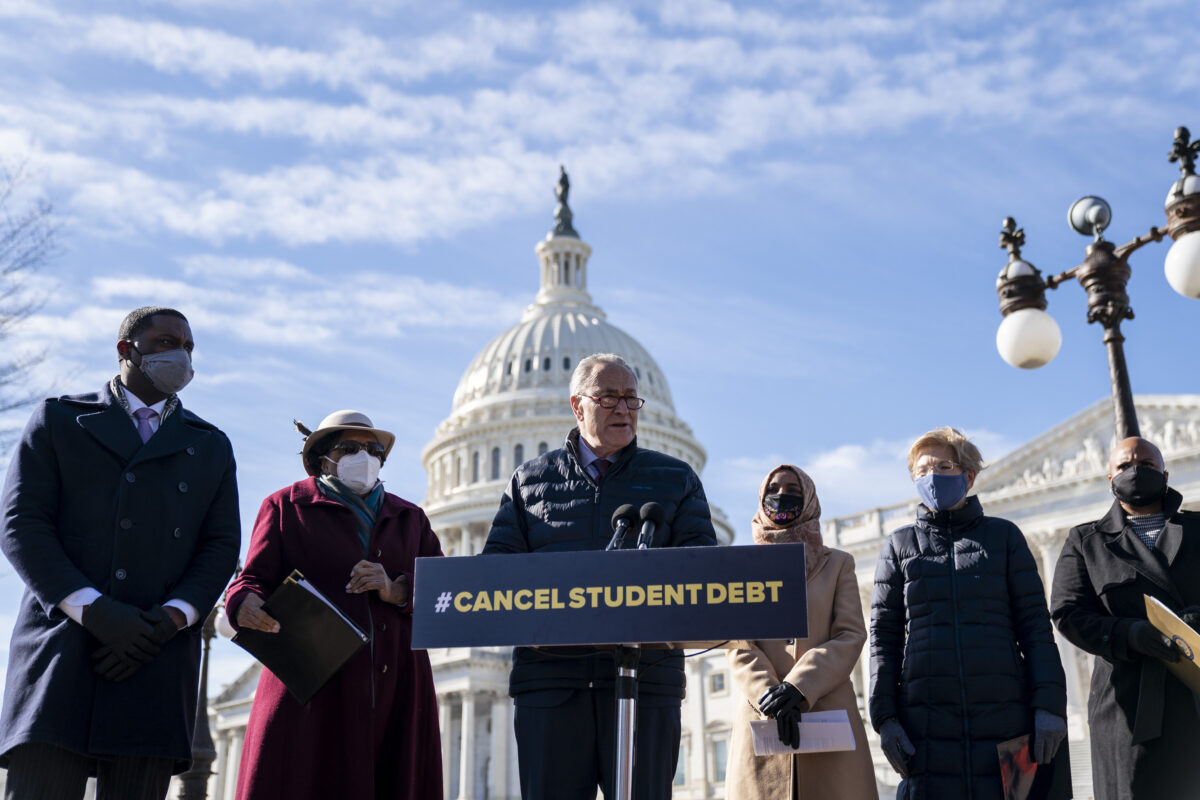 This loan forgiveness will be added to the federal deficit. In 2021, the federal deficit stood at $2.8 trillion due to government spending to compensate for government-imposed COVID lockdowns and other economic disruptions. In May 2022, the Government Accountability Office (GAO) issued a dire warning, stating that the deficit was already at an unsustainable level.
According to the White House statement on student loan forgiveness, the cost of higher education has more than tripled since 1980. Loan forgiveness will only continue to increase the cost of tuition. If students can borrow free money and pay the colleges, there is no reason for colleges to lower their fees to attract students.
In fact, experience has shown that tuition fees increase when government loans and grants increase. The same White House report said that Pell Grants, which began in 1973, used to cover 80 percent of the cost of education. Eventually, the tuition fees rose until students were forced to use a combination of Pell Grants, loans, and their life savings to cover tuition.
Free government money has distorted the laws of supply and demand. Rather than students walking away from colleges they cannot afford and thus forcing colleges to lower their fees, free government money allowed colleges to continue raising their fees. The White House statement said that "colleges have an obligation to keep prices reasonable."
There was no indication of how this would be done, and there seems to be no mention of price fixing. Not that price fixing would be a good policy as it creates shortages, removing the financial incentive to increase the number of students at the university. But, without price fixing, how does the Biden administration believe it will "keep prices reasonable"? An even scarier question is, who will decide what is reasonable?
The statement also said that the administration would be working toward doubling the amount of Pell Grants. Forbes analysts warn that increased government funding would encourage colleges to further increase tuition costs. Therefore, increased Pell Grants would represent a government-induced funneling of tax dollars into the pockets of universities.
Supporters of this student loan forgiveness plan say that it would immediately put more money into the hands of borrowers. While this is true, it is also inflationary because it will cause more consumer spending. Harvard professor Jason Furman, former head of the Council of Economic Advisers during the Obama administration, tweeted on Aug. 17 that the student loan forgiveness plan would undo any deflationary benefits of the Inflation Reduction Act. Additionally, repeated Fed rate hikes will slow job creation this year, but higher rates are necessary to curb inflation. Unfortunately, if the government keeps giving money away, it undermines the benefits of lower inflation, leaving Americans with the hardships of higher interest rates, taxes, and inflation.
GOP attorneys general in conservative states, conservative lawmakers, and think tanks such as the Heritage Foundation are considering options and are looking for ways to block the president's plan. The White House has condemned such actions.
Views expressed in this article are the opinions of the author and do not necessarily reflect the views of The Epoch Times.