BOSTON—The man charged with attempting to open an airliner's emergency door on a cross-country flight last weekend and trying to stab a flight attendant in the neck with a broken metal spoon is headed to court on Thursday to find out whether he will be granted bail.
Francisco Severo Torres, 33, of Leominster, Massachusetts, was arrested Sunday when United Flight 2609 from Los Angeles landed in Boston. He is charged with a felony related to interfering with flight crew members using a dangerous weapon. If convicted, he could be sentenced to life in prison.
A detention hearing is scheduled for U.S. District Court in Boston.
The plane was about 45 minutes from Boston when the crew received an alarm that a side door on the aircraft was disarmed, according to court documents. One flight attendant noticed the door's locking handle had been moved. Another flight attendant had noticed that Torres was seen near the door and believed he had moved the handle.
Cabin pressure during flight prevents airplane doors from opening.
The crew told the captain that Torres was a threat and the plane should be landed as soon as possible, authorities said.
In video taken by a passenger, an agitated Torres can be heard threatening to kill people and promising a bloodbath.
"I will kill every man on this plane," he says.
He also asks where the pilots were diverting the plane.
"Because wherever it is, there's going to be a bloodbath everywhere," he says in the video.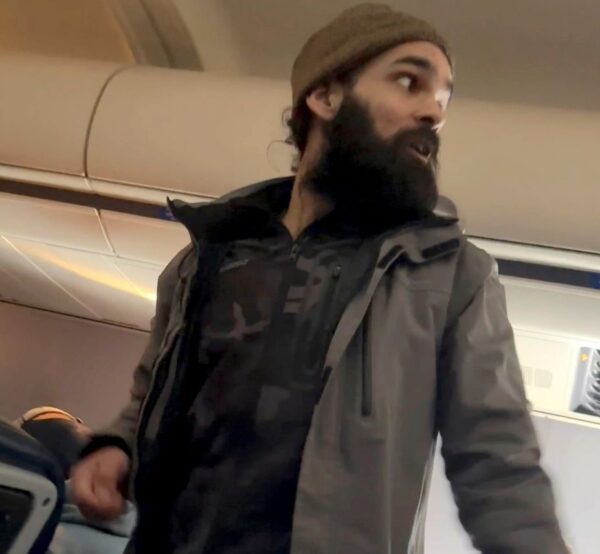 Torres then approached two flight attendants, according to the court documents. One of the flight attendants felt the metal spoon in Torres' hand hit him on his shirt collar and tie three times.
Torres was subdued by several passengers and restrained until the plane landed.
"Everything just exploded in a few seconds," said Simik Ghookasian, one of the passengers who helped restrain the suspect.
Torres told investigators that he went into the airplane's bathroom and broke a spoon in half to make a weapon, prosecutors said in court documents. They said Torres told authorities he wanted to open the door so that he could jump out, and that he knew opening the door would kill many people.
United Airlines said no one was injured.
Messages seeking comment were left with his federal public defender.
Torres has struggled with mental health issues in the past, according to federal court documents and a local police chief who says officers have dealt with him several times since 2014. Sometimes, neighbors called police after spotting him outside his house, scantily clothed.
He was charged in 2017 involving a domestic incident with his mother but those charges were dropped, Leominster Police Chief Aaron Kennedy told The Associated Press.
Kennedy said police were called to a barber shop on Feb. 26 in town where Torres was saying some of "the same rhetoric you heard on the airplane." But it wasn't until police saw the video from the flight last weekend that they realized it was the same person.
By Mark Pratt