Maryland Phasing Out Gas-Powered Car Sales, GOP Says It's Radical Move
[ad_1]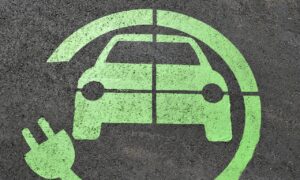 Gov. Wes Moore has announced Maryland's plan to phase out gas-powered car sales by 2035 in its effort to curb climate change, but the GOP says this plan is too radical and impractical.
"Today, we're talking about a major transformation that is going to define this administration—and that's how we turn Maryland from a state powered by oil and gas to a state powered by clean energy," said Moore during a Monday press conference.
Maryland is joining a growing number of states by implementing a rule for 100 percent of car sales to be for electric vehicles in a little over a decade. The plan is modeled after a California 2022 initiative. The same year, the Maryland assembly passed the Climate Solutions Now Act, SB 528 (pdf), which requires states to completely end vehicle CO2 emissions by 2045.
Former Gov. Larry Hogan had put a pause on the measure, which Moore resumed.
At the March 8 presser in front of the Maryland Department of the Environment's offices in Baltimore, Moore emphasized the electric car initiative as a major step forward in Maryland's climate change strategy, which aims to slash the state's greenhouse gas emissions by 60 percent by 2031.
According to the U.S. Energy Information Administration, Maryland in total contributed about 57 million metric tons of carbon dioxide emissions in 2019.
However, Maryland's House GOP denounced the rapid move to electric cars.
Maryland House Minority Leader Jason Buckel said the policy is not a good fit for Maryland because it is based on California's needs and will not give the residents of his state enough affordable choices for the cars they can purchase.
"It is both unfortunate and counter-productive that Governor Moore has made the false choice to move forward with this radical environmental policy that has not been vetted for its impact on our state," said Buckel.
Maryland House Minority Whip Jesse Pippy said the rush to get gas cars off the road is not practical because electric cars are too expensive for many families.
"The average price of an electric car is over $60,000—the price of a luxury vehicle. This is not something that is affordable for many Maryland families," said Pippy. "Currently, only 1 percent of the 5.2 million automobiles registered in Maryland are electric. Under this policy, 43 percent of new vehicle sales in Maryland must be electric cars by 2027."
According to an article in InsideEVs, the average price of an electric car in 2022 was $65,000. Consumer Reports reported the cheapest EVs at around $27,000.
Neighboring Virginia Gov. Glenn Youngkin previously said he does not support such stringent law in his own state, nor does he support the Virginia measure that currently requires that starting in 2024, more and more new passenger vehicles sold by manufacturers be fully electric or hybrid electric.
Virginia's Republican-controlled House repealed the 2022 law but the rule was saved by the Senate's Democrat majority.
Lack of Infrastructure
Blink, an electric charging station company, said the $7.5 billion in funding for 500,000 public EV charging stations provided by the Bipartisan Infrastructure Law or Infrastructure Investment and Jobs Act (IIJA) is insufficient for the rapid increase in electric vehicles put forth by governors like Moore.
According to Blink, the half-million charging stations will not be enough to meet the needs of the number of electric vehicles on the road by 2035 and according to McKinsey analysts, the United States will likely need "1.2 million public and 28 million private EV charging stations," which is, "approximately 20 times more charging stations than are currently installed in the United States in 2023."
On a federal level, Congressman Bob Latta (R-Ohio) filed a bill, "The Preserving Choice in Vehicle Purchases Act," in early March to prevent states from enacting measures like the one put forth by Maryland and California.
"We have seen time and again that heavy-handed government intervention—like California's proposal to ban internal combustion engine vehicles—limits consumer choice and infringes upon Americans' freedoms when choosing what's best for themselves and their families," Latta said in a press statement.
"California's misguided proposal will have ramifications that go well beyond its own borders and would make it more difficult for Americans to get to work, drop their kids off at school, and travel to visit loved ones," Latta added.


[ad_2]

Source link