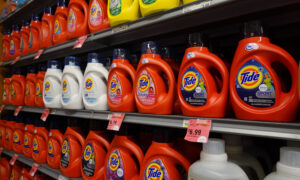 The maker of Tide detergent Procter & Gamble (P&G) is raising prices as due to persistent inflation and falling sales.
P&G reported a decline in revenue and profits in 2022 in a second quarter of 2023 earnings call on Jan. 19.
The personal care conglomerate and parent company of Tide, Dawn, and Gillette, is looking to raise prices to offset declining sales volumes and foreign exchange headwinds.
Customers will now pay even higher prices for P&G products, such as detergent and razors.
Total average prices rose for their products 10 percent in the fourth quarter, with home, personal, and fabric care seeing double-digit increases.
"Some price increases will go into effect in the next couple of months," said P&G CFO Andrew Schulten on the earnings call.
"We have a number of price increases that go into effect in February" he added.
Although the rise in consumer prices slowed to 6.5 percent in December, executives are concerned that the downward cost trend might not continue.
"There is no guarantee commodity prices will continue to come down," Schulten said.
Drop in 2022 Annual Earnings
The company earnings report saw net sales reaching $20.8 billion over the fiscal second quarter of 2023, a decrease of 1 percent from same period in 2022.
Meanwhile, total profits fell 4 percent year over year, while operating income tumbled 7 percent over the quarter.
P&G executives noted that a drop in consumer demand is responsible for at least half of the 6 percent decline in sales volume.
At the end of the three-month period ending Dec. 31, the company reported a net income of $3.9 billion at $1.59 per share, excluding items—a decline from the $4.22 billion, or $1.66 per share, earned during the same period last year.
Foreign earnings took a hit, after the loss of the Russian market as Moscow persists in its war in Ukraine and with the Chinese regime's lockdowns, which disrupted P&G's second largest market.
Company Executives Expect Rebound in 2023
P&G still remains optimistic despite the loss in income, raising its outlook for sales growth in 2023 to between 4 to 5 percent, from a prior range of 3 to 5 percent.
The end of the lockdown restrictions in China has companies more optimistic for the year ahead.
Schulten hopes that the reopening of the Chinese market will boost growth by mid-single digits.
"We expect consumption in China to reaccelerate to mid-single digits over what period is hard to predict. But in the midterm, that's where we see our China market and it continues to be an important investment market for us," Schulten said.
The company also stated in its report that it is currently anticipating a headwind of $3.7 billion for the remainder of its fiscal year, which is a slight improvement.
On the other hand, gross margins are expected to see a 1.6 percent decrease from the second quarter a year ago.
P&G's organic revenue, excluding the impact of foreign currency, acquisitions, and divestitures, rose 5 percent during the second fiscal quarter, which was led by higher pricing that outweighed the decline in consumer demand.
Product Prices Will Rise to Make Up For Lower Consumer Spending
P&G executives said on the call that they will double down on their price hiking strategy, even as high inflation weakens sales volume.
Schulten reported that consumers have reacted to price hikes "generally better than expected," especially in hygiene products.
"Consumers don't stop washing their hands or doing their laundry," Schulten said.
Even as sales projections for the first half of the year show a slight improvement regarding the overall global economic picture, executives remain cautious over the second half of 2023.
"The world seems to want everything to be better, as do I," said CEO Jon Moeller.
"We're forecasting to grow earnings per share modestly this year. It speaks to two things, I think, that are very, very important: One is the quality of the team, and two is the relevance … the continued relevance of the strategy," Moeller said.
P&G also tightened its marketing budget for laundry detergent due to supply chain issues.
The company is also promoting a new online marketing strategy as a driver of growth, by transitioning away from TV marketing to digital platforms, which has "completely shifted the way they run their media," Schulten said.
Online marketing has led to growth in the company's baby-care brands, which rose 10 percent in the United States, as Millennial families were found to be receptive to the new strategy.