Regal Cinemas to Reopen US Movie Theaters in Early April
Regal Cinemas movie theaters will reopen in the United States in early April after being closed for about half a year.
The phased reopening will start on April 2, with a limited number of theaters welcoming customers for "Godzilla vs. Kong." The reopening will continue on April 16 with "Mortal Kombat."
"We have long-awaited this moment when we can welcome audiences back to our Regal theatres and restore our essential role within the communities we serve," Mooky Greidinger, CEO of Cineworld, Regal's parent company, said in a statement.
"With the health and safety of our customers, staff, and communities as our top priority, we continue to take all the necessary precautions and abide by our CinemaSafe guidelines to confidently provide a safe and comfortable experience. With capacity restrictions expanding to 50 [percent] or more across most U.S. states, we will be able to operate profitably in our biggest markets," he added.
Regal closed all of its theaters in early 2020 due to the COVID-19 pandemic.
The company reopened the venues in mid-2020 but closed them in early October, citing challenging restrictions and key market closures.
Major markets, including New York City, never let Regal reopen, and officials had not provided guidance on when they would let the theaters welcome customers back.
This year, more and more states and cities are rolling back restrictions as the number of COVID-19 cases, hospitalizations, and deaths dropped sharply and an increasing number of Americans received COVID-19 vaccines.
COVID-19 is the disease caused by the CCP (Chinese Communist Party) virus, also known as the novel coronavirus.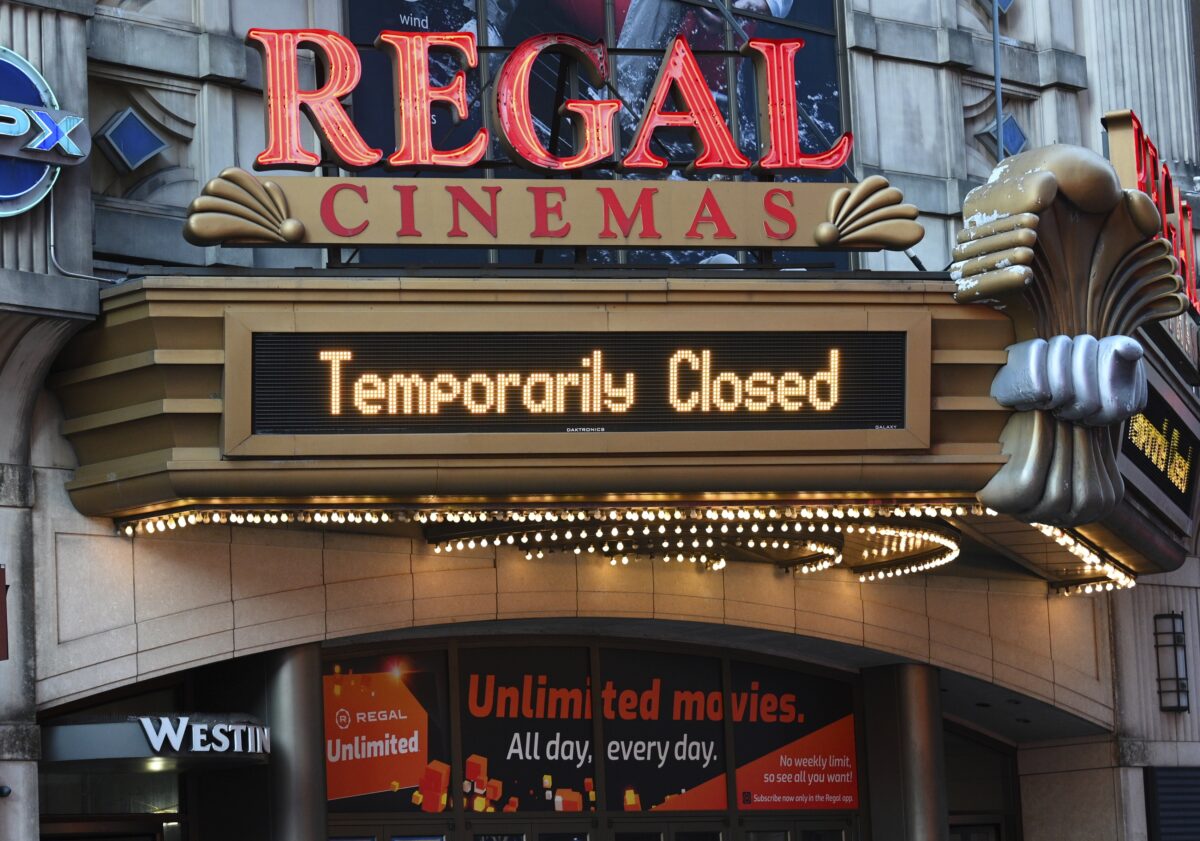 Cinemark draws about 75 percent of its revenue from the United States.
The company plans to reopen theaters in the United Kingdom in May.
Cinemark on Tuesday also announced it reached a deal with Warner Bros. Pictures Group that will give Regal an exclusive 45-day window to air the group's movies.
Regal is the second-largest theater chain in America.
AMC, the largest, started opening nearly every location starting March 19.
Approximately 98 percent of AMC theaters, including more than 40 in California, were reopening that day. Another slate opened its doors on March 22.
"It was exactly one year ago that we closed all AMC locations in the United States. It gives me immense joy to say that by the end of next week we expect that 99 [percent] of our U.S. locations will have reopened," Adam Aron, AMC's CEO, said in a statement.
"As we have done at all of locations [sic] around the country, AMC is reopening and operating with the highest devotion to the health and safety of our guests and associates through our AMC Safe & Clean policies and protocols, which were developed in consultation with Clorox and with current and former faculty at the prestigious Harvard University School of Public Health."