Shanghai Luxury Properties Panic for Discount Sale as Wealthy People Prepare to Flee
In the face of the economic downturn and China's tough anti-COVID campaign, Chinese wealthy people are scrambling to flee the country, selling their luxury homes in Shanghai and other first-tier cities at steep discounts and cutting their shares in listed companies to cash out.
According to Shanghai property media, since October, local secondhand luxury properties plunged into a wave of listing-for-sale: deals of more than $3.5 million continued to rise, reaching the highest sales in October, with 28 units sold in the week from Oct. 31 to Nov. 6.
On the South Zhongshan Road and the Bund, areas notable as "Oriental Wall Street," luxury houses for sale under the agency Greentown Huangpu Bay have recently increased by about 30 percent compared to months prior.
In the Pudong district, a financial and business hub in Shanghai, of 4,000 households in Shimao Binjiang Garden, 5 percent, or 200 sets are for sale.
Real estate insider Zhou Ning told Radio Free Asia on Oct. 25 that a large number of wealthy people, including foreign businessmen, are eager to leave and are selling their assets in China, even at reduced prices. She said some of her friends recently bought hotels and restaurants that were sold by the Taiwanese.
Zhou believes the move is driven by people's insecurity, a sentiment due to the Chinese Communist Party's unstable and harsh political environment.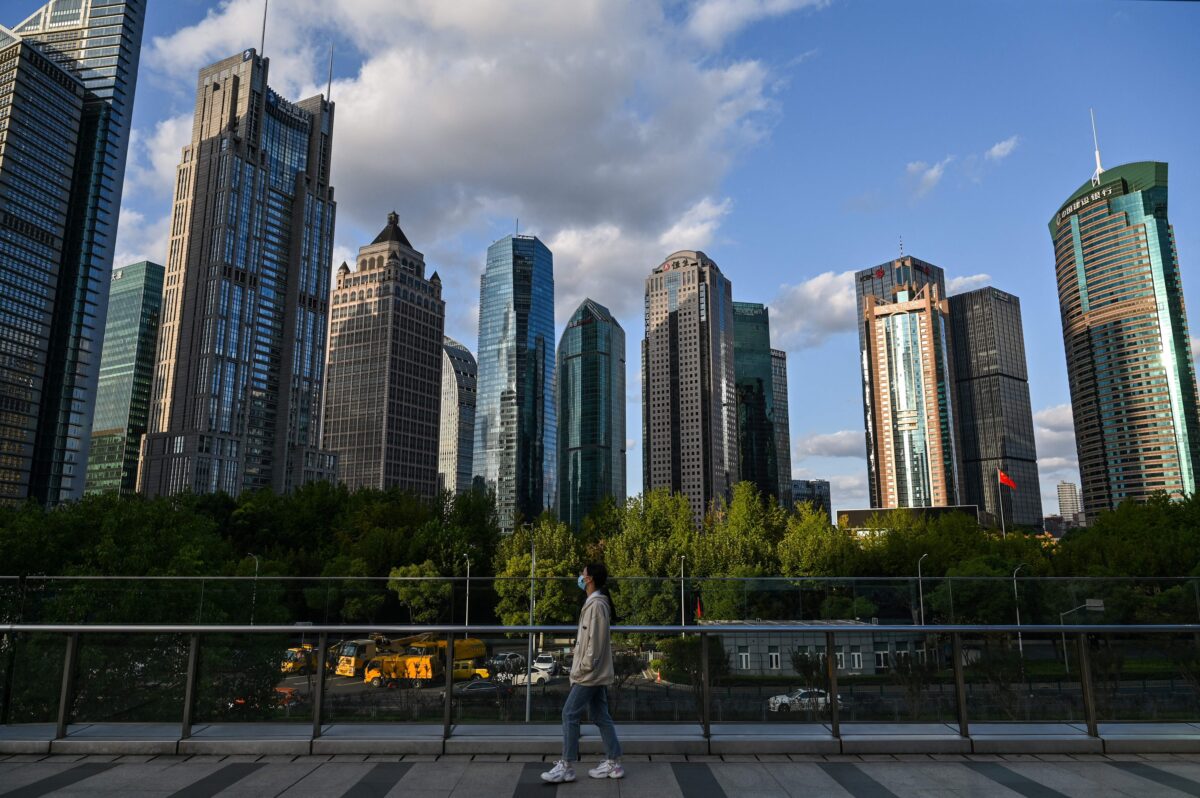 Luxury Property Prices in First-Tier Cities Tumble
With the increase in the number of properties for sale, the price of luxury homes began to dive.
Shanghai luxury property market has seen an overall price reduction, said a property market analysis article on Nov. 5, according to Zhihu, China's largest question-and-answer forum, citing multiple cases of housing sales in Shanghai.
On Nov. 2, the auction for the Delin apartment, a landmark ancient building in Hongkou district, was bid at a price of 561 million yuan ($80.8 million), equivalent to a 20 percent discount from the appraised market price of 701 million yuan ($101 million).
A set of properties in the affluent circle of Jiulu, Lujiazui was put up for bid on the Alibaba auction website on Nov. 1 with a gross floor area of 248.16 square meters at a price of about 42.81 million yuan ($6.15 million), equivalent to a unit price of about 172,500 yuan/㎡($24,800/㎡), devalued by about 24 percent from its previous unit price of around 200,000 yuan/㎡($28,800/㎡).
On Oct. 21, a luxury villa in Suhe Bay was sold for 190 million yuan (about $27 million), 36 percent less than its previous value.
Part of luxury homes needs to be priced lower from time to time to attract buyers in a sluggish economy. For example, a 314.9-square meter high-end residence was listed on the Zhuge house-hunting app for 53.8 million yuan ($7.74 million) on Oct. 22, while after a week the price decreased to 49.99 million yuan ($7.19 million), a drop of 3.81 million yuan ($540,000).
Shanghai is not alone, Beijing, Wuhan, Shenzhen, Guangzhou, and other first-tier cities of luxury homes are also selling at reduced prices.
According to Chinese portal site NetEase on Nov.4, in Shenzhen Aucheng Garden, an 89-square-foot unit was previously sold for 22 million yuan ($3.15 million), but the latest price has fallen 4.8 million yuan ($688,000), a 21.8 percent drop.
In late October, a set of residential units costing 14.9 million yuan ($2.13 million) in Shenzhen Huarun City listed for sale for more than a month, finally settled in a deal with 13 million yuan ($1.86 million), the price fell back to that of 2019.
At the beginning of 2022, a property in Guangzhou Lanting Shenghui has a sky-high price of 95,000 yuan/㎡($13,600/㎡), while in November the price plummeted by nearly 24 percent, to 72,600 yuan/㎡($10,400/㎡).
A 107-square-foot, two-room unit in the business district of Zhujiang New City in Guangzhou was listed for two months in early November, dropping by more than 2 million yuan ($280,000) compared to the same unit in March 2021.
Shareholders Reduce Holdings to Cash Out
Accompanying luxury property discount sales, shareholders and executives of many listed companies in China are selling their shares to secure more funds with them.
According to the state-owned Economic Information Daily, in 2022, more than 60 shareholders of at least 30 companies received regulatory fines for "non-compliant shareholding cuts."
In November, 23 senior executives of listed companies were filed for investigation by the Securities and Futures Commission (SFC), including Xie Haihua, chairman of Darbond Technology, and Ye Feng, vice chairman; Zhou Jianhua, director of Hangzhou Hi-Tech; and Li Xiaoming, chairman, and Li Xiaohua, vice chairman, of Yunnan SEMCORP.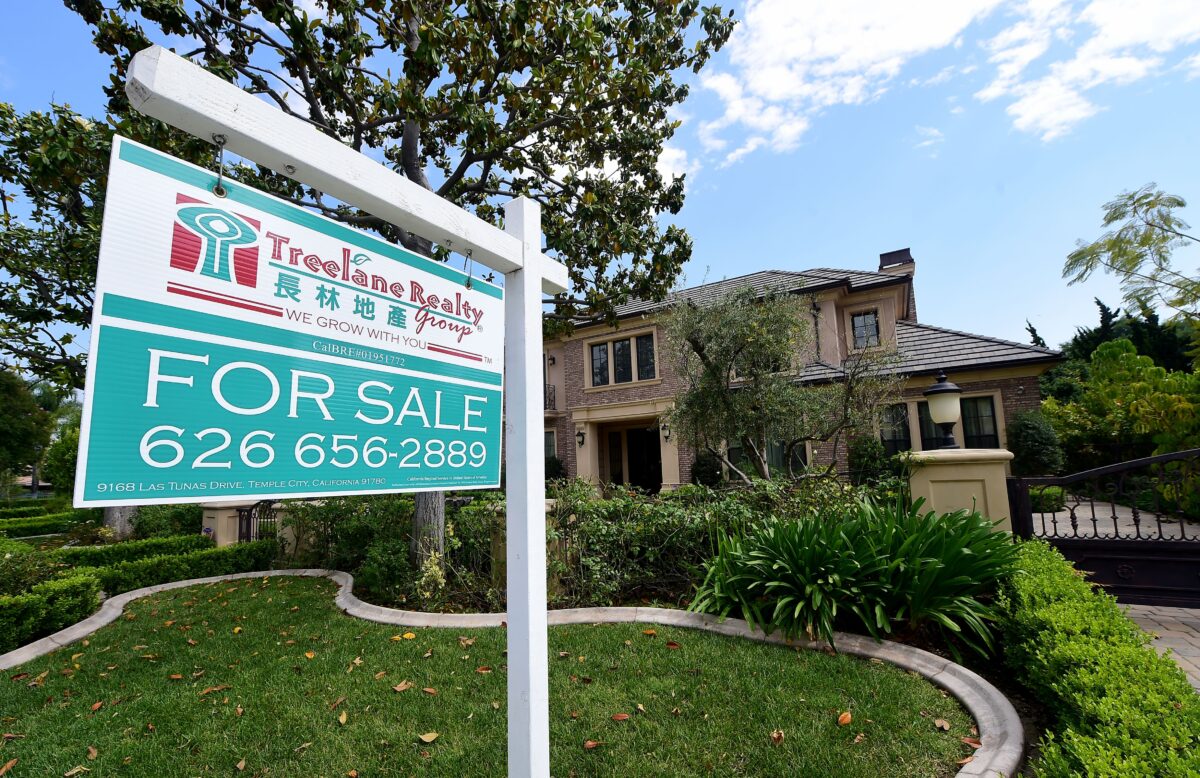 Chinese Moguls Seek to Leave China, Buy Homes in the United States
Since late October, Chinese Communist Party leader Xi Jinping's third term in office finalized at the 20th Congress has triggered a massive departure of China's wealthy and elite.
Shanghai real estate professional Zhao Ting told Radio Free Asia on Oct. 25 that many luxury homeowners no longer have any illusions about the future after the closing of the Congress, and have decided to sell their homes at reduced prices.
A significant number of wealthy Chinese prefer to buy homes in the United States after fleeing China.
The International Transaction U.S. Residential Real Estate 2022, a recent report released by the National Association of Realtors, said that Chinese buyers purchased $6.1 billion of real estate in the United States over the past 12 months, maintaining the first position for foreign buyer transactions and continuing a trend that has been in place since 2013.
Roughly 58 percent of Chinese buyers were in all-cash transactions. The average transaction price was more than $1 million, with 31 percent of them purchasing in California, and New York is another key target area for their real estate purchases, the report said.
David Lesperance, a European lawyer who has worked with wealthy families in Hong Kong and China, told the Financial Times on Oct. 25 that many of his clients have been preparing to leave China for years, including transferring assets legally to safe offshore jurisdictions and arranging for their families to obtain new nationality and residence outside China.
He said wealthy Chinese are worried about the new-term government that would erode their wealth and possessions through the high-tax system after the so-called commonwealth strategy; moreover, they are increasingly worried about life safety.
Henley & Partners, a London-based investment immigration advisory firm, estimates that about 10,000 millionaires will move out of China in 2022, taking with them about $4.8 million per person, for a total withdrawal of $48 billion from China, the second-largest exodus worldwide after the exodus of Russian tycoons.