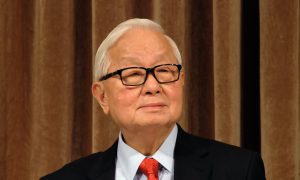 Taiwan Semiconductor Manufacturing (TSMC) founder Morris Chang declared that the globalization of the chip industry is over, and Taiwan is indispensable in the global chip industry for its unique work ethic.
Speaking of the future of the chip sector, many countries strive to reshore manufacturers back to their territory to ensure supply chain resilience for the sake of national security.
"It's no doubt globalization is dead; free trade is not completely dead, but it is getting there," Chang said at a semiconductor forum in Taipei by the Taiwan-based CommonWealth Magazine on March 16.
A Foreseeable Higher Cost
The 91-year old chip giant said he agreed with the U.S. industrial policy to slow down China's progress in the semiconductor industry with the sanction and entity list, although he also said, "China is at least 5–6 years behind Taiwan in chipmaking technology."
He introduced the key reason for the popularity of chips and semiconductors is mainly due to the continuous reduction in costs. However, with the ongoing manufacturing base moving to the United States, they will rise.
He anticipated costs will increase at least 50 percent and even double. As a result, it will slow down or even end the popularization of the chip, and the industry will enter a completely different competition.
Chang criticized Washington's "friendshoring" high technology manufacturing for excluding Taiwan as one of the friendshoring destinations as not making much sense.
Last July, the U.S. Commerce Secretary Gina Raimondo said the U.S. dependence on Taiwan for chips is "untenable and unsafe," referring to the Chips Act intended to increase the manufacturing of American-made semiconductors.
Work Ethic Matters
In the forum, Chang explained chip manufacturing has been concentrated in a few countries because each is competitive in what they do. He said, "for example, the United States has excellent design capability because they are close to the market's needs."
On the other hand, Taiwan, Japan, and South Korea have a competitive advantage in manufacturing. Chang said he believed that it's the people and the work cultures that create their unique advantages in chip manufacturing.
He gave an example, when the machine breaks down in the United States at 1:00 a.m., it won't get fixed until the next morning. "But in Taiwan, it will get fixed at 2 a.m.," Chang said.
Zhang Ting contributed to this report.