UK Detains P&O Ship Deemed 'Unfit to Sail' After Company Sacked and Replaced Crew
A ship operated by P&O Ferries has been detained in Larne, Northern Ireland, on Friday night after it was deemed "unfit to sail."
It came after the UK's Transport Secretary Grant Shapps ordered "very detailed inspections" of all P&O vessels following the company's abrupt dismissal and replacement of 800 seafarers.
Shapps on Friday night announced on Twitter that a ship was detained by the Maritime and Coastguard Agency (MCA) "for being unfit to sail," adding he would "not compromise the safety of these vessels and P&O will not be able to rush inexperienced crew through training."
An MCA spokesperson confirmed that it had detained the European Causeway in Larne "due to failures on crew familiarisation, vessel documentation, and crew training."
"The vessel will remain under detention until all these issues are resolved by P&O Ferries. Only then will it be reinspected," the spokesperson said.
The MCA also confirmed that no passengers or freight were on board the P&O European Causeway vessel when it was detained.
P&O Ferries, which was bought by Dubai-based logistics giant DP World in 2019, sparked outrage when it fired 800 seafarers without any prior notice on March 17 and later replaced them with cheaper agency workers, citing £100 million ($132 million) year-on-year loss.
Chief Executive Peter Hebblethwaite said the new crews were being paid an average hourly wage of £5.50 ($7.25), lower than the UK's minimum wage of £8.91 ($11.74) apart from on domestic routes, but said it is allowed under international maritime rules.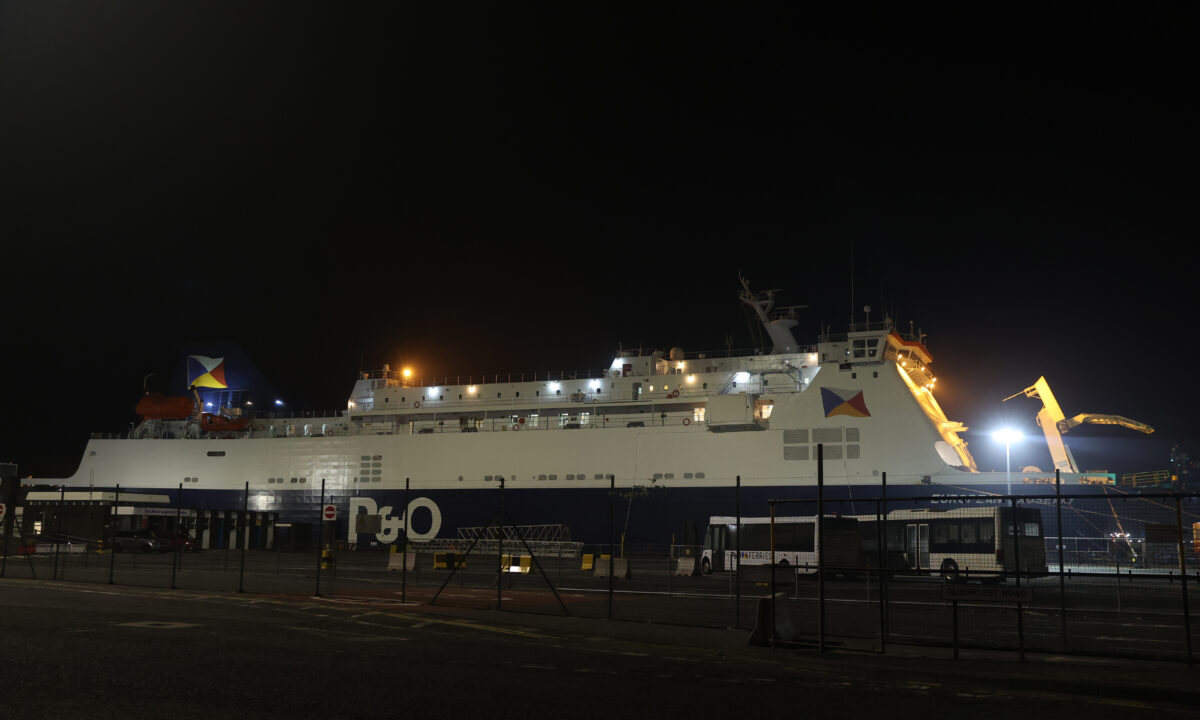 Cabinet ministers including Prime Minister Boris Johnson have called on P&O Chief Executive Peter Hebblethwaite to resign after he acknowledged to a select committee of MPs that the company knowingly broke the law by deciding not to consult the unions.
The government is also racing to bring new legislation to Parliament next week in a bid to "close every possible loophole" and force a "U-turn" of P&O's decision.
Shapps told media on Friday that the proposed new laws will force companies to at least pay the minimum wage and "stop them [from] using loopholes like flagging their ships in Cyprus to avoid and evade British law and not give notice of what they were doing, and not talk to the workers and the unions."
Asked about calls to revoke P&O's license, Shapps told BBC Breakfast that the government couldn't "directly" do that, adding, "but I've already asked the Maritime Coastguard Agency to carry out very, very detailed inspections of the ships."
The Rail, Maritime, and Transport (RMT) union, whose talks with P&O on Friday ended after 20 minutes without any agreement, demanded the government "seize the entire fleet" of P&O vessels.
"The seizing of the European Causeway by the MCA tonight shows that the gangster capitalist outfit P&O are [sic] not fit and proper to run a safe service after the jobs massacre," RMT general secretary Mick Lynch said.
"This mob should be barred, their ships impounded, and the sacked crews reinstated to get these crucial ferry routes back running safely."
Stewart Dickson, Alliance Party lawmaker for East Antrim, Northern Ireland, said he was "absolutely delighted" with the news, adding that he believes the decision wasn't "vengeance against P&O," but was "about passenger safety and the safety of the crew."
Dickson said it seemed to him that it would be "very difficult" for new staff to be ready in a short period of time because "every control will be in a different place, but particularly all those health and safety drills that have to be gone through, everything from lifeboat stations to how each item of equipment operates."
A P&O Ferries spokesman said: "European Causeway has undergone an inspection by the MCA in Larne, during which it was deemed not sufficiently ready for entry into operation.
"We shall review the findings, make any changes required, and continue to work closely with the MCA to return the ship to service."
PA Media contributed to this report.