US-Canadian Energy Project Accuses China of Highjacking Major Project in Sri Lanka
An American-Canadian project has alleged that corrupt actors within a former Sri Lankan government fraudulently helped China state-affiliates to hijack its legitimate development rights and work products for a clean energy project at the Hambanthota port.
Since last year the Sri Lankan national media has highlighted the controversy as the nation has incurred massive Chinese debts and revenue from the U.S.-Canadian project would have helped Sri Lanka service its debt to China.
In July 2020 Canadian-based developer Greenlink Global Consulting Inc. (Greenlink) filed $400 million in damage claims with the Sri Lanka attorney general. This case will be referred to a Sri Lankan court of law for decision.
Greenlink is also calling for the Biden administration to pass the Eagle Act in Congress, which it claims will facilitate justice in such international cases of corruption and further curb such dealings.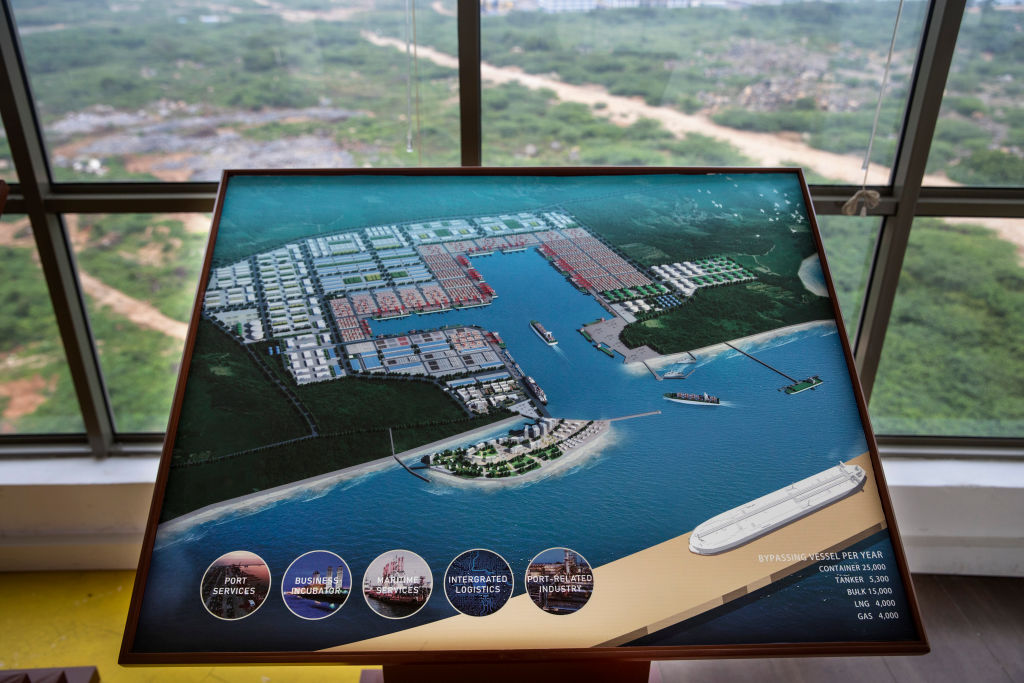 Work for Naught
In 2009 Sri Lanka opened itself to foreign direct investment and invited foreign investors to do business in the Hambanthota port. It subsequently started its first Liquefied Natural Gas (LNG) power station under its flagship "Lanka Aloka" project near the Kerewalapitiya Yugadhanavi thermal power station, over 6 miles from the capital Colombo.
Greenlink was already involved along with its affiliates in waste to energy projects in the aerospace and defense sector as well as in high-end tourism in Sri Lanka and the Maldives. It introduced Sithe Global Power Inc (Sithe), a fully owned subsidiary of the BlackStone Group USA, in response to the Lanka Aloka project.
Blackstone is one of the largest asset managers in the world and a leading global private equity firm, according to Ceylon Today, which first broke the story of Greenlink's project being highjacked and has continued to investigate the matter.
"After doing our due diligence on that [Lanka Aloka] project for about six to eight months, we abandoned the project due to economic reasons, as well as we found that the best location to do an LNG infrastructure project would be the location Hambantota," Greenlink President G. Michael Fernando told The Epoch Times over the phone from Toronto.
"At that time, state-owned Chinese affiliates were building the Hambantota port and it was underutilized and at the same time, it was the best location for us to do the LNG project given that the international shipping route is in close proximity to the Hambantota port," said Fernando.
Greenlink, thus backed by its feasibility studies from extensive work in Sri Lanka, brought forward an American-backed investment worth $1.4 billion called the Hambantota Energy Project (HEP). It submitted to the Sri Lanka Port Authority in May 2011 a conceptual proposal for HEP for a 25-years lease over 70 hectares of land bordering the port.
The HEP involved an import and regasification terminal for liquified natural gas and a cycle power plant for distribution to individual and industrial users along the coast. It was aiming to support 1200 MW electric power to the national grid and particularly serve the tourism industry along Sri Lanka's coast that contributes substantially to the country's economy.
"Sithe Global entered into an exclusive memorandum of understanding with the board of investment in Sri Lanka for this project. This is the Sri Lankan entity that encourages foreign direct investments. And this was recommended by the senior officials who are now in the current administration who are fully aware of this project," said Fernando adding that Sri Lanka's current prime minister was the country's president then and current Finance Minister Basil Rajapaksa was heading the board of investment then.
"And we had the American Embassy officials who witnessed the signing of this exclusive memorandum of understanding giving exclusivity to this LNG infrastructure project in Hambantota," said Fernando.
At this point, Sithe entered into a "confidentiality and non-circumvention agreement" with two China state affiliates, China Harbour Engineering Company Ltd (CHEC) on Dec. 19, 2012 and with China Huanqiu Contracting & Engineering CORP (HQC) on Dec. 24, 2012 to develop the pipeline and the regasification plant.
Fernando alleged that until 2015 there were delays due to waiting for energy reviews and policy decisions and after technical presentations to the Sri Lankan government, including a presentation to the country's parliament in December 2015, officials from Sri Lanka's Ministry of Power and Renewable Energy "requested" Greenlink to bring the Canadian government into the project, as that would speed up the process.
"So in February 2016, the Government of Canada through Canadian Commercial Cooperation (CCC), that is a crown agency of the Canadian government, informed the Ministry of Finance Secretary about their interest in pursuing this project," said Fernando adding that it was rare for Canada to offer the sovereign guarantee to a country for a mega project of this magnitude.
"And then the government of Sri Lanka at that time including the former President, as well as the former prime minister, Ranil Wickremesinghe, all were informed duly by the Canadian High Commissioner in Sri Lanka," said Fernando.
The Epoch Times has a copy of a letter written by the then Canadian High Commissioner Shelley Whiting to Sri Lanka's then Minister of Finance Ravi Karunnayake on March 15, 2016, about CCC's support for Greenlink. Fernando alleged the high commission got a reply only after two months, and it lacked clarity.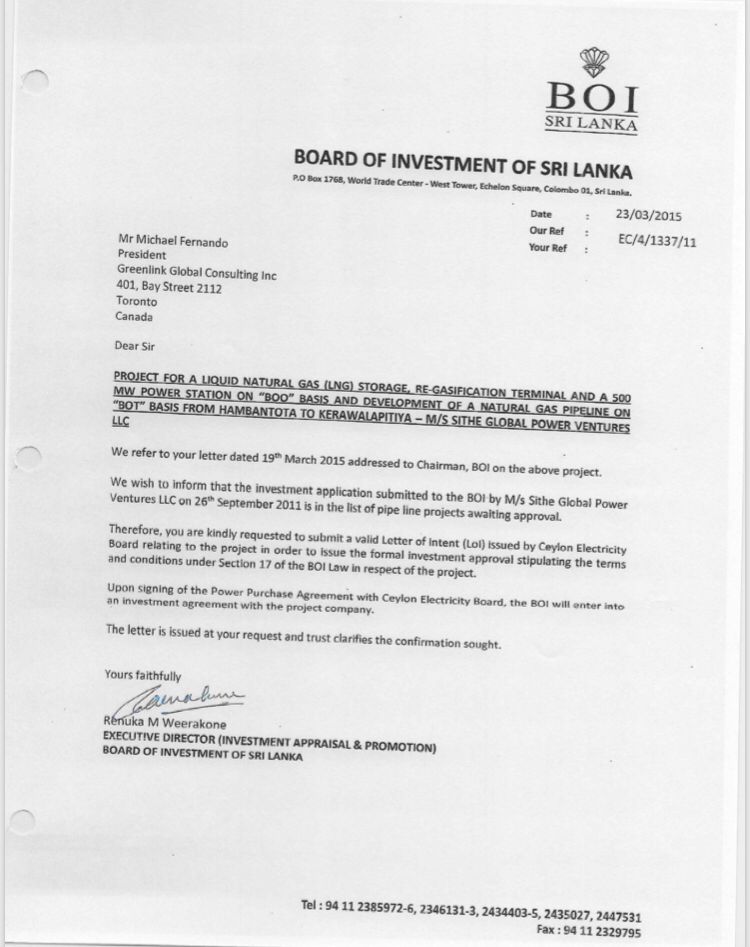 Project Hijacked
Fernando alleged that the former Sri Lankan government made Greenlink deliberately run from pillar to post despite such high-end communications, while it eventually gave the project along with Greenlink's "confidential feasibility" studies in May 2016 to the Chinese. MOUs of understanding with the China affiliates were signed by Sri Lanka in July 2016.
"And while we were proceeding with this process, two ministers of the Yahapalana government who were not in compliance went to China, handed over our project and feasibility studies to them. So the issue is when we approached former Prime Minister Ranil Wickremesinghe and his office, his secretary, and the advisors were in a panic mode, saying they were not informed about these internal agreements, that were signed between the state-owned Chinese affiliates and Sithe Global and the assignment of the project to Greenlink," said Fernando.
He cited this as a lack of transparency on part of Sri Lanka's former government, as the then-Canadian high commissioner in Sri Lanka had personally met Prime Minister Ranil Wickramasinghe on the matter. The Epoch Times reached Wickramasinghe's personal assistant regarding the controversy but didn't get a response.
"This project was definitely hijacked, deliberately, when one of the stakeholders like the Ministry of Power and Renewable Energy [MPE] was communicating with the Canadian High Commission, saying they want to proceed with this project," said Fernando. It's hard to understand, he said, how the project could be given to China after a decade of "green signals" to HEP.
"The two other ministers, the Minister of Finance, and the Minister of international trade were fully aware of this project. So why when one stakeholder and one Minister of Power and Renewable Energy are communicating with the Canadian government to go ahead with the project, why do they go at the same time in May to Beijing and hand over our project to them? Basically, the studies they handed over were our studies, they were subcontracted by the terms of references," said Fernando.
Sri Lanka leased the port in July 2017 to the Chinese for 99 years on an 85 percent stake.
Greenlink registered a formal complaint about the awarding of their project to the China affiliates in December 2017 through its lawyers with the then Sri Lankan President Maithripala Sirisena and with the Ministry of Power and Renewable Energy, but no action was taken.
Ceylon Times reports that with Sirisena's consent, Greenlink retained Sri Lankan counsel for a mediation process on the matter in December 2018 but the process was stalled because the China affiliates didn't respond.
The Epoch Times wrote to Sri Lanka's Foreign Ministry and Finance Ministry and also to the two China state affiliates that signed the confidentiality and non-circumvention agreement with Sithe Global for clarification on the matter, but is yet to get a reply.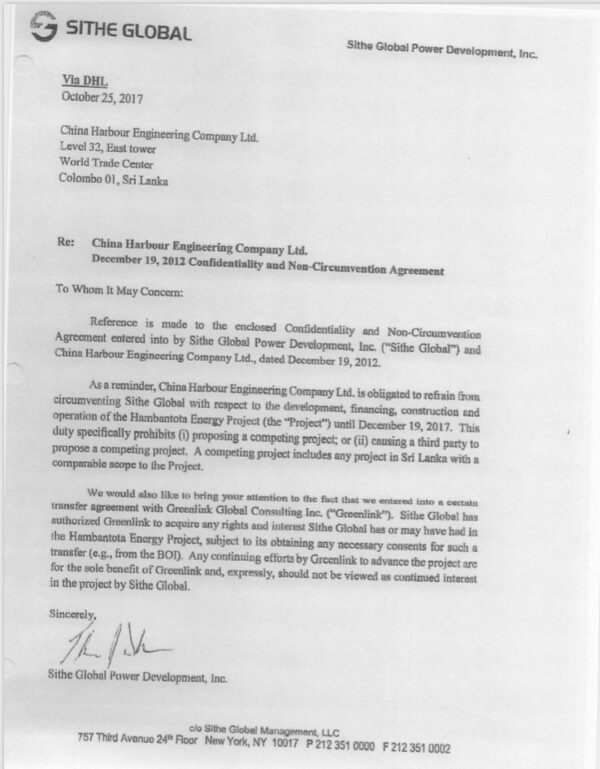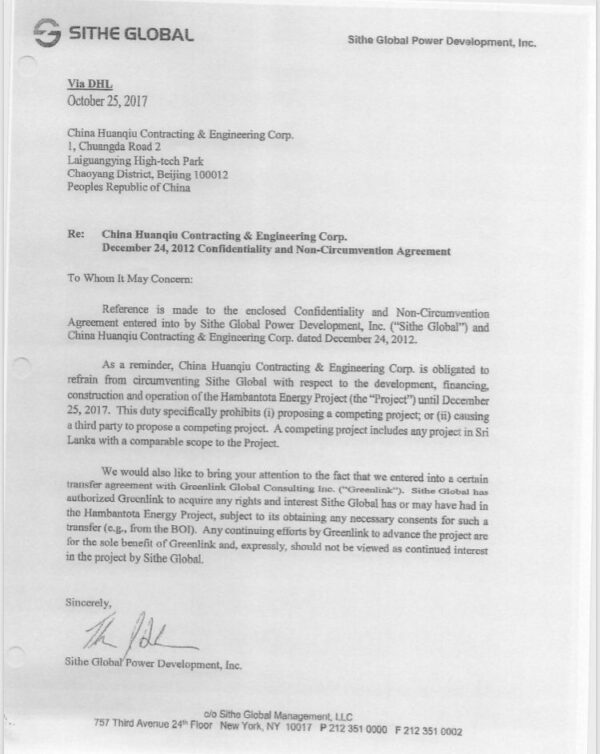 America's Eagle Act
Fernando said corrupt leaders in a country may encourage actors like China to gain benefits by exploiting the leaders' gaps. The Eagle Act that's waiting to be passed in the U.S. Congress can address some of these issues and help bring a level playing field to international business, he said.
The Ensuring American Global Leadership and Engagement, or Eagle Act, was introduced by Congressman Gregory W. Meeks Chairman of the House Committee on Foreign Affairs in May this year. It aims to counter the policy challenges posed by China.
"The People's Republic of China (PCR) increasingly seeks to undermine that rules-based order and challenge America's place in it. We must leverage America's true strengths and focus on the real challenges posed by the PRC," Meeks said while introducing the law.
Fernando has pitched his hopes on the Eagle Act, and he wants Congress to pass this bill as soon as possible. He said he has been a victim of corruption that exists in international business institutions.
"We cannot change other nations who want to exploit the weaknesses of each country. But the thing is, when we try to go after these corrupt politicians, leaders, it is really difficult. It's a long process," said Fernando.
"Because at the moment, business is happening not on a level playing field. In other words, you would say, in a very improper manner! So this act would put the onus on leaders who do business which endangers the security of a particular region, through corrupt acts, so they can be prosecuted!"