US Demands 'Immediate Rectification' From HSBC Over Frozen Accounts of Hong Kong Activists
A bipartisan group of U.S. lawmakers has demanded clarification from HSBC Holdings Plc over the freezing of accounts of Hong Kong activists and restrictions on the accounts of American citizens, urging the bank to make "immediate rectification" of such acts.
The group of six U.S. senators and members of the Congressional-Executive Commission on China issued a letter to HSBC group chief executive Noel Quinn, requesting "transparent answers" for the bank's actions.
They accused the bank of having frozen the accounts of Hong Kong activists, independent media, and civic groups, many of which were forced to close or end operations.
Among the individuals whose accounts were frozen were Ted Hui, a former Hong Kong pro-democracy legislator, and Jimmy Lai, the chief executive of the now-defunct Apple Daily pro-democracy newspaper.
Holders of British national overseas passports have also been denied access to HSBC pension funds when they leave Hong Kong for the United Kingdom, raising questions as to "whether HSBC is aiding and abetting the government's policy to restrain exit," they noted.
The group further said they had been informed that the accounts of American citizens were being restricted, including at HSBC branches in the United States, and demanded "immediate rectification" if this is true.
"We ask HSBC to address the concerns stated above and to justify why these actions were taken, including whether these actions were requested by Hong Kong authorities or officials from the People's Republic of China and whether these actions are consistent with HSBC's stated policies and the UN Guiding Principles on Business and Human Rights," they said.
Matt Ward, the head of communications at HSBC Bank USA, said that the bank is "in receipt of the Commission's request and will work to address their questions."
"Like every bank, we are required to operate within the law and legal frameworks of all the countries in which we operate," Ward said.
HSBC's Asia-Pacific chief executive Peter Wong had previously signed a petition backing China's imposition of a National Security Law on Hong Kong. The law, enacted in June 2020, criminalizes secession of Hong Kong, subversion, terrorism, and colluding with foreign forces.
Hong Kong and Chinese authorities claimed that the law had brought stability to the city after mass anti-government protests.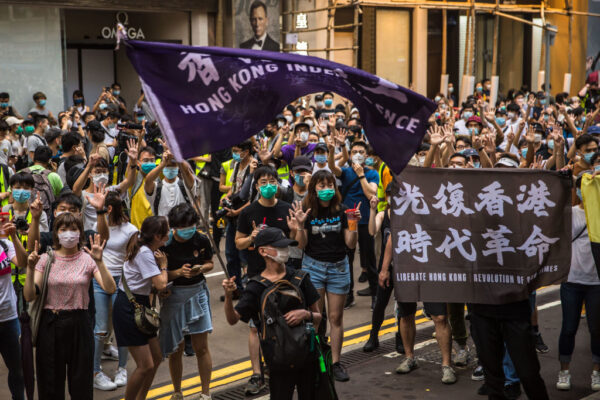 The bipartisan group said in the letter that the Hong Kong authorities have placed "almost the entirety of the city's opposition figures behind bars and denied bail to most" as a result of the national security law.
"The government further disqualified and arrested previously elected legislators and district councilors, and went on to rewrite electoral rules to allow only 'patriots' fully vetted by the national security police to run in future elections," they added.
Samuel Chu, the president of the Campaign for Hong Kong, backed the bipartisan group's statement for exposing "a key tactic of the Beijing government" in its use of private corporations and financial institutions to do its "dirty work" of suppressing citizens and civil society groups.
"HSBC is not a first-time offender, and I am glad this bipartisan group of Congressional leaders is calling them out," Chu said in a statement, adding that HSBC's actions to freeze accounts of activists and restricting American citizens' accounts "fall squarely within the jurisdiction."
Reuters contributed to this report.