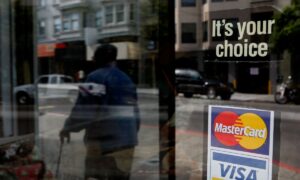 Visa confirmed Mar. 9 that it is pausing implementation of a new code that will help track gun purchases.
Visa is among other companies that were working on a new merchant category code (MCC) for gun and ammunition stores.
The company, explaining the pause, said that it stemmed from how legislators in multiple states are considering legislation to prohibit or restrict the use of the code.
"There is now significant confusion and legal uncertainty in the payments ecosystem, and the state actions disrupt the intent of global standards. Accordingly, Visa is pausing implementation of the MCC," a spokesperson told The Epoch Times via email.
State officials celebrated the move.
"This is a clear victory for consumers and Americans' civil liberties," Riley Moore, West Virginia's state treasurer and a Republican, said in a statement. "The implementation of this new merchant category code would have created a backdoor national gun registry that could be used by the radical gun control lobby to undermine Americans' Second Amendment rights."
Mastercard is also reportedly pausing implementation of the code, but did not respond to a request for comment.
The code was approved by the International Organization for Standardization in 2022. Besides Mastercard and Visa, American Express and Discover said they would be implementing the code.
States have moved to act. West Virginia legislators introduced legislation in January, for example, that would ban credit card companies from collecting or disclosing data on firearm purchases. Officials in Florida, Mississippi, Oklahoma, and Texas have also crafted bills that would ban or restrict companies from utilizing the code.
Another bill, proposed by Rep. Jansen Owen (R-Miss.), would bar payment-processing companies from "requir[ing] the usage of or assign[ing] a firearms or ammunition merchant category code to any merchant located in Mississippi that is a seller of firearms or ammunition separately from general merchandise retailers or sporting goods retailers."
The bill specifically referred to the new code, stating that the code was a means "to conduct mass surveillance of constitutionally protected firearms and ammunition purchases."
"The Second Amendment Financial Privacy Act seeks to prevent credit card companies from unfairly and negatively targeting legal gun and ammo purchases," Owen said after the state House of Representatives passed the legislation in February.
Visa had said before it would implement the code.
"Visa will proceed with next steps, while ensuring we protect all legal commerce on the Visa network in accordance with our long-standing rules," a spokesperson had said.
Other companies also said they were focusing on implementation while also protecting customer privacy.
Nearly half of the state attorneys general in the country urged the credit card companies not to implement the code, asserting the information obtained through it would be misused, whether unintentionally or deliberately.
Democrat officials, though, had expressed support for the move, claiming it would help prevent mass shootings.
"If someone is buying more guns and ammunition than legally allowed, law enforcement needs to know," said Washington, D.C., attorney general Karl Racine, a Democrat.