Wall Street Opens Lower as Banks Drag, ECB Hikes Rates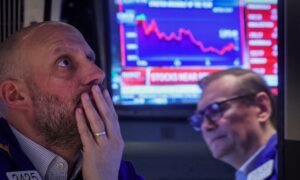 Wall Street's main indexes opened lower on Thursday after shares of First Republic Bank crashed amid fears of a banking crisis, while a large interest rate hike by the European Central Bank also dented sentiment.
The Dow Jones Industrial Average fell 46.92 points, or 0.15 percent, at the open to 31,827.65. The S&P 500 opened lower by 13.00 points, or 0.33 percent, at 3,878.93, while the Nasdaq Composite dropped 49.18 points, or 0.43 percent, to 11,384.87 at the opening bell.