2 Athletes COVID-19 Positive in Beijing Games Warmup Events
China reported on Nov. 12 that two foreign athletes tested positive for COVID-19 in ongoing test events for the upcoming Beijing 2022 Winter Olympics.
The two competitors were sent to a special quarantine hotel, said Huang Chun, the deputy director general of the pandemic prevention office for the Games. He stated that they are allowed to continue training but have to receive nucleic acid tests twice a day, stay in separate rooms, and eat meals alone.
Organizers didn't identify the athletes or their countries but said the second one is a close contact of the first.
One athlete who came on a chartered plane for luge training tested positive as screened at the airport on Nov.4, said Huang at Friday's briefing, adding the second received a positive result at a daily test on Nov. 11. Neither of them shows symptoms.
Beijing has introduced strict control measures for the Winter Games that will begin on Feb. 4. All participants are required to take a test every day, and the Games won't open to international tourists.
The country is already on high alert at its international ports of entry. Even returning Chinese citizens must quarantine on arrival for at least 14 days.
Last month, Beijing's Olympics official said the COVID-19 outbreak poses the biggest challenge to the Games. The capital city imposed new curbs on conferences and events on Nov. 11 after several employees who had attended a meeting of a state-backed company tested positive. The ongoing outbreak has expanded to more than half of the country's provinces.
The announcement of infections comes after reports about the crash of a Polish luge competitor earlier this week.
Polish luge competitor Mateusz Sochowicz, who was 20th in last season's World Cup rankings, crashed into a gate on Nov. 8 that should have been open at the sliding center in Yanqing, the city where the downhill ski events will also be held.
Sochowicz cracked his left kneecap and suffered deep cuts on his right leg at the Olympic sliding center on Monday.
On Friday, Yao Hui, the director of venue management, declined to provide further details on the crash beyond what has been released by the International Luge Federation and the Beijing Organizing Committee.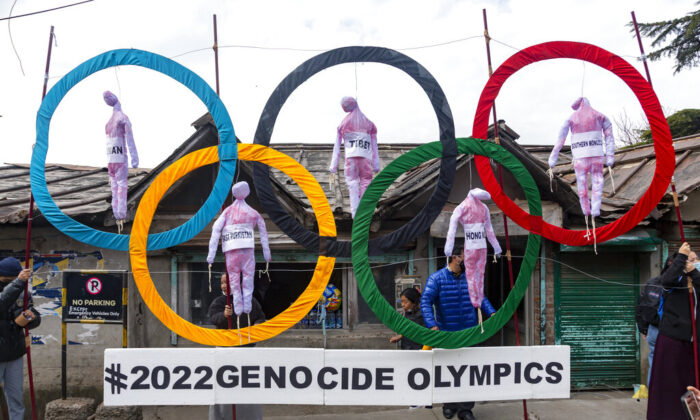 Meanwhile, Human Rights Watch on Friday called on sponsors of the Games to explain why they remain silent on the human rights abuses in the far-western Xinjiang region.
"There are just three months until the Beijing 2022 Winter Olympics, but corporate sponsors remain silent over how they are using their influence to address China's appalling human rights record," Sophie Richardson, China director of the organization, said in a statement.
Human rights groups and some U.S. lawmakers have called on the International Olympic Committee to postpone the Winter Games and relocate the event unless China ends what the United States deems an ongoing genocide against Uyghurs and other Muslim minority groups.
More than one million Uyghurs and other Muslim minorities have been incarcerated in internment camps located in the Xinjiang region. They are subjected to forced sterilization, torture, forced labor, political indoctrination, and forced separation of children.
The Associated Press and Reuters contributed to this report.