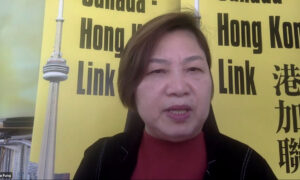 A coalition of 33 multicultural organizations across the country have united to call on the government to enact a foreign influence registry to combat such malign activities, amid reports of China's foreign interference targeting Canada, according to a webinar event.
"We call upon all Canadian government to pass a foreign influence registry act in the House of Commons … and do this without further delay," said Gloria Fung, president of the Canada-Hong Kong Link, who co-hosted the webinar discussion with members of the Canadian Coalition for a Foreign Influence Registry on March 8.
A foreign influence registry, also known as a foreign agent registry, would require foreign states engaged in acts of interference to advance their own interests to register their activities, according to a Public Safety Canada website.
Prime Minister Justin Trudeau recently said he has tasked Public Safety Minister Marco Mendicino with launching consultations on the creation of a foreign agent registry, but didn't provide a timeline. The Liberal government announced as early as February 2021 that it was "actively considering" the creation of a foreign agent registry; nearly two years later in December 2022, Mendicino said that Ottawa was preparing to consult the public on the possible creation of such a registry.
In recent months, a series of reports by the Globe and Mail based on national intelligence sources have alleged that Beijing implemented a sophisticated strategy to interfere in the 2021 federal election. A Global News report last November also indicated that Trudeau and his cabinet were briefed months ago by national intelligence officials about the Chinese Communist Party's interference in Canada's 2019 election.
Facing mounting pressure to set up a public inquiry, Trudeau announced that an independent special rapporteur will be named in the coming weeks to look into foreign interference in Canadian elections.
Speaking at the March 8 panel discussion, Fung noted that the investigation by the special rapporteur shouldn't delay the passage of a foreign agent registry.
"If the government considers [public] consultation necessary, we would be happy to cooperate fully. However, the consultation should be conducted in a timely manner, and with groups that are truly representative of local communities and don't act as proxies for foreign governments," she said.
Also speaking at the March 8 panel discussion were Charles Burton, senior fellow at the Macdonald-Laurier Institute; Kayum Masimov, project manager for the Uyghur Rights Advocacy Project; Mabel Tung, chair of Vancouver Society in Support of Democratic Movement; Dinh Tran, leader of Viet Tan Ontario; and Marcus Kolga, president of The Central and Eastern European Council in Canada.
In March 2022, the Coalition issued a joint letter supporting Senator Leo Hosakos's Bill S-237 in the Senate to establish a foreign influence registry. The bill, however, has remained idle in the Senate since February 2022.
Vivian Yu from NTD contributed to this report.