78 Days of Lockdown 'Like a Nightmare,' Shanghai Resident Says
A Shanghai resident and his neighbors were locked in their compound on March 13, and the local authorities told them that lockdown measures would be for "several days." Seventy-eight days passed before he was able to leave his compound.
It was "like a nightmare," he said.
"I just can't believe that I can now take a stroll outside and see other people walking as well," Mr. Zheng (an alias) told the Chinese-language edition of The Epoch Times.
He said the lifting of restrictions was as sudden as the lockdown itself.
"The authorities said the lockdown was for just for a few days, but nearly two months and a half have passed," he said, "Who now believes what the government says? We're angry with the government, and we have lost our confidence in them."
A broader lockdown over Shanghai was put in place on April 1.
The chaos of the lockdown shocked residents, who experienced soaring prices of food and supply, starvation, loss of freedom, and deaths.
The city lifted the lockdown on June 1, allowing residents in areas of low risk of pandemic infection to leave their homes, go to work, and use public transport.
Shanghai's deputy mayor Zong Ming declared at a presser the day before that the outbreak was "effectively controlled".
According to Zong, residents must still wear masks in public and avoid gatherings. He said shops and A-class tourism spots can operate at 75 percent capacity, while entertainment facilities and gyms will reopen at a later date.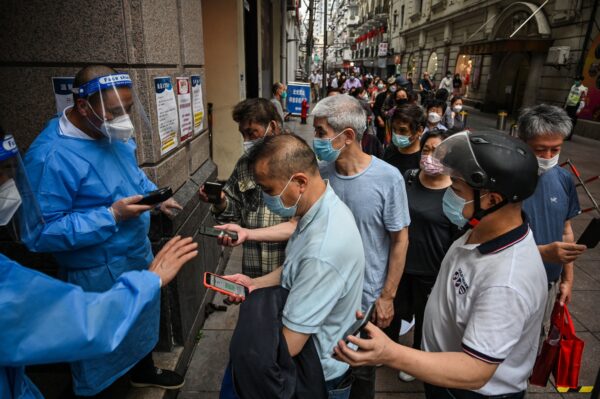 Different Orders from Various Authorities
At the same press conference on May 31, a municipal civil affairs official announced that, except in high-risk areas, "no work unit or individual should use any reason to prohibit local residents from going out and coming home, or to prohibit employees from going to and back from work."
Despite the municipal notice, Zheng's local community committee continued with restriction measures, only in a different form—they issued "a residence certificate" to people living in the compound, which is in a low-risk area, he said.
Community committees are the grassroots level of governments in China. They take charge of almost all civil affairs in the community, including enforcement of the regime's policies such as family planning, maintenance of social security, and the distribution of aid.
"Yes, we can go out freely; but if you come back, you must have a residence certificate issued by the local community committee before they let you in. Isn't this still a restriction?" Zheng said.
"Now I understand that the [Chinese] government issues two orders: one meant for the public, which is to broadcast on TV to be made known to everyone, but the one that is really implemented is a different one," he said. That is why they told him that they had followed orders from higher authorities when he questioned the community committees about their requirements for the entry residence certificate.
"Now who will trust the government anymore?" he said.
The authorities also banned the media from using the phrase "ending the lockdown," according to The Guardian, citing a U.S.-based online news portal China Digital Times.
Random Lockdowns, No Official Held Accountable
As Shanghai authorities began to reopen the city on June 1, some residential neighborhoods were again locked down within 24 hours of reopening due to new reports of COVID-19 infections.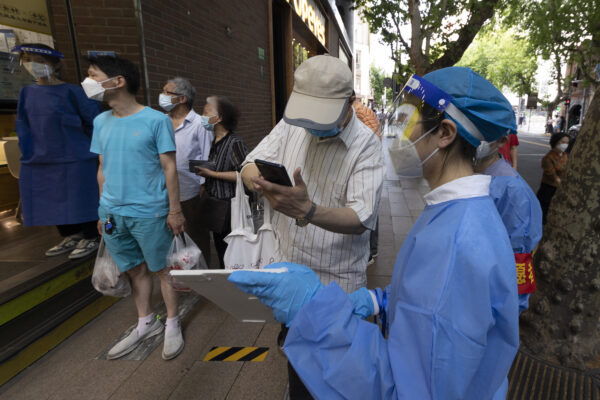 "We have become numb to the restrictions. Some compounds and districts were again in lockdown yesterday and some are today, although the government said the city is opened up again," said Ms. Huang (an alias), a resident.
Huang said in an interview on June 1 that, after the two months of absolute and heavily enforced restrictions, residents have come to know that lockdown in the city is random and can come back any time.
She felt sorry for those who died during the two-month lockdown. "There were people committing suicide, people starving to death, and people who have died because they were declined medical treatment for lacking a negative PCR test report," Huang said.
She called on municipal authorities to be accountable for losses incurred during the lockdown and blamed the municipal authorities for shifting responsibilities to community committees.
"If we have elected our own community committees, how could we be so foolish—locking up ourselves, allowing ourselves no access to food when there is supply, and starving ourselves to death?" Huang said.
Gu Guoping, a retired university teacher and rights activist based in Shanghai, told The Epoch Times that, although community committees are supposed to be elected by residents, "in reality, the committee members are chosen by the government; we haven't elected them."
Mr. Wang (an alias) in a recent interview with the Chinese publication of The Epoch Times said that both residents and the government suffered great losses during the lockdown.
"No one has taken the blame and no one has resigned for the disaster," Wang said. "We are all at sea as to why we were locked down or have the restrictions lifted and who to blame for the losses."
Lin Cenxin and Yi Ru contributed to the article.