89-Year-Old Chinese Writer Condemns the CCP for Zero-COVID Policies in Open Letter to Prime Minister
The mass mandatory PCR testing and random locking down of cities have stirred up much outcry among Chinese people.
Protests erupted in the past months across the country, including in Beijing, Tianjin, Guiyang, Chongqing, and Wuhan. During this time, Chinese people have openly expressed their discontent online, opposing the regime's harsh zero-COVID policies. 
"The party [the Chinese Communist Party] should govern the party affairs, and the government should govern governmental affairs. But now that the party governs everything, what does the government do? During the pandemic, [the party] locks down cities and closes streets and roads. Daily PCR tests, yellow codes and red codes, taking people away and isolating them—everything is so chaotic and messy. There is widespread discontent among ordinary people, who have nowhere to complain."
These words are part of an open letter to the Chinese regime's Prime Minister Li Keqiang, published online on Sept. 22 by Tie Liu, an 89-year-old Chinese writer and former journalist, condemning the CCP's draconian zero-COVID policies and demanding an explanation of any legal basis for such policies.
Tie Liu, meaning "iron torrent" in Chinese, is the pen name of Huang Zerong, a former journalist of Chengdu Daily. The outspoken octogenarian is a native of Chengdu city in China's southwestern Sichuan Province and has been an active critic of the CCP.
Condemns the CCP for Zero-COVID Policies
Tie Liu was angry with the zero-COVID policies.
"During the lockdown of cities and the closure of roads and streets, some people committed suicide by jumping off the building; some people had mental problems; some people were acutely ill but died because they could not enter the hospital without nucleic acid testing," reads Tie Liu's open letter.
Tie Liu compared the Kuomintang, also known as the Chinese Nationalist Party, which was the ruling party in China before 1949, with the Chinese Communist Party (CCP) in his letter.
He recalled that there was an outbreak of cholera in Chengdu in 1943 when Kuomintang was in power. He said the cholera was very infectious and severe, with symptoms of diarrhea and vomiting, and that two residents living on the same street with him died within two weeks.
"But the Kuomintang never locked down the city or the street, nor did it mess the ordinary people around. Now there is no death [caused by COVID-19 in Chengdu], but [the CCP doesn't allow] the ordinary people to live a peaceful life," Tie Liu's letter reads.
He also wrote about the Guizhou quarantine bus crash that killed 27 people on Sept.18.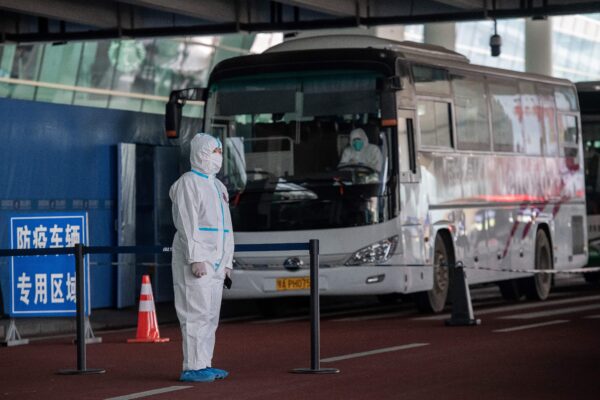 He condemned the secretary of the Guiyang municipal party committee for ignoring people's lives.
"The maker of the tragedy, the municipal party secretary, only bowed! Can people be convinced? In my opinion, he should be arrested and sent to jail, and the national flag should be flown at half-staff in mourning [of the victims of the bus accident]," wrote Tie Liu.
Tie Liu asked Li Keqiang if the PCR mandates come from the State Council and, if yes, what was the legal basis for such a regulation.
"Our country has a constitution and various laws. Anyway, I have not found a clause that prohibits entering the hospital without nucleic acid testing. Therefore, I'm writing to the State Council for your explicit explanation," the courageous critic wrote.
Rejected by Hospital for Refusing to Take PCR Tests
Tie Liu had personally suffered as a result of mandatory PCR testing requirements.
"Without PCR tests, you're not allowed to enter a hospital, or a supermarket, or a village, or a town. What rule is this? There's no legal basis!" Tie Liu said in an interview with the Chinese language edition of The Epoch Times on Sept. 25.
He went to see the doctor at the Special Outpatient Department of Chengdu Western Hospital for some medication on Sept. 22, he said, but the hospital didn't admit him as he didn't have any PCR test certificate.
"I am almost 90 and in poor health. I am a patient of terminal lung cancer," Tie Liu said.
As he lives in a small town about 40 miles away from Chengdu for rest and recuperation, spending most of his time inside the house and seldom going out for large gatherings, he doesn't want to take either PCR tests or COVID jabs.
So he asked the hospital authorities if they had government regulations that require mandatory PCR tests to enter a hospital.
The hospital authorities couldn't show him such regulations, but they wouldn't allow him in, either, he said.
"They even pushed me out," Tie Liu added, "They even threatened to turn my green health code red if I refused to take the PCR test that day."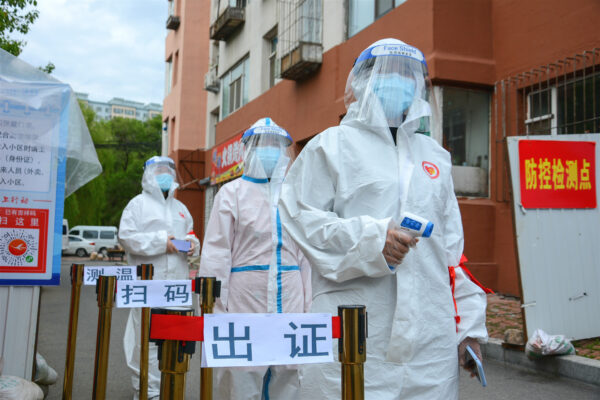 In China, people with a red health code are strictly confined to their homes or quarantine centers.
That prompted Tie Liu's decision to write an open letter to the prime minister.
"At my age, I do not have anything to fear. I just want to make it clear that if it is stipulated by the State Council. If not, why don't hospitals allow people to enter?"
Tie Liu said many people expressed support after he published his open letter online. The letter was later removed and is now not available online in China.
Gao Yu, a Chinese freelance journalist and dissident, posted the letter on Sept. 24 in a Tweet. She was repeatedly persecuted for her covering the peaceful students' protest on Tiananmen Square in 1989, and later for her independent reports on the Chinese economy and politics, according to IFEX, an international network of over 100 non-governmental organizations that "advocates for the free expression and access to information rights of all."
年近90的铁流,晚期癌症患者,谪居四川小鎮,因拒核酸和疫苗,無法就醫。無奈之下,致信李克強總理。 pic.twitter.com/A0ycLOa8MM

— 高瑜 (@gaoyu200812) September 24, 2022
"Many people reposted my open letter and praised me for speaking up for the ordinary people," Tie Liu told the publication.
Chengdu maintained its stringent lockdown measures despite a magnitude 6.8 earthquake on Sept. 5, the epicenter of which was only 125 miles from the city.
An Outspoken Critic of the CCP
Tie Liu encouraged Chinese people to be brave and speak up.
"There are too few Chinese people who tell the truth and speak honestly," he sighed. "Everyone is afraid. But the more afraid you are, the more [the authorities] bully people. The more afraid you are, the more they will bring you down. They [the communist regime] just act recklessly and mess around. The country has no rule of law at all."
Tie Liu has been an outspoken critic of the CCP. His experience was reported in 2015 by China Affair Research Institute, a non-profit organization based in Alhambra, California.
In the 1950s, Tie Liu was a journalist with Chengdu Daily. In 1957, he was labeled an "anti-revolutionary" for his criticism of the CCP in the newspaper and was sent to labor camps. He spent 23 years there until he was released in 1980.
In 2010, he set up the Tie Liu Press Fund with a contribution of 1 million yuan ($140,000) to provide assistance to journalists and writers who were persecuted over freedom of the press.
In October 2010, a group of Chinese journalists, including Tie Liu, sent a joint letter to the communist regime's rubberstamp legislature calling for freedom of the press and the removal of media censorship.
In 2014, he was arrested and charged with "causing a disturbance" and "illegal business activity" for publishing the memoirs of people persecuted under former CCP leader Mao Zedong and posting online criticism of Liu Yunshan, a CCP propaganda chief.
'Role Model for Young People:' Rights Activist
Gao Fei, a human rights activist in Huanggang city of China's Hubei Province, spoke highly of Tie Liu's brave action in an interview with the Chinese language edition of The Epoch Times on Sept. 25.
"Tie Liu came forward to speak the truth, which is really admirable," said Gao Fei, "He is a role model for us young people, worthy of praise."
Gao said that it is very common for many patients in China to die because they didn't have PCR tests and thus didn't receive timely medical treatment during the pandemic.
"More and more people are complaining about zero-COVID policies," Gao said, "People are disgusted with the unreasonable and inhumane epidemic prevention and control measures."
"The overall social hostility is very severe, and various conflicts are on the verge of erupting, turning the whole society into a tinderbox," added Gao.
Lin Cenxin and Yi Ru contributed to the article.