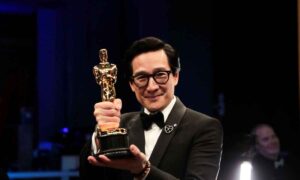 Born in Vietnam, Jonathan Ke Huy Quan, an American movie star of Chinese descent, won the 95th Academy Award for Best Supporting Actor for his role in "Everything, Everywhere All At Once."
At the 95th Academy Awards, "Everything Everywhere All At Once" swept the Oscars floor with wins. Before walking onto the stage, Quan embraced his co-stars, Malaysian actress Michelle Yeoh and Jamie Lee Curtis.
When Quan thanked his wife for supporting him for the past 20 years, He said hello to his mom, who was watching the award show live. "Mom, I just won an Oscar!"
"My journey started on a boat. I spent a year in a refugee camp. And somehow, I ended up here on Hollywood's biggest stage. They say stories like this only happen in the movies. I cannot believe it's happening to me. "This is the American dream!" Quan said in his moving thank-you speech.
Quan was thankful for his wife standing by his side for 20 years and tirelessly telling him his time would come one day. Quan said he almost gave up on his dream, but with perseverance and faith, Quan made it to the Oscar Stage. He encouraged everyone watching the show, "Please keep your dreams alive."
He also thanked Steven Spielberg, who gave him his first acting opportunity as Short Round alongside Harrison Ford in an Indiana Jones franchise, and the directors of "Everything Everywhere All At Once" for giving him a second chance.
Quan is the second Asian actor in history to win an Oscars award, after Cambodian doctor and actor Wu Hanrun won the Academy Award for Best Supporting Actor in 1985 for his role in "The Killing Fields."
Quan is also the first Vietnamese actor to win this award.
After Quan migrated to the United States, he took his younger brother for an audition at 12. Still, Quan was selected to play the Short Round in Spielberg's "Indiana Jones" and the "Temple of Doom" alongside Harrison Ford.
However, as he grew up, Quan had fewer and fewer opportunities to act before he eventually removed himself from the spotlight.
His last on-screen role was in the Hong Kong film "Second Time Around" in 2002.
Quan went behind the scenes and co-directed "2046" with Wong Kar-wai during that period. He also participated in stunt choreography in movies such as the Marvel comics franchise "X-Men" and "The One," starring Jet Li.
He revealed that he did not get a single audition for an entire year.
His career turned a corner for the better when he starred in the Asian rom-com "Crazy Rich Asians" in 2018. The Warner Bros. movie became a box office success with earnings of US$238.5 million.
Quan also co-starred with Michelle Yeoh in the Asian comedy.
Quan's career continued to blossom when he got the role "Everything Everywhere All At Once" as Waymond Wang, the husband of Michelle Yeoh's character Evelyn Wang.