Abbott Withdrawing Infant Formula From China Amid Declining Birth Rates
News Analysis
After 24 years in China, Abbott, the largest U.S. supplier of infant formula, has decided to pull out a significant part of its operations from China.
In recent years, the number of newborns in China has dropped significantly while more and more foreign companies are moving their supply chains out of the country. This reflects a declining demand for infant formula and a declining workforce in the country.
On Dec. 14, Abbott released a statement on its official website in China. The statement explained: "Over the past few years, Abbott has engaged in intense competition in China's rapidly changing market. However, consumer demand for infant formula and child nutrition products is changing. As a result, Abbott has decided to phase out operations and sales of infant and children's nutrition products in China over the next year."
The statement said that consumers can still purchase the products through online and offline channels and receive corresponding customer service support. Abbott will work with its partners to ensure a smooth transition. Meanwhile, the cross-border shopping e-commerce platform is not affected.
The statement also said that the future of Abbott's business in China would focus on the growing medical nutrition business. Other areas of business, including diagnostics, medical devices, and pharmaceuticals, are not affected in China.
Abbott was founded in 1888 in Chicago and currently offers products in nutrition, pharmaceuticals, diagnostics, and medical devices, serving more than 160 countries. The company established a branch in Shanghai, China, in 1998.
Since 2010, Abbott has continued to invest in the Chinese market. According to the company's official website, its Chinese branch has established 16 offices, four factories, and two research and development centers in China, with more than 6,000 employees. Its $230 million nutrition product manufacturing plant, established in 2014 in Jiaxing, Zhejiang Province, is Abbott's largest investment in China.
However, Abbott's China market share has been declining in recent years. According to Euromonitor, a retail supply chain solutions provider, Abbott's market share in the country was 5.4 percent in 2017, ranking fifth among all milk powder brands in terms of retail sales of milk powder; in 2019, Abbott's market share dropped to 4.9 percent; in 2021, it further shrank to 3.6 percent; and this year's share has now dropped to 3.1 percent, ranking ninth.
Declining Birth Rates
At the same time, the number of newborns in China has decreased significantly, reducing the demand for baby formula milk powder. The year 2016 saw the full liberalization of the two-child policy, and the official number of newborns in China was 17.86 million that year. It has decreased year by year since then.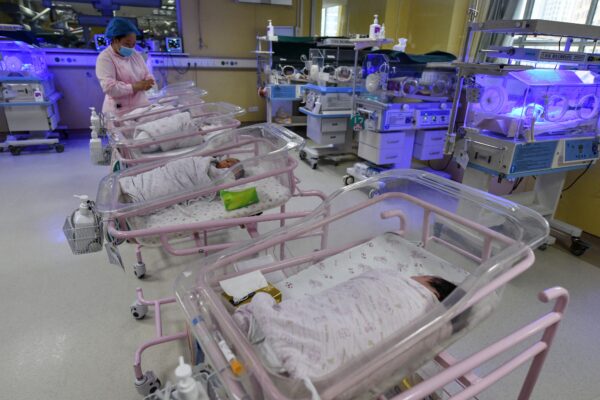 China's National Bureau of Statistics (NBS) has released data, claiming that the number of newborns in the country was 10.62 million in 2021, more than 40 percent lower than in 2016. Chinese macroeconomist Ren Zeping predicted in 2019 that the number of newborns in China would drop to about 11 million by 2030, but it did so nine years earlier.
Moreover, demographers told Reuters on Aug. 8 that the number of newborns in China this year is likely to fall to a record low, estimated at under 10 million, as some parts of China are still implementing pandemic policies. Many families have postponed or abandoned their childbirth plans, given the Chinese Communist Party's (CCP) extreme zero-COVID policy.
One 30-year-old woman working in the media industry told Reuters that she does not want her children to live in a "country where the government can come to the door and do whatever it wants."
Foreign Companies Leaving
As the United States and Western countries are increasingly scrutinizing the CCP's international ambitions, many foreign companies have chosen to withdraw or partially withdraw from China. According to an article published in October by the National Institute for Defense and Security Studies, a Taiwan-based think tank, there is a growing trend for foreign companies to relocate their production bases as the business environment in China worsens, and the diversion of global supply chains will become increasingly significant.
According to a survey conducted by the American Chamber of Commerce in Shanghai in June, 44 percent of manufacturers have reduced or delayed their investments in China, and 33 percent of manufacturers are shifting some of their factories and production plants out of China.
Another survey conducted by the European Union Chamber of Commerce in China in April showed that 23 percent of European companies are considering shifting their existing or planned investments from China to other countries, the highest number in the last 10 years.