America's $500 Million Aid to Nepal Must Support Democracy
News Analysis
On March 26, Chinese Foreign Minister Wang Yi announced a new study to link Nepal's electricity grid to China. This, despite Nepal's closer economic proximity to India and the Himalayan mountains separating Nepal's economic areas from China.
China's study is a thin mimicry of $500 million in U.S. funding through the Millenium Challenge Corporation (MCC) Nepal Compact, "designed to improve availability of electricity and increase road maintenance to advance connectivity, drive growth, and lay a strong foundation for new investments."
Beijing is also dangling a proposed railway between China and Nepal that would traverse snowy plateaus and burrow under mountain ranges. The plan is unviable, except for Beijing, which would profit financially from the massive construction contracts and diplomatically from tying Kathmandu, Nepal's capital, ever closer to the Chinese Communist Party (CCP) through debt and trade.
But Nepal is not falling for this latest iteration of Beijing's debt trap.
On a recent visit to Kathmandu, where he unveiled the electricity grid connection study, Wang met with President Bidhya Devi Bhandari. She was publicly polite, but otherwise, he had a tough go. Almost half a billion dollars worth of development promises that CCP leader Xi Jinping made to Nepal in 2019 remain unfulfilled.
While Beijing now apparently wants to loan the half-billion at high-interest rates to Nepal for large construction contracts that would employ Chinese companies, Kathmandu refused again on Wang's most recent trip, insisting on Chinese grants, soft loans at 2 percent maximum interest rates, or nothing at all.
Kathmandu can get a better deal from not only American, but European and Japanese development agencies.
Nepal's GDP per capita was just $1,155 in 2020, down over 3 percent from the year prior. So Beijing's proposal of commercial loans at high interest to benefit its own infrastructure exports and corporations is undoubtedly exploitative.
Beijing actually seeks to turn Nepal into a satellite state through a veil of supposed economic aid. This is consistent with its broader and widely recognized goals of becoming globally hegemonic and its recent treatment of Sri Lanka, Cambodia, Laos, and the Solomon Islands.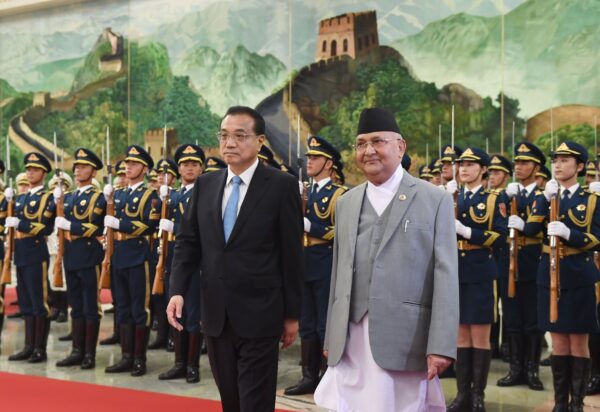 According to Yubaraj Ghimire, a Kathmandu-based Nepali who writes for the Indian Express, Wang threatened behind the scenes during his most recent visit "that China would get actively involved if there were any internally or externally inspired activities directed against China from Nepal's territory, but that China would stand by Nepal in defence of its sovereignty and right to self-determination on internal issues against any outside moves."
Beijing's increasing treatment of Nepal as a client state, and threat to become actively involved in Nepal's internal politics, contradict China's supposed adherence to a policy of "non-interference" and match its attempts to unify Kathmandu's pro-Beijing communist parties into a powerful political force capable of taking the reins of government. The Nepalese press did not take kindly to this interference.
Beijing Rights $500 Million and Loses
Beijing has simultaneously attempted to decrease Indian and American support to Nepal, whose top trade partner by both imports and exports is India. Distant seconds are the United States for exports and China for imports. Thus, Beijing should have relatively little influence on Kathmandu as the customer is, or in this case, the net importer should be "always right."
Beijing nevertheless seeks to dissuade Kathmandu from accepting the $500 million in U.S. development aid even as Xi has not delivered his nearly identical promise.
China's state-owned Global Times reverses the charges against Beijing's Belt and Road Initiative (BRI, also known as "One Belt, One Road") to wrongly depict the MCC as a "Trojan horse" military threat.
"With the implementation of the MCC, US military forces might further infiltrate Nepal in line with the compact," wrote Li Tao in the Global Times. "This has already been taking place for years in many forms. The US' intention is clear: It aims to obstruct the BRI construction in South Asia, as well as undermine the security and stability of China's southwestern frontier."
Given that the regime in Beijing stands for totalitarianism and genocide, that does not sound like a bad idea. But not everyone agrees.
Likely because of such heightened rhetoric, pro-Beijing political parties in Nepal fomented protests that became violent riots against accepting the MCC money. However, such destabilization by Beijing was mostly met by scorn in Nepal or ignored.
In February, after approximately five years under consideration, Nepal's parliament finally approved the $500 million in U.S. MCC aid. But only with a stipulation, encouraged by influential Nepalese Maoists, against any security or strategic alliance with the United States.
The $500 million in U.S. aid is part of the MCC, established in 2004 by Congress to "reduce poverty through economic growth," and rightly supports foreign policy preferences for democracy and human rights. These must and should now include limiting the illiberal influence of countries like Russia and China, including countering the CCP's attempted exploitation in places like Nepal.
Views expressed in this article are the opinions of the author and do not necessarily reflect the views of The Epoch Times.