Angry College Students Break Free From Prolonged COVID-19 Lockdown in China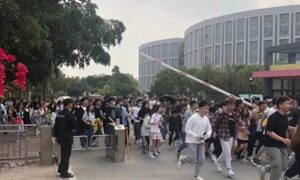 Despite a low-risk pandemic situation in the area, the Guangzhou Vocational University of Science and Technology, in southern China's Guangdong province, prolonged its COVID-19 restrictions on campus.
Discontent from locked-up students simmered until it reached a critical point.
At noon on Mar. 17, at least 300 Guangzhou university students launched a surprise charge on the guarded school gate and stormed off campus. Student Lin Fang (alias), told the Chinese-language Epoch Times it looked like a prison escape scene from a movie.
"It happened during break time. As guards were allowing a vehicle to exit, the crowds saw an opportunity and flooded out."
"The guards at the gate tried to stop the crowds but in vain," Lin recalled.
Later in the afternoon, additional guards were posted at the entrance and other locations.
Interviewees: Unnecessary and Unfair Lockdown
Zhang Feng, a student at the university, told the Chinese-language Epoch Times that the ongoing lockdown in their university was met with widespread resistance.
He said that their school was in a low-risk area in a remote part of the city of Guangzhou, and had been locked down since last semester, although neighboring schools were not.
Zhang revealed students had to get approval from a counselor to leave the school. Some counselors were sympathetic while others were not, Zhang said.
Moreover, interviewees reported it was unfair that the faculty could enter and leave the school freely while students were banned from going off campus.
Meals Are Costly, Poor Quality, and Occasionally Contain Insects or Worms
Lin Fang said there were other reasons why students broke out of the grounds. "Meals provided by the school dining halls were increasingly expensive and of such poor quality that the food contained insects or worms. Many students said they had loose bowels after eating in the dining halls."
Zhang Feng added he had to spend nearly 50 yuan ($7.68) on meals each day.
Additional Complaints
Some students complained online about the poor quality of the university's professors.
Others also accused school authorities of profiteering.
Zhang Feng said that hot water was unreliable in the dorms; expansion projects were always underway to admit more students; tuition for undergraduate programs was expensive, starting at 26,000 yuan (about $3,994) per year; and annual fees for sub-undergraduate programs rose from 18,500 yuan ($2,842) to 21,000 yuan ($3,226).
School Administrators Threaten Students Who Share Videos
After the incident, the Guangzhou school further intensified restrictions at the entrance and issued a notice banning students from spreading videos of the exodus, said Zhang.
Any violator would face disciplinary punishment, he added.
Lin Fang corroborated Zhang's statements.
Despite attempted censorship by the school, discussion about the incident, called the "March 17th Uprising" by some netizens on China's social media Weibo, continues.
Gu Xiaohua and Ling Yun contributed to this report.