Australian Councillor Praises Falun Dafa Practitioners for Their Courage
A Victorian councillor in the city of Bendigo believes Australians should support those who speak up against oppressive regimes—such as the Chinese Communist Party (CCP) under which millions of Chinese people don't enjoy freedom of expression.
At a rally held in the centre of Bendigo on April 10, Councillor Vaughan Williams said that Falun Dafa practitioners' efforts to raise awareness about the widespread human rights abuses in communist China were important for Australians to take note of, especially in his town of Bendigo where a vibrant Chinese community abounds.
"I'm not a big fan of the CCP, and that's why I'm here today—to lend my support to the Chinese people living in Australia," Williams told The Epoch Times.
"Everybody should have freedoms. Freedom of religion, freedom to practice, free speech. That's why they're here—they're here for freedom," he said of the Falun Gong practitioners who were visiting from Melbourne to let locals know about the dangers posed by communist China to the free world as Australia grapples with the question of how to proceed in its foreign relations with Beijing.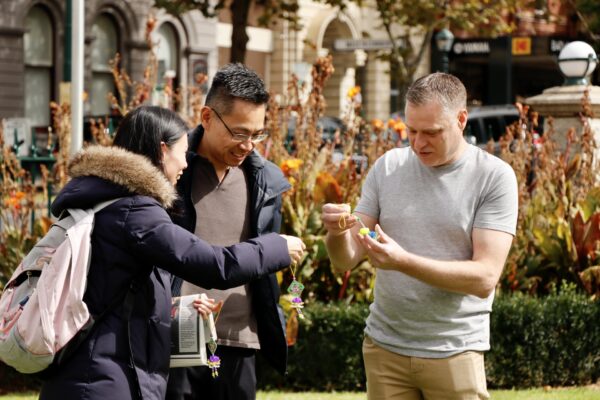 Some of the car mounted signage read: "The CCP does not represent the Chinese people," "Over 80 million unnatural death under Chinese Communist reign," "Stop the persecution of Uyghurs, Christians, Falun Gong and the faith groups in China," and "The CCP uses threats, tariffs & bully tactics against Australian & Australian businesses."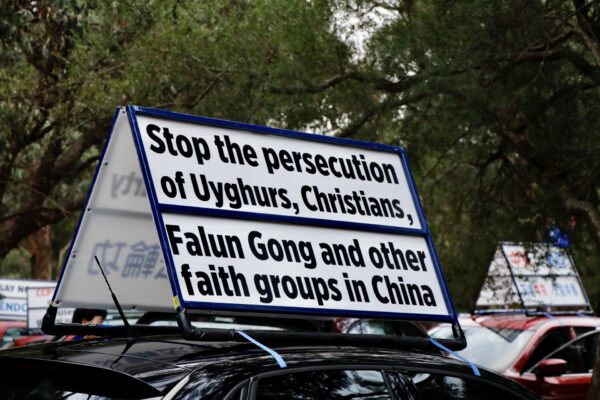 Speaking at the event, Andrew Bush, former senior member of the Liberal Party and current vice president of Better Hearing Australia, said that while communist China today continues to extend its influence globally, the regime was still persecuting it's own people back home.
"People of Australia need to recognise the fact that [the CCP] is based on violence," Bush said.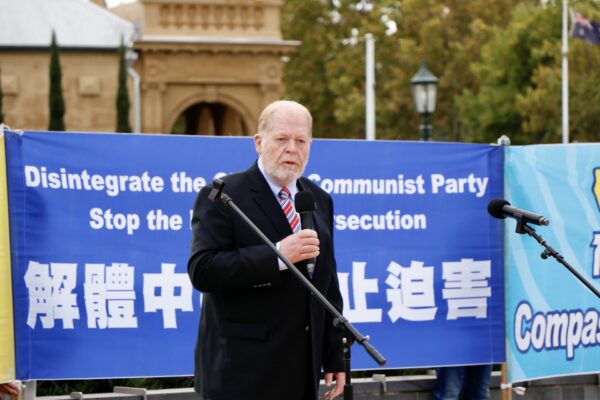 He said that the forced organ harvesting of Falun Gong prisoners of conscience, as well as the oppression of Uyghur minorities in China, were recent examples of the CCP's violent history.
"It is now time that the world community says to the Chinese Communist Party, we are holding you [the CCP] accountable for the evil and the wrong that you are doing, especially to your own citizens."
Awareness Raising Continues
With the CCP's persecution of Falun Dafa still happening after 21 years, efforts by practitioners to raise awareness of the communist regime's attempts to eradicate their belief in the tenets of truth, compassion and forbearance continue.
Falun Dafa, also known as Falun Gong, is an ancient Chinese spiritual practice that consist of gentle meditation exercises, and moral teachings for self improvement. First spread in China, it grew in popularity during the 1990s to 70 million to 100 million adherents in China alone by the end of the decade, according to official estimates at the time.
Barbara Schafer, an artist and a Falun Dafa practitioner, spoke of how her injury from an accident 18 years ago improved significantly after she started practicing Falun Dafa.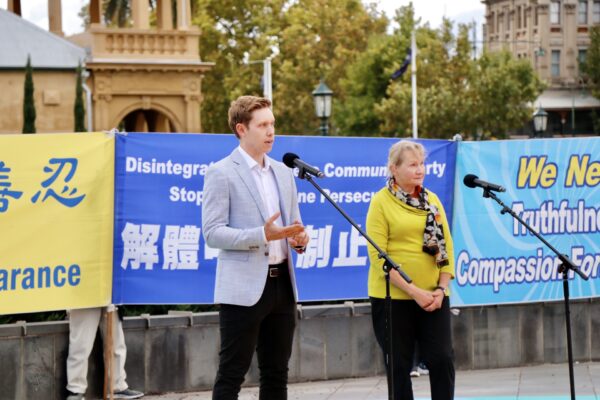 When told by doctors that her hopes for recovery were low after sustaining a head injury from a fall, Barbara decided to give Falun Gong a try.
"After doing the exercises, I could feel the amazing power of Falun Gong," Schaffer said. "Falun Dafa brought me wisdom, and enlightenment—enlightenment through many things I could never possibly get it through any other way."
While she said Falun Dafa was not for everyone, she said the practice does require "perseverance, strong will, and determination."
"If you experience Falun Gong, the benefits are far greater than you could ever imagine," she added.
Angel, a 44-year-old Falun Gong practitioner from China, also spoke of how the practice has helped her learn to be more considerate of others.
Despite the being imprisoned in China in 2004 for handing out information on Falun Dafa, she still held strong to her faith.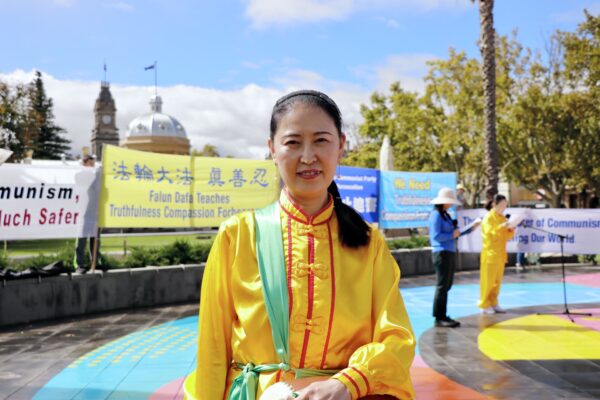 "Like many other practitioners, I keep telling the Chinese people how I benefit from practicing Falun Gong and the truth behind the CCP's slander campaign, so they will not be deceived by the CCP's lies and propaganda," she said.
The rally also included Falun Dafa exercise demonstrations, as well as traditional Chinese instrument performances.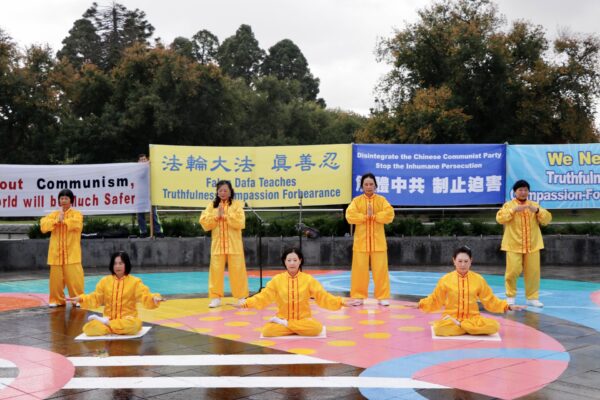 Since July 20, 1999, Falun Dafa practitioners have been appealing to various levels of governments, both inside and outside of China, to end the regime's attempt to wipe out the group, which has resulted in waves of practitioners being imprisoned, tortured, and even killed for their faith.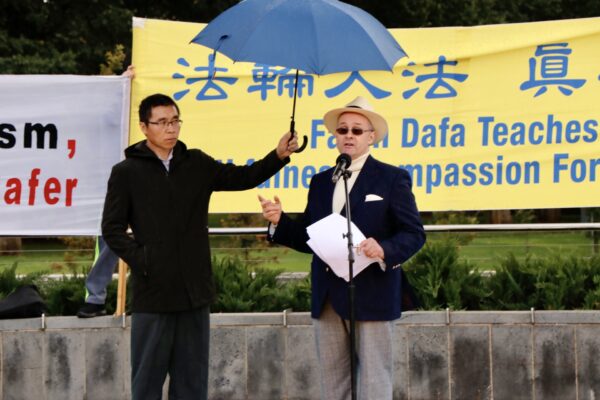 At any given time, 450,000 to 1 million adherents are incarcerated in China, according to estimates by the Falun Dafa Information Centre.
Epoch Times reporter Rita Li contributed to this report.