Authorities Freeze Bank Accounts in Several Chinese Cities
News Analysis
Many banking customers in China's Shenzhen city took to social media earlier this month, claiming they couldn't withdraw cash or transfer money because their accounts were frozen. Chinese media reported that banks collaborated with authorities to freeze bank accounts.
Moreover, a financial expert believes Beijing's real intention is to prevent capital outflow.
According to an Aug. 12 article by China's First Financial News, several residents in Shenzhen said that their debit cards issued by Bank of China's Shenzhen branch were suddenly frozen. They noticed the problem when they found that they could deposit money into their accounts but couldn't withdraw any. They could neither transfer funds using Alipay, an online payment platform and China's equivalent to Paypal. Furthermore, they also could no longer sign into their mobile banking apps.
A banker revealed to First Financial News that Bank of China recently cooperated with the public security bureau to implement measures to freeze bank accounts. Other banks—including China Construction Bank, Industrial and Commercial Bank of China, and Agricultural Bank—implemented similar measures.
The banker said many customers are showing up at the banks to unfreeze their accounts, especially on weekends. Sometimes the waiting lines were so long that people had to wait an hour.
Bank accounts have also been frozen in Beijing and the provinces of Shandong and Hainan, Chinese state media Securities Daily reported on July 18. According to a local bank manager, banks are following the so-called "freezing card" directive from central authorities.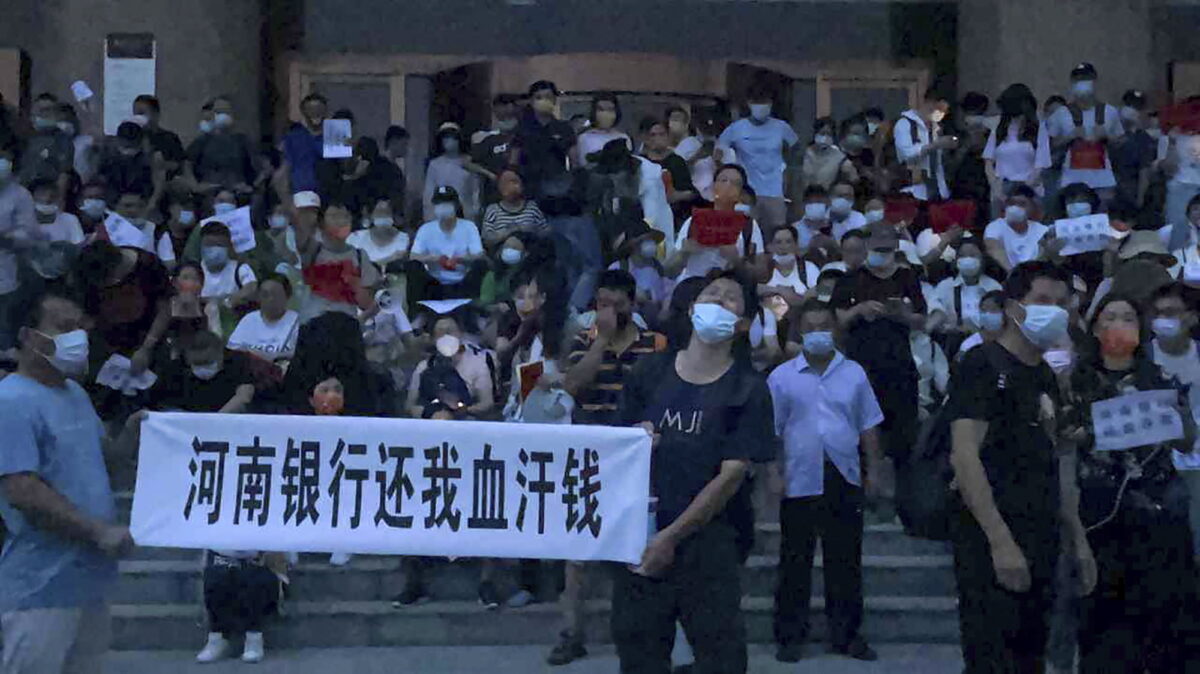 Supreme Court Directive
The "freezing card" campaign was first formulated by the Chinese Communist Party's (CCP) State Council on Oct. 10, 2020, to target cell phone cards of the three major carriers (China Mobile, China Unicom, and China Telecom), virtual carrier phone cards, Internet of Things cards, personal bank cards, public accounts, corporate credit cards, and accounts of non-bank payment institutions such as WeChat, Alipay, and other third-party payment methods.
Then, in December 2020, the Supreme Court of China—in conjunction with the Supreme Prosecutor's Office, the Ministry of Public Security, the Ministry of Industry and Information Technology, and the Central Bank—issued a directive to move the "freezing card" campaign forward to crack down on illegal trading activity by freezing the bank accounts of criminals or suspects.
An employee at the Construction Bank's Shenzhen branch told Chinese media outlet Red Star Information that at the end of July this year, a screening of bank cards was conducted in accordance with the requirements of the public security department, and that there were various "unusual" circumstances that could lead to the freezing of bank cards.
However, many of the cases that have come to light show that a large number of ordinary merchants and depositors with no "unusual" transactions also had their accounts frozen and that the procedures for unlocking the accounts are complicated.
Preventing Capital Outflow
Hong Kong-based financial analyst Katherine Jiang told The Epoch Times on Aug. 22 that Chinese authorities' real intention of freezing an increasing number of bank accounts is to prevent capital outflow.
Since the beginning of this year, the United States has raised interest rates several times to combat inflation. In contrast, the Chinese Communist Party (CCP) has cut interest rates to stimulate the economy. Jiang said that the situation has increased the risk of capital outflow from China, prompting the phenomenon of "bank account freezing" to further escalate.
She believes that Shenzhen's proximity to Hong Kong makes it easy for people to transfer money to Hong Kong through Shenzhen, and then transfer it overseas.
"To prevent capital outflow, 'bank account freezing' in Shenzhen is likely more serious than in other cities," she said.
Moreover, she added that the divergence of monetary policies between the United States and China puts the CCP under even greater pressure regarding capital outflow.
The U.S. Federal Reserve has increased interest rates consecutively since June, while China's Central Bank has enacted several rounds of rate cuts since the beginning of this year.
China's National Bureau of Statistics released data on Aug. 15, showing that investment, consumption, and industry data in July 2022 were all lower than market expectations.
Jiang said that a weak currency often accompanies a weak economy. The divergent monetary policies of China and the United States have further increased the risk of yuan depreciation, prompting the wealthy Chinese to transfer money out of China—thus worsening the country's financial troubles.
"The widening disparity between China and the United States, caused by the most recent monetary moves, will likely exacerbate the 'bank account freezing' phenomenon in China in a bid to avoid financial risks," Jiang said.
David Cu contributed to this report.