Beijing Censors Citizens Condemning Russia's Invasion of Ukraine
Despite Beijing's "pro-Russia" stance, many Chinese citizens are coming forward to denounce Russia's invasion of Ukraine. But they are immediately censored on social media, and some have received backlash and threats from cyber-nationalists.
On March 2, China abstained from voting at the United Nations General Assembly on the demand for the unconditional withdrawal of Russian troops from Ukraine. And China's Foreign Ministry claimed that it firmly opposes any "illegal unilateral sanctions." Meanwhile, the United States, the European Union, and other countries imposed various sanctions or export curbs on Russia.
The Chinese Communist Party (CCP) shows its "connivance" with the Russian invasion, an official narrative being carried out by "Little Pinks" on social media. Little Pinks are cyber-nationalists who are keen to guard the CCP against any criticism, to support the CCP's narrative, and to suppress Chinese netizens who go against Beijing's views.
Beijinger Receives Death Threat for Condemning Russian Aggression
Beijing native Wang Jixian, who worked as a programmer in his own technology company in Ukraine, was trapped in the port city of Odessa after Russia started the war.
Wang released some short videos about the Ukraine crisis on social media and denounced the Russian invasion, which sparked backlash from Little Pinks. They criticized him for "betraying China's interests" and "being a lackey of the United States."
Wang received a death threat online, and his post was also censored by internet police.
Despite the death threat, Wang told Radio Free Asia on March 2 that he isn't afraid of expressing his views. "I will not retreat even if I have to give my life for it," he said.
Wang further criticized Beijing's evacuation plan of its citizens as impractical, citing that the Chinese embassy in Ukraine only told Chinese nationals to gather in Kyiv on their own. But the reality is that with the war raging and the highway cut off, it was difficult to get there. As a result, many Chinese were stranded in Ukraine, Wang said.
According to Chinese official data, there are about 6,000 Chinese citizens in Ukraine, including employees of Chinese companies, foreign students, and Chinese expats, mainly living in Kyiv, Lviv, Kharkiv, Odessa, and Sumy.
Professors Silenced for Opposing Russian Invasion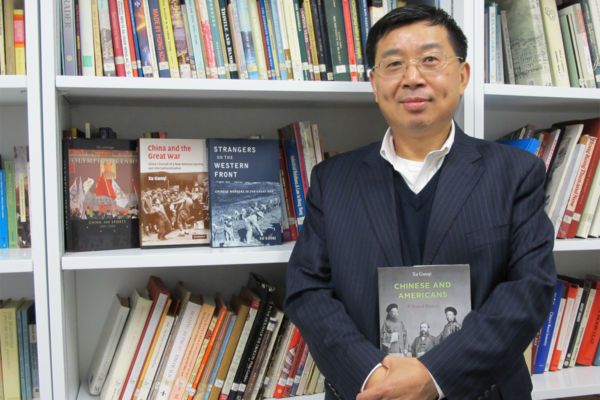 Five history professors from leading universities in China published an article on Feb. 26, titled "Russia's Invasion of Ukraine and Our Attitude." It describes Russia's move on Ukraine as an "unjust war" that will bring political turmoil to Europe and the world, and lead to a wider humanitarian disaster.
The professors also appealed to Russian President Vladimir Putin to stop the war, saying that it will "bring huge shame and disaster to the Russian nation" and "we feel the same pain of the Ukrainian people."
The open letter was blocked by the Chinese network firewall a few hours after it was released on WeChat, a popular social media platform.
China Digital Times, a Chinese language U.S.-based news media, was able to take a screenshot of the letter before it was removed by internet censors.
One of the five co-signers of the letter, Xu Guoqi, a professor of history at the University of Hong Kong, said in an interview with the BBC that "aggression is aggression, and you can't call a stag a horse."
The scholar, who is an expert on World War I, believes that history is repeating itself, and the Russia-Ukraine crisis could lead to a third world war—a path of no return, Xu said.
"It is unacceptable for human civilization to go back to the barbaric wars of the 18th century and invade another country in the 21st century," he added.
Xu told the BBC he had hoped the open letter would encourage more scholars to sign it amid the CCP's censorship.
"Professors' primary responsibility is to enlighten the conscience and uphold justice, if it's all propaganda machines, then what do we need scholars for?" Xu said.
The other four professors include Sun Jiang of Nanjing University, Wang Lixin of Peking University, Zhong Weimin of Tsinghua University, and Chen Yan of Fudan University, according to the BBC.
Chinese Dancer Calls for Peace, Post Disappears
Chinese dancer and program host Jin Xing, who has 13 million followers on Weibo, a Twitter-like Chinese social media, was censored and attacked by the Little Pinks when she posted a comment on March 1 that indirectly attacked Putin and called for peace.
Without naming Putin, she wrote, "A crazy Russian man said, 'If I'm not allowed to continue to be president, I don't want the world anymore.'" She also attached a screenshot from China Central Television (CCTV) and wrote, "The color of the CCTV lady's dress shows that she supports Ukraine! Stop the war and pray for peace!" The CCTV anchorwoman wore a yellow blouse and a blue jacket—the colors resembled the Ukraine flag.
The post was immediately attacked by Little Pinks, and then disappeared. China Digital Times was able to take a screenshot of Jin's original post before it was removed and published it on its website.
Jin posted another comment on March 1, explaining to her followers that she didn't delete the post and instead the internet censors blocked it. Her latest post can still be seen on Weibo, but the comment section has been removed.
In response to the incident, CCTV released a special statement, saying that the suit worn by the anchorwoman was dark green and not the color of the Ukrainian flag. The state-run media added that it would continue to be guided by the CCP and expressed its loyalty to the Party. In its coverage of the Russia-Ukraine war, CCTV aligned itself with Beijing's pro-Russia stance.
CCTV has long played a role in promoting the CCP's policies, praising the Party's leadership, and mobilizing the Chinese people against the Party's enemies, according to a September 2019 report by Freedom House, a U.S-based research organization on freedom and human rights.