Beijing Conceals Reports of North Korea's Shooting of Chinese Fishermen: Leaked Documents
The North Korean military allegedly shot at least one Chinese national for illegally fishing in territorial waters back in 2015, according to government documents recently obtained by The Epoch Times. Chinese authorities have concealed the incident from the public.
Dandong city's municipal government issued reports in 2015 and 2016 regarding the attacks on Chinese fishermen by North Korean soldiers. The Epoch Times obtained these documents from a trusted source who requested anonymity due to security concerns.
"North Korea seizes our fishing boats from time to time, and last year there was an incident of shooting at our fishermen," the 2016 report said. At least one Chinese fisherman was shot in the 2015 incident. The report did not provide additional information.
The Epoch Times is unable to verify the incident and found no public reports on the internet.
Dandong is located in China's Liaoning Province, the largest city bordering North Korea, divided by the Yalu River. On the other side of the river is the city of Sinuiju in North Korea.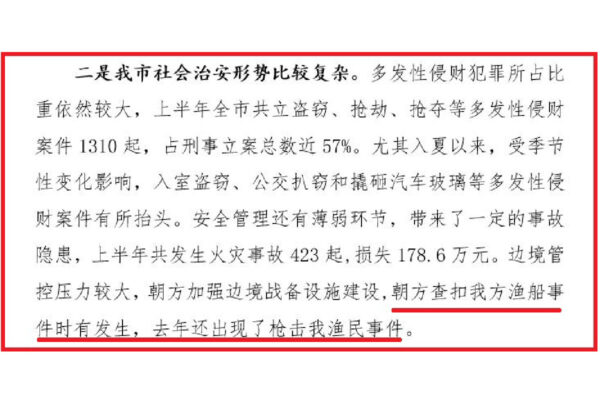 Due to the depletion of fishery resources in China's offshore waters, some Chinese fishermen carry out illegal fishing activities in North Korean waters to make profit, Chinese officials said. "Border control was under greater pressure," according to a 2015 security report (pdf).
"So far this year, [North Korea] military police have seized 14 of our fishing boats and 73 crew members at sea and [Yalu] River," the 2015 document said, describing it as "a significant increase" compared to the data from the previous year.
Chinese authorities rarely confirm or respond to rumors of Chinese border residents being arrested or even killed by the North Korean military. And authorities have warned journalists on reporting such incidents.
A reporter from Hong Kong-based Phoenix TV, who was covering the hijacking of Chinese fishing boats on May 8, 2012 by the North Korean military, received instructions from both Beijing and Hong Kong authorities to stop reporting on the detained fishermen, he wrote in a blog on May 25 that year. The 28 Chinese fishermen on the boats were eventually freed and returned to China.
The communist leaders of China and North Korea exchanged messages earlier this year to reaffirm their historical alliance.
On March 23, North Korean leader Kim Jong-un called for strengthening "unity and cooperation" with China in order to meet the challenges of "hostile forces," the country's official media said. It is believed that the "hostile forces" that Kim mentioned pointed to the United States, according to Voice of America. Two days prior, North Korea launched two short-range missiles, the first test since President Biden took office in January.
U.S.-based China affairs commentator Li Linyi said, "Despite the fact that the Kim regime in North Korea often kills Chinese frontiersmen, the Chinese Communist Party has never held North Korea accountable, and in most cases has kept it hidden from the Chinese."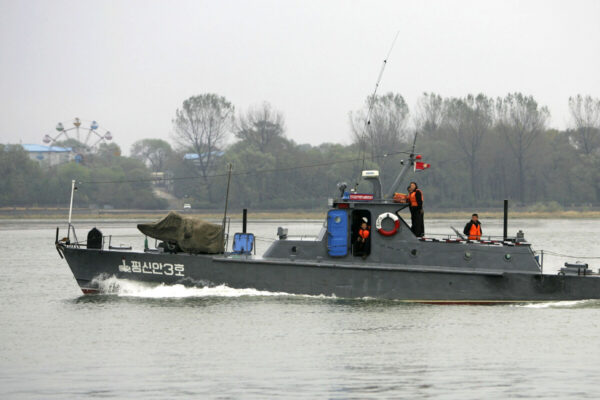 In August 2020, South Korean news site Daily NK published a report, based on Chinese sources, that a North Korean patrol boat fired at a Chinese boat that was illegally fishing in its territorial waters, killing at least three Chinese fishermen.
The incident has not been confirmed by the Chinese authorities.