Beijing Falls Short of Expectations After Alaska Talks: Chinese Affairs Expert
The first high-level meeting between the Biden administration and Beijing came to an end in Alaska on March 19, with the Chinese regime leaving the talks in limbo over two issues, according to a Chinese affairs expert.
The two-day talks in Anchorage ended without a joint statement from both sides. The U.S. delegation, lead by Secretary of State Antony Blinken and White House national security adviser Jake Sullivan, spoke to the media after the end of the bilateral meeting.
"On economics, on trade, on technology, we told our counterparts that we are reviewing these issues with close consultation with Congress, with our allies and partners," Blinken told reporters.
He said that the United States got a "defensive response" from the Chinese delegation when the U.S. raised its concerns over Beijing's persecution of Uyghurs in far-western Xinjiang, as well as issues regarding Hong Kong, Tibet, and Taiwan.
The Chinese delegation was represented by foreign minister Wang Yi and senior foreign policy diplomat Yang Jiechi.
China's state-run media Xinhua has since published a lengthy article summarizing the two days of talks. It stated that the Chinese side raised its objections about how the United States shouldn't "interfere in its internal affairs," such as issues regarding Xinjiang.
Chinese current affairs commentator Yang Wei, in an op-ed published in the Chinese-language Epoch Times on March 20, stated that two things were conspicuously missing from the Xinhua article: U.S. tariffs on Chinese imports and U.S. sanctions restricting Chinese companies from accessing U.S. technology.
Yang explained that the Chinese regime is most concerned about U.S. tariffs and sanctions.
That neither was mentioned was significant, Yang explained, as the Chinese delegation was very likely to have raised the issues with the United States. According to Yang, the U.S. side either rejected whatever the Chinese side offered or stated that tariffs and sanctions would not be lifted for now.
The Xinhua article did mention that the two sides talked about trade but did not provide more details.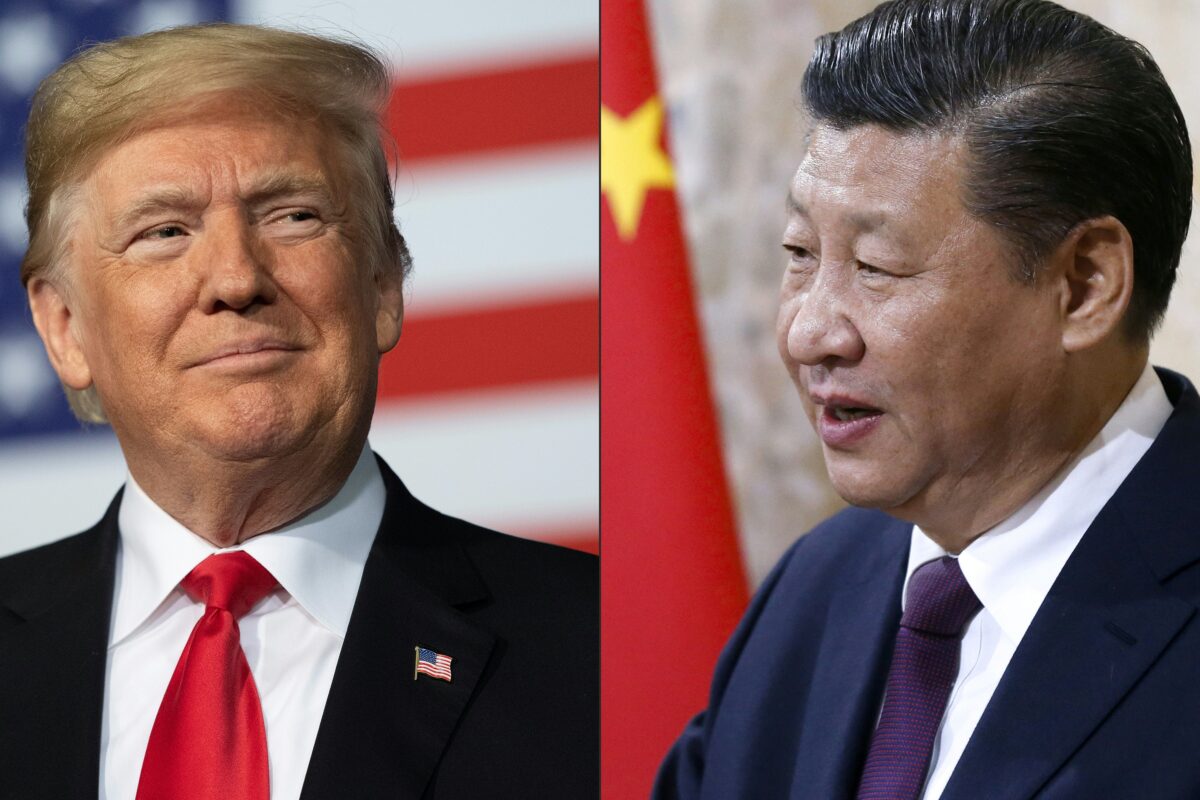 Former President Donald Trump, in an effort to tackle China's unfair trade practices, imposed tariffs on billions of dollars of Chinese goods, which sparked the U.S.–China "trade war."
The two sides signed a phase one trade deal in January 2020, requiring China to buy an additional $200 billion in U.S. goods and services during 2020 and 2021, compared to 2017 levels. However, a report published in January found that China has bought just 58 percent of what it promised under the deal.
Under the Trump administration, many Chinese companies were placed on the U.S. trade blacklist due to national security concerns, among them Chinese tech giant Huawei and semiconductor manufacturer SMIC.
Additionally, the Trump administration also targeted China's "civil-military fusion" strategy, which compels Chinese private companies and universities to support its military development. Dozens of Chinese companies were also blacklisted for having ties to the Chinese military.
The Xinhua article clearly stated China's desire to see the Biden administration undo some of the Trump administration's policies. It stated that the Chinese delegation urged the U.S. side to "eliminate the influence of erroneous policies by the previous administration" while asking the current administration "not to create new problems."
The two-day talks in Anchorage were marked by heated exchanges on March 18, in particular about how Yang lashed out over what he said was the United States' struggling democracy and poor treatment of minorities, and criticizing its foreign and trade policies.
The Chinese delegation's behavior has been criticized by analysts and a number of U.S. lawmakers. Sen. Tom Cotton (R-Ariz.) took to Twitter to say the behavior was "completely unacceptable."
"It's time for the Biden administration to adopt a strategy to beat China," Cotton wrote.
In February, Cotton released a new report on China, calling for the decoupling of U.S. and Chinese sectors that are critical to the economy. These include critical minerals, entertainment, higher education, telecommunications, and semiconductors.
It remains to be seen how the Biden administration will formulate its policies toward China following the talks.
"We will go back to Washington to take stock of where we are. We'll continue to consult with allies and partners on the way forward," Sullivan told reporters in Anchorage.