A Chinese activist and entrepreneur was forcibly removed from his home in Beijing by local police on the evening of March 9 during their "investigation" of the so-called "White Paper Movement."
Businessman Guo Kunpeng said he believes his detention was related to the annual "Two Sessions" meetings that were taking place at the time of his arrest. Guo said he was not released until after midnight. It is common for the harassment of Chinese people by the authorities to increase around so-called "sensitive dates," such as Chinese Communist Party conferences.
Guo may have been singled out because of his protests against the forced demolition of his factory. He says he has lost hundreds of millions of yuan (over $10 million) due to the demolition of his factory by local township authorities in 2018. His protests against the demolition and his pursuit of compensation have likely made him the target of the communist regime's suppression—even though the demolitions were officially confirmed to have been illegal.
On March 10, Guo told the Chinese-language edition of The Epoch Times that the police knocked on his door and interrupted his evening meal to take him away on a charge of being "suspected of picking quarrels and provoking trouble." Guo said he asked the police how he could have picked quarrels or provoked trouble if he had been having dinner at home.
Heightened Surveillance During Two Sessions
During the annual "Two Sessions" political meetings—the plenary sessions of the National People's Congress and the Chinese People's Political Consultative Conference—the suppression of ordinary Chinese is routinely ramped up in the name of maintaining the regime's stability.
As a victim of forced demolition who refused to accept the illegal practice, Guo has been subject to routine suppression since he started defending his right to property—and/or compensation for loss of same—in 2018.
For more than four hours at the police station, Guo was questioned as to whether he had joined an online chat group on the subject of the "White Paper Movement," and whether he had helped to pick up the child of persecuted Chinese human rights lawyer, Wang Quanzhang.
Wang was a victim of the "709″ crackdown on Chinese human rights lawyers in 2015 and, although released from prison in 2020, his surveillance by plainclothes police and unmarked vehicles continues to this day.
In the early morning of March 8, plainclothes police visited Wang's home and apartment complex, according to the home video he recorded and posted on Twitter. His tires had also been punctured maliciously, Wang said in a recent post on a Chinese social media platform.
Since March 8, the police have forced Wang to remain at home. Guo Kunpeng helped to drive Wang's child to school and to pick him up in the afternoon because they live in the same apartment complex.
Guo said, "They [the police] are simply lawless."
Victim of Forced Demolition
The owner of Beijing Huiyinghao Trading Co. Ltd., Guo had a right-to-use certificate and the rental contract for an area of 292,000 square feet of industrial land and buildings in Xihongmen Town in Beijing's northern Daxing district. The documents had been approved by the Daxing District Government and the Land and Resources Department in 2006, and were valid until 2043.
Guo remodeled the entire facility, complete with water, heat, electricity, workshops, and office buildings. Part of it was used as a paint factory, while the rest was rented out to a garment factory.
On three separate dates in 2018, the Xihongmen Town government demolished sections of Guo's premises over a total area of around 97,000 square feet—without any notice.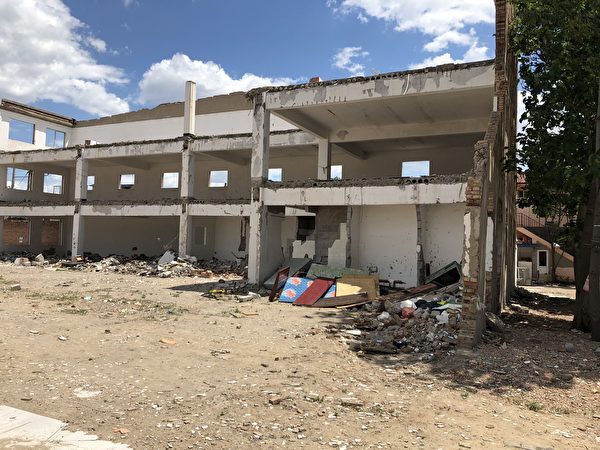 Each time Guo called the police and interrupted the demolition. Between September and October of 2018, however, the demolition team dismantled the entire site. He said, "All the things in the factory were gone. They [the town government] sold them to waste collectors. I didn't remove a single screw … Everything is gone."
According to Guo, he did not receive any payment from the recycling contractors. What's left is a vacant lot, and the local government has even built walls and installed gates to prevent him from accessing the original property.
Based on the market price of similar structures in the area, Guo estimates his losses amount to somewhere between 90 million and 110 million yuan ($12 million to $15 million).
Taking into account China's Administrative Reconsideration Law, the Daxing District Government finally issued its decision confirming that the demolition of the Huiyinghao Company premises by Xihongmen Town government was illegal on January 13, 2020.
Daxing District court did not approve Guo's request to restore the plant, however, but approved a compensation sum for business losses of 3 million yuan ($440,000).
To this day, the court has remained silent regarding compensation for the destruction of property.
Guo has refused to accept how difficult it has been to defend his rights and his property—which he says have been thoroughly violated by the authorities.
On July 13, 2021, Beijing's urban and rural real estate development department issued a decision, on behalf of the township, claiming that the demolition was done to "assist" Guo's company by "clearing of the state-owned land"—and quoted a compensation sum for land deprivation and plant destruction of 45 million yuan ($6.5 million).
Guo disagreed with the decision, which he believed was the authorities' attempt to shirk its responsibility by claiming that it had assisted his company to "clear the plant on the property," he said.
The local township government contacted Guo again recently and tried to negotiate a price of 38 million yuan ($5.5 million) to buy the entire company, according to Guo.
"I will not agree with this quote," Guo said, "it's too low."
He indicated that he will not give up fighting for his rights, despite his being subjected to harassment by the local government for more than four years.
"Being a businessman, I strive for a secure environment that allows me to work hard," he said. "They can't deprive me of my rights."
The Epoch Times attempted to contact Xihongmen City Government for comment, but without success.
Hong Ning contributed to this report.