Beijing Ratchets Up COVID-19 Curbs Sparking Fears of Citywide Lockdown
After gradually tightening COVID-19 curbs over the past few weeks, Beijing on May 12 said it "recommends" residents stay at home while new mass testings are underway.
Panic buying gripped the capital on Thursday evening amid rising fears of a city-wide lockdown, though officials have dismissed lockdown speculation as "rumors."
Xu Hejian, a spokesperson for Beijing authorities, said at Thursday's briefing that Beijing will launch three rounds of testing in the 11 of the city's 16 districts and an economic zone in the next three days. He urged people to reduce movement during the period starting from May 13.
With gradually escalating restrictions in China's capital—most recently suspending taxi services in some virus-hit districts—many are nervous that the city is heading to a Shanghai-style lockdown. The ongoing lockdown in the financial hub started in late March when officials asked its 25 million residents to stay at home to let health workers complete two rounds of mass screening. Before announcing the snap lockdown on March 28, Shanghai officials had also cast lockdown speculation as "rumors."
Beijing officials, however, said the order doesn't mean lockdown, calling on people to stop panic buying.
"The so-called lockdown and 'silent period' are all rumors," said Xu, referring to a new term used by officials announcing a lockdown.
"It is unnecessary to hoard food," Xu told Tuesday's press conference. "Residents, don't need to worry, the city's operations won't be affected."
Nevertheless, long queues re-appeared outside supermarkets and shops late on Thursday evening. Residents were scrambling to stockpile food and daily necessities, while anxiously listening to Beijing's daily COVID-19 news conference on their phones.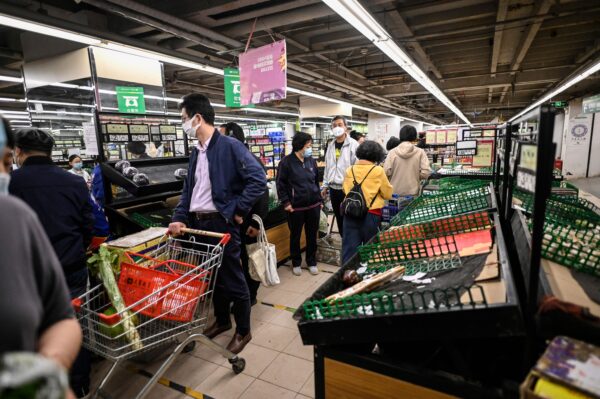 "This is quite unhealthy because people are in a very nervous mood," said Grace Zhao, who stood in a 160-foot queue outside one supermarket in Chaoyang, Beijing's most populous district and the epicenter of its current outbreak.
The order comes after Beijing recorded 36 new cases in the past 24 hours, pushing the total infection to nearly a thousand since April 22. But the official count has increasingly come into question by residents and experts, given the Chinese regime's history of downplaying and covering up information about outbreaks across the country.
Officials on May 12  placed more residential buildings where new infections were recorded under lockdown. Beijing has already closed schools, some shopping malls, entertainment, and tourist venues, banned dine-in services at restaurants, and suspended sections of its bus and subway systems since the capital city kicked off mass testing on April 25.
The new order means nearly all of the city's 22 million residents will take three PCR tests. Residents in the ten main districts are recommended to work remotely on May 13 and stay at home during the weekend. The other five districts in suburb areas will see hotels and scenic spots closed.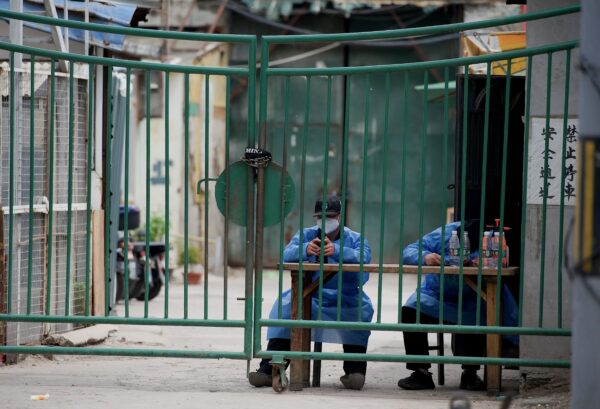 The Chinese regime holds tight to its "zero-COVID" policy, aimed at eliminating every infection among communities by restricting movement and placing anyone at risk into mandatory quarantine.
The heavy-handed curbs, which has confined millions in Shanghai to their homes for over six weeks, is wreaking havoc on the country's economy and global supply chains. With factory workers and consumers stuck at home and many businesses forced to suspend operations, China's export growth is at a two-year low and unemployment is at near two-year highs.
On May 12, the yuan hit a new 19-month low, having dropped almost 6 percent in under a month.
Criticism of Beijing's strategy has also grown among residents and experts. The WHO chief, who had repeatedly praised the regime's outbreak response earlier in the pandemic, expressed rare concerns about the zero-COVID policy on May 10, though his remark was quickly taken down on China's tightly-controlled internet. The regime has doubled down on censorship as more residents take to social media to share their struggles and report conditions experienced during lockdown or in forced quarantine.
Beijing officials said the city will decide the next move based on the results of the mass screening.
Beijing, the country's political center, has never gone through a full-scale citywide lockdown since the Chinese regime launched its zero-COVID playbook at the onset of the pandemic in early 2020.
Reuters contributed to the report.