Beijing Residents Sizzle Under Scorching Heat as Record Temperatures Persist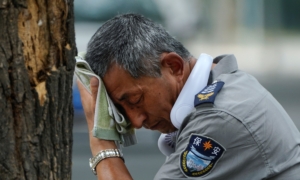 China's capital has experienced 28 days hotter than usual so far this year, the Beijing Meteorological Observatory said on July 19, as locals struggle with the heat.
A hot day, defined by the observatory, is a day with temperatures exceeding 35°C (95°F).
The observatory issued a high-temperature alert on July 19 for the next day: "On July 20, Beijing's high temperature will reach about 36°C. Residents need to take precautions."
The number of hot days this year has already broken the previous record set in 2020 when there were 26 hot days for that year.
Beijing resident Lu Xin (pseudonym), who lives in Chaoyang District, told The Epoch Times on July 14 that when the high temperature in Beijing reached over 40°C (104°F) a few days earlier, most people did not dare to go out.
"If you stepped outside, it felt like being grilled over a BBQ rack. Even the air they breathed was scorching hot. The asphalt pavement on the streets was melting from the sun," Mr. Lu said.
"It was so hot that even mosquitoes stopped biting people," he said.
"It's really tough for those who work in the food delivery industry. I ordered some food two days ago, and when the delivery guy arrived yesterday, his face was dripping with sweat.
"I found out that he just graduated from college last year, but he couldn't find a suitable job, so he is currently delivering food to make a living. Even on scorching hot days, there's no heat allowance. It's certainly not an easy life."
Record-Setting Temperatures in Beijing
On the evening of June 22, the temperature measured at the observatory reached 41.1°C (106°F), the highest in China on that day and the second-highest in Beijing's history (tied) since records began.
On June 23, Beijing issued a red alert for high temperatures, saying that the city's high temperatures would continue from June 23 to 25, with the highest temperatures in most areas ranging from 37°C (98.6°F) to 40°C (104°F). This is the first red alert for high temperatures in Beijing in eight years since June 1, 2015, when the revised standard for such alerts was implemented.
By June 24, when the temperature observed at the observatory again exceeded 40°C (104°F), it marked the first time in the station's observation history that the temperature exceeded 40°C (104°F) for three consecutive days.
As extreme heat continued into July, Beijing issued another high-temperature red alert on July 6, saying that Beijing's high temperature would continue for six to seven days, with the highest temperature in most areas reaching over 40°C (104°F) on July 6.
Heatwaves Across China
Many regions in China have experienced periods of record-high temperatures since last month.
The heat wave, which has swept across much of northwestern China and parts of the northeast and southwest, is part of a bout of unusually high temperatures around the world.
A study published in April this year in Nature Communications found that the Beijing area is one of the world's most vulnerable to extreme heat events. Other areas identified as "statistically most at risk of a record heatwave" include Germany, the Netherlands, Central America, and Afghanistan.
On July 6, in addition to Beijing's high-temperature red alert, Hebei Province also issued a red alert in the morning, saying that in most areas of Hebei Province, the highest temperature would reach 37-39℃ (998.6-102.2°F), and some regions would experience an extreme temperature of 40-43℃ (104-109.4°F).
According to local media in Hangzhou, located in Eastern China, a storm on July 17 did not make people feel cool after baking under the sun. Instead, it made the city "as hot as a sauna," with raindrops turning into steam on the scorching sidewalks.
China also rewrote its highest temperature on record, as temperatures at Sanbao township in Xinjiang's Turpan Depression soared as high as 52.2 degrees Celsius (126 °F) between 8 a.m. on July 16 and 8 a.m. on July 17.
The Epoch Times reached a doctor at the fever clinic of a hospital located in the central district of Zhengzhou, Henan Province. The doctor, He Li (pseudonym), revealed they are seeing many patients due to the hot weather. He advised people to stay at home as much as possible and pay more attention to hydration. If someone has a fever that doesn't go away easily, they should see a doctor immediately.