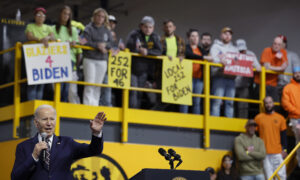 Concerned about China's increasing global influence, the Biden administration has proposed investing in "new ways to out-compete China" and strengthening alliances in the Indo-Pacific region.
On March 9, President Joe Biden unveiled his third budget proposal, vowing to boost spending, raise taxes, and reduce the federal deficit. As part of his budget blueprint, Biden outlined his strategy for dealing with global challenges, including those posed by China.
"China is the United States' only competitor with both the intent to reshape the international order and, increasingly, the economic, diplomatic, military, and technological power to do it," according to a fact sheet released by the White House.
In his budget proposal, the president warned of "unprecedented and extraordinary times" ahead and asked for both discretionary and mandatory resources to address the danger from China.
According to the fact sheet, the mandatory proposal would boost the U.S. role in the Indo-Pacific and advance the U.S. economy by investing: $2 billion to support "hard" critical international infrastructure; $2 billion to scale the U.S. International Development Finance Corporation's (DFC) equity program; and another $2 billion to create resilient supply chains in the region.
The budget proposal also includes $7.1 billion in funding for the Marshall Islands, Micronesia, and Palau over the next 20 years. The funds are part of the $63.1 billion proposal for the State Department and the United States Agency for International Development.
The budget is also asking to boost funding for the U.S. military's presence in the Indo-Pacific region.
"To sustain and strengthen deterrence, the Budget prioritizes The Peoples Republic of China (PRC) as America's pacing challenge in line with the National Defense Strategy," the budget proposal stated.
"[The Pentagon's] 2024 Pacific Deterrence Initiative highlights $9.1 billion of key investments the Department is making, focuses on strengthening deterrence in the region, and demonstrates the Department's long-term commitment to the Indo- Pacific."
The funds will also be used to strengthen the capacity and capabilities of U.S. allies in the region.
According to the budget proposal, Defense Department spending would increase to $842 billion in fiscal 2024, a 3.2 percent increase over the previous year. The budget includes $37.7 billion for the modernization of the nuclear arsenal.
"This budget cements our commitment to confronting global challenges and keeping America safe," Biden wrote in a message to Congress that accompanied the budget proposal. "It outlines crucial investments to out-compete China globally and to continue support for Ukraine in the face of unprovoked Russian aggression."
The plan also includes a significant pay increase for all troops beginning in January 2024, which is expected to garner support from both parties. According to Biden's proposal, military pay would increase by 5.2 percent next year.